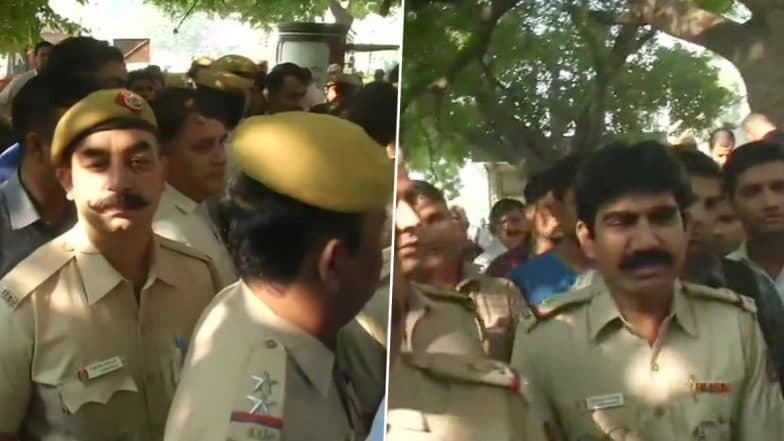 New Delhi, November 5: A day after lawyers thrashed a cop outside the Saket District Court, Delhi police personnel staged a protest outside Police Headquarters (PHQ) on Tuesday. The cops protested against the clash that broke out between police and lawyers at Tis Hazari Court on November 2. Policemen also wore black bands. In the clash, 20 policemen and many advocates were injured. Tis Hazari Violence Aftermath: Lawyer Assaults Cop at Delhi's Saket Court, Video Goes Viral.
A parking dispute inside the Tis Hazari Complex led to a clash between lawyers and police personnel. According to reports, violence at the Tis Hazari complex started when on-duty officers objected to a lawyer parking his car in front of the lockup. The Delhi Police claimed that lawyers reacted angrily to the requests they entered forcibly and started manhandling policemen. Around eight police vans were vandalised. Tis Hazari Court Violence: Security Tightened as Lawyers Strike Work.
ANI's Tweet:
Delhi: Police personnel hold protest outside Police Head Quarters (PHQ), against the clash that broke out between police & lawyers at Tis Hazari Court on 2nd November. pic.twitter.com/ObM3nFcVgF

— ANI (@ANI) November 5, 2019
The Delhi High Court on Sunday, took suo moto cognizance on the issue and ordered a judicial probe under the aegis of retired judge SP Garg. The retired judge is to be assisted by Directors of the Central Bureau of Investigation (CBI), the Intelligence Bureau and Vigilance to conduct a judicial inquiry into the clash.
Yesterday, a video went viral showing a lawyer assaulting a policeman outside the Saket District Court in New Delhi. According to the report, some media personnel were also thrashed for clicking the pictures of the incident. The cop was attacked by a lawyer who pushes him with his elbow before slapping him twice. The policeman managed to take a U-turn, while the same lawyer also threw a helmet that hits the bike.