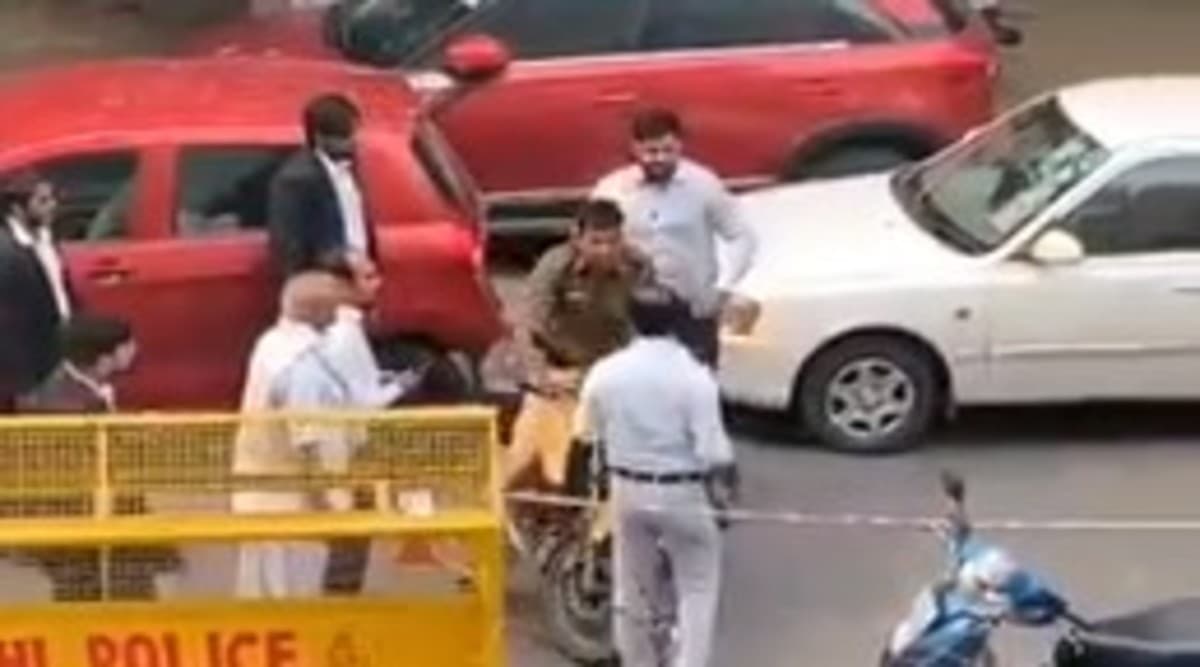 Delhi, November 4: Shocking visuals have been going viral on the internet where a lawyer can be seen assaulting a policeman outside the Saket District Court in New Delhi. According to the report, some media personnel were also thrashed for clicking the pictures of these lawyers. This development comes two days after the clash broke out between cops and lawyers at Tiz Hazari Court complex in which at least 20 policemen and many advocates were injured. Delhi Police Personnel, Lawyers Clash at Karkardooma Court Two Days After Tis Hazari Court Scuffle.
In the viral clip, a lawyer can be seen assaulting a policeman in presence of other protesting lawyers. The cop is attacked by a lawyer who pushes him with his elbow before slapping him twice. The policeman manages to take a U-turn, the same lawyer also throws a helmet that hits the bike. Tis Hazari Court Violence: Undertrials Lodged in Lock-Ups During Police-Lawyers Clash May Be Made Witnesses.
Lawyer Assaults Cop at Saket Court
तीस हज़ारी कोर्ट में हुये विवाद के नाम पर दिल्ली में वकील गुंडागर्दी पर उतर आये है। साकेत कोर्ट के बाहर पेट्रोलिंग कर रहे @DelhiPolice के सिपाही के साथ बिना वजह मारपीट करते वकील। हाईकोर्ट को ऐसे वकीलों पर भी संज्ञान लेकर कार्रवाई करनी चाहिये। pic.twitter.com/ccMAAFuWyT

— Jitender Sharma (@capt_ivane) November 4, 2019
Another incident of assault is being reported from Karkardooma Court in Delhi's Anand Vihar area. According to reports, several protesting advocates assaulted a police officer after which the clash broke out.
According to cops, violence at the Tis Hazari complex started when on-duty officers objected to a lawyer parking his car in front of the lockup on Saturday. A statement by police said that lawyers reacted angrily to the requests and CCTV also shows that lawyers entered forcibly and started manhandling policemen.
The Delhi High Court on Sunday, November 4, took suo moto cognizance on the issue and ordered a judicial probe under the aegis of retired judge SP Garg. The court has also transferred two police officers and suspended two others.