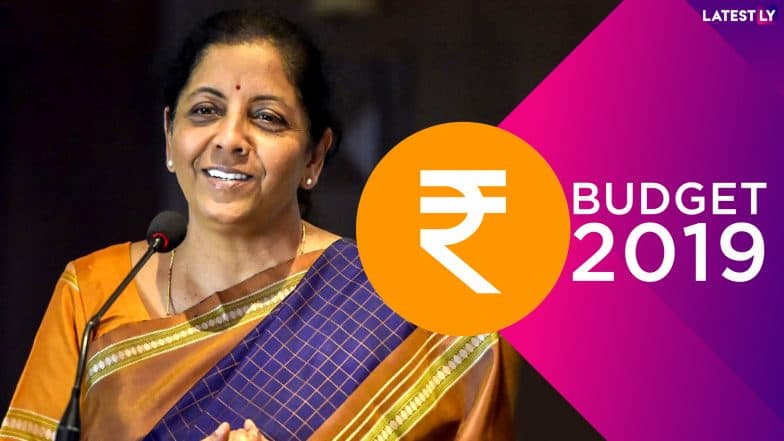 New Delhi , July 5: Finance Minister Nirmala Sitharaman rolled out the first Union Budget under the re-elected Narendra Modi government on Friday. The policy for fiscal year 2019-20 largely stuck to the Interim Budget announced ahead of the elections, with notable exceptions being the roll-out of Pradhan Mantri Karmi Yogi Maan Dhan scheme.
Under the programme, the Centre will roll-out a pension scheme for retailers and traders with annual turnover of less than Rs 1.5 crore. The total number of beneficiaries is estimated to be around three crore. Full Highlights of Union Budget 2019
The scheme is in accordance with the promise made to retailers by the Bharatiya Janata Party (BJP) in its manifesto for the 2019 Lok Sabha elections.
DPIIT's Tweet:
Pradhan Mantri Karamyogi Maan Dhan Scheme Pension benefits extended to retail traders and shop keepers with annual turnover less than Rs. 1.5 crore. #UnionBudget2019 #Budget2019 #BudgetForNewIndia pic.twitter.com/LUZuaY9yW4

— DPIIT India (@DIPPGOI) July 5, 2019
Income Tax Slabs
The tax slabs will remain the same as proposed in Interim Budget 2019, presented in February this year.
"As I stated earlier, we have taken a slew of measures to ease burden on small and medium earners. Those having annual income up to Rs 5 lakhs are not required to pay any income tax. We are thankful to tax payers who play an important role in nation building," Sitharaman said.
However, an additional surcharge cess of 3 per cent would be levied on those with income of Rs 2-5 crore and 7 per cent on those earning beyond Rs 7 crore.
Cess on Petrol, Diesel
Petrol and diesel prices are set for an immediate Rs 2 hike. While Re 1 cess would be applied for road and infrastructure development, another Re 1 would be levied in form of excise duty hike.
"I propose to increase special additional excise duty and road and infrastructure cess each one by 1 rupee a litre on petrol and diesel," Sitharaman said.
$3 Trillion Economy By This Year
Sitharaman said the concerted efforts of the government headed by Prime Minister Modi since 2014 has resulted in an unprecedented growth in the Indian economy, taking it from the 11th spot in 2014 to the 5th rank by 2019.
The economy's size, she claimed, will grow to $3 trillion by the end of this fiscal year. In the next five years, India could outperform all the top global economies.
"The Indian economy will grow to become a $3 trillion economy in the current year itself. It is now the sixth largest in the world.  Five years ago it was at the 11th position," she said.
"It took us over 55 years to reach $1 trillion dollar economy. But when the hearts are filled with hope, trust and aspiration, we in just five years, added $1 trillion," the FM added.
'Study in India'
According to Sitharaman, the quality of higher education imparted in India, along with its penetration in all parts of the nation, has improved in the last five years under the Modi government.
Not only is India poised to provide top education to its residents, the country would also attract a larger quantum of overseas students, the Finance Minister claimed.
A new policy, 'Study in India', has been unveiled to draw more foreign students to the nation for educational purpose.
"There was not a single Indian institution in top 200 in world university ranking five years ago. Now, after concentrated and concerted efforts, we have three institutions in top 200. India has the potential to be hub of higher education. We propose to start a programme called 'Study In India' to bring foreign students to India," Sitharaman said.
'Power, Clean Cooking Facilities For All by 2022, Water at Rural Homes by 2024'
Sitharaman said the government has drawn a roadmap to provide power and clean cooking facilities for all the residents by 2022. She further claimed that piped water connections will be laid out for all rural homes by the year 2024.
"Ensuring India's water security and providing access to safe drinking water to all Indians is a priority. A major step in this direction has been the constitution of Jal Shakti Ministry," she said.
"This new Ministry will look at the mgmt of our water resources and water supply in an integrated and holistic manner and will work with states to ensure 'Har Ghar Jal', to all rural households by 2024 under 'Jal Jeevan Mission'," the FM added.
Other Key Announcements
Sitharaman said the non-performing assets or NPAs have come down by Rs 1 lakh crore under the Modi government, further claiming that a total of Rs 70,000 crore have been infused into public sector banks in a bid to revive them.
The FM also proposed a TV channel dedicated to start-ups, which will be operated by the Doordarshan.
In another major announcement, Sitharaman said Aadhaar Card will be provided to Non-Resident Indians (NRIs) with Indian passports after their arrival in India without waiting for the mandatory 180 days.