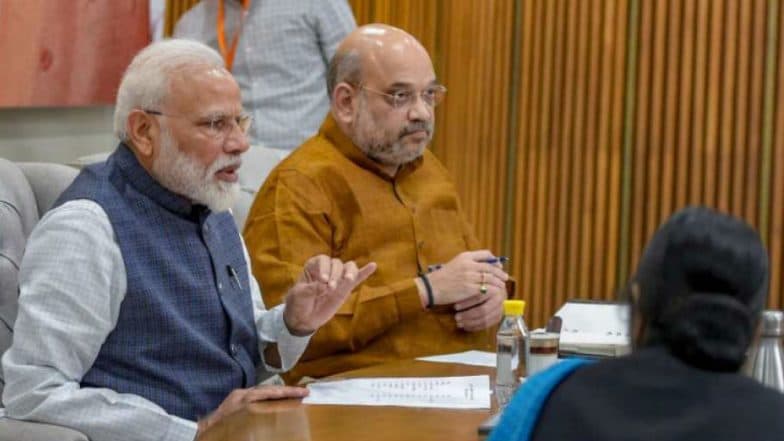 New Delhi, September 8: On the completion of 100 days of Modi government 2.0, Union Home Minister Amit Shah lauded the decisive leadership of Prime Minister Narendra Modi. To validate his claim that the government has acted decisively on key issues, Shah cited the abrogation of Article 370 in Jammu & Kashmir, the outlawing of triple talaq through a legislation and the amendments passed to the Unlawful Activities Prevention Act (UAPA) which would "strengthen" the national security apparatus. Manmohan Singh Blames 'Mismanagement' by Modi Government For Economic Slowdown.
Over the last seven decades, added Shah, the country was awaiting such a leadership where the emphasis will remain on development, security and welfare of all sections of the society. In the days to come, the Modi government will leave no stone unturned to fulfill the aspirations of the people, the Home Minister added.
"Modi govt is synonymous with national security, development & welfare of the poor. It is a symbol of hope for every section of our society. Within 100 days of Modi 2.0, PM Narendra Modi has taken several historic decisions, for which every Indian had been waiting since 70 years," he said.
"Whether it was the decision to remove Article 370 & 35A from J&K or to free Muslim women from the curse of Triple Talaq or strengthening nation's security apparatus by amending the UAPA Act...All these historic decisions are a result of PM Modi's decisive leadership," Shah tweeted.
Rad Amit Shah's Tweet Below:
I congratulate PM @narendramodi ji and all my ministerial colleagues on the completion of the historic 100 days of Modi 2.0.

I also assure all our countrymen that Modi government will leave no stone unturned for the development, welfare and security of our nation. #MODIfied100

— Amit Shah (@AmitShah) September 8, 2019
Notably, the BJP-led NDA returned to power in May this year, when the coalition headed by Narendra Modi won a decisive mandate. The BJP alone won 303 seats, whereas, the numbers neared 350-mark with the tally of allies combined. Congress, which emerged as the largest among the Opposition parties, was restricted to 52 seats.
The ruling BJP has planned press conferences in all state capitals beginning from Monday, to highlight the steps taken by the Prime Minister in the last 100 days. The Congress has decried the move, stating that the Centre should focus on fixing the economic slowdown rather than indulging in publicity and self propaganda.