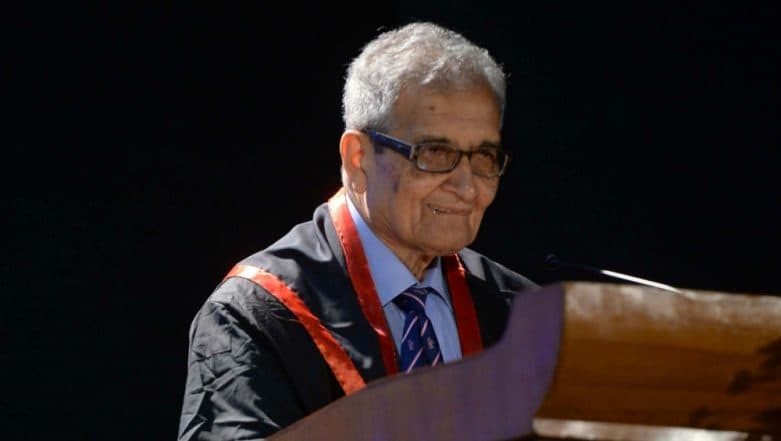 New Delhi, August 20: Reacting to the scrapping of Jammu and Kashmir's special status under Article 370, Nobel laureate economist Amartya Sen slammed the Modi government for the move and placing state's mainstream leaders under house arrest. Amartya Sen said the government's Kashmir move "emphasised majority rule". The octogenarian said he was not proud as Indian for developments in Kashmir.
"As an Indian, I am not proud of the fact that India, after having done so much to achieve a democratic norm in the world -- where India was the first non-Western country to go for democracy -- that we lose that reputation on the grounds of action that have been taken," Sen told a news channel on Monday. "I don't think ultimately you will have any resolution in Kashmir without democracy," he added. 'Jai Shri Ram' Slogan is Used to 'beat Up People': Amartya Sen.
Asked about the impact of abrogation of the provisions of Article 370, including anticipation of non-residents of Jammu and Kashmir about buying land in the state, Sen said it should have been "something for the people of the state (Jammu and Kashmir) to decide". "This is something in which Kashmiris have a legitimate point of view because it is their land," he said. He further criticised the house arrest of several mainstream leaders of the state. Jammu And Kashmir: 95 Schools Reopen in Srinagar After Fortnight of Clampdown, Few Students Turn Up.
"I don't think you will ever have fairness and justice without hearing the voices of the leaders of the people and if you keep thousands of leaders under restraint and many of them in jail, including big leaders who have led the country and formed governments in the past ... you are stifling the channel of democracy that makes democracy a success," Sen said. The Nobel laureate rejected the government's position that it was done to prevent loss of lives.
"That's the classic colonial excuse. That's how the British ran the country for 200 years," Dr Sen said. "The last thing that I expected when we got our independence... is that we would go back to our colonial heritage of preventive detentions," Sen said.