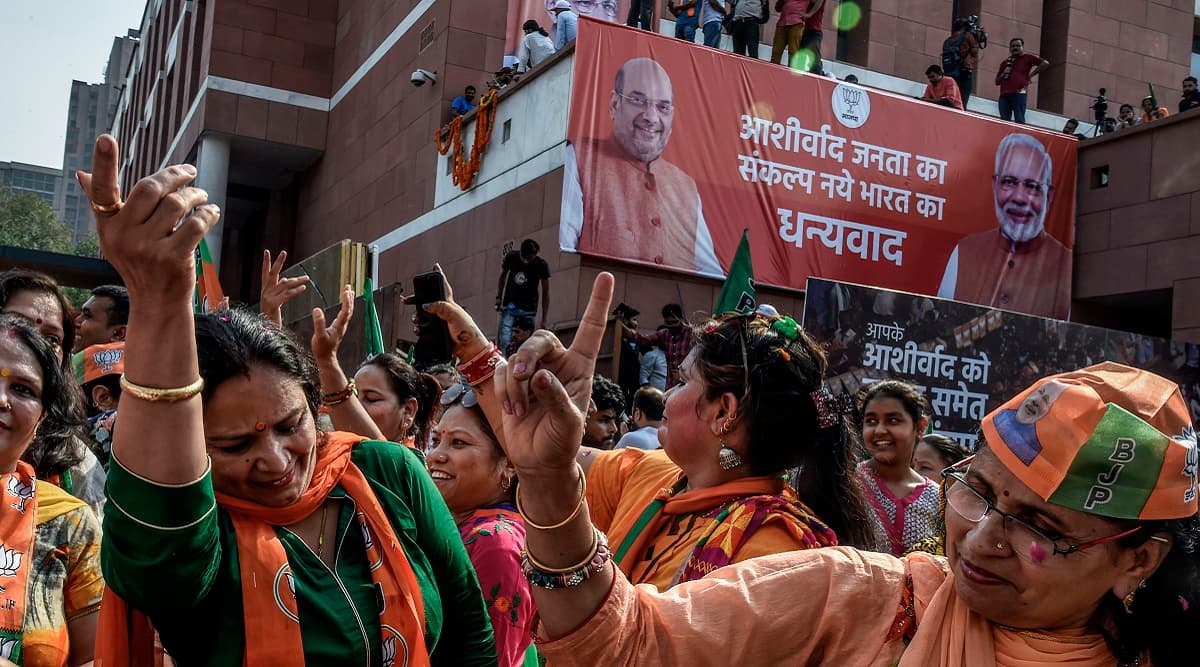 Mumbai, October 24: The official count of votes in the Maharashtra and Haryana assembly elections significantly differed with the aggregate of all major exit polls. Far from a cakewalk for the Bharatiya Janata Party (BJP) -- as predicted by most of the pre-election and post-election surveys -- the saffron camp faced a setback with the poll results. While the party's strength has been reduced in Maharashtra, it requires hectic realpolitik to retain Haryana.
In Maharashtra, where the BJP had 122 MLAs before the elections, the party is now likely to settle with 102 legislators -- 20 short of its tally in the outgoing assembly. Ally Shiv Sena's strength has also been reduced from 63 to 57 constituencies. Check Full List of Winning Candidates in Haryana Assembly Elections 2019.
The Opposition, despite reeling under the Lok Sabha drubbing blues, ended up increasing its electoral share. The Congress rose from 42 to 53 constituencies, whereas, the NCP tally jumped from 41 to 55. Collectively, they are now likely to have 108 MLAs in the House -- making them a force to reckon with.
Pollsters were quick to point the lacklustre campaign of the Congress in the state, which had hinted towards the decimation of the party in Maharashtra. While party president Sonia Gandhi did not visit the state for electioneering, former Congress chief Rahul Gandhi addressed only a couple of public meetings.
Despite the setback for BJP, there is no ambiguity on the formation of the next government in the state. Chief Minister Devendra Fadnavis and Sena supremo Uddhav Thackeray addressed separate press conferences, announcing that their alliance based on Hindutva would remain intact. "The formula of government formation would be decided in the days to come," Thackeray said, while avoiding the question on the chief ministerial post.
In Haryana, the BJP may not have much to rejoice about if the realpolitik fails to yield results. The party has ended up winning 40 constituencies -- five short of the majority mark. The Congress emerged second with 31 seats, followed by the Jannayak Janta party (JJP) which has won 10 assembly segments. 9 independents or candidates from smaller parties have also been elected.
Dushyant Chautala, the 31-year-old chief of the "kingmaker" JJP, said his party would ally with any of the parties which gives them "respect". While speaking to reporters, he did not rule out the possibility of inking a post-poll pact with the BJP.
Pollsters are of the view that the government may be formed even without the JJP support if the BJP succeeds in drawing support from at least six among nine candidates elected independently or on smaller parties' tickets. Within the next 24 hours, a clearer political picture is expected to emerge in Haryana. For now, it could be noted that the Manohar Lal Khattar-camp, which issued the clarion call of "70+", has been jolted.