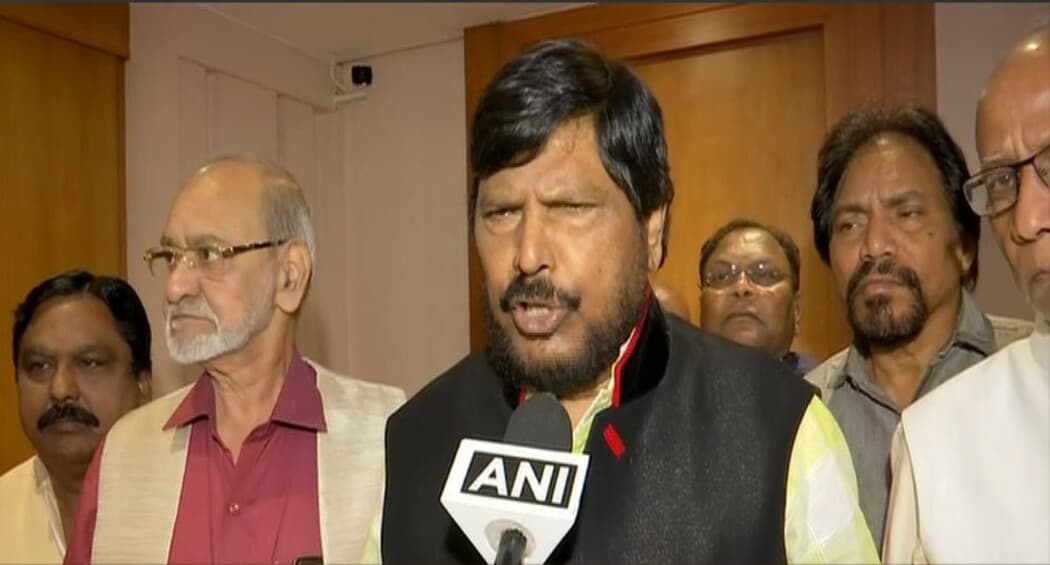 New Delhi, November 17: Union Minister and RPI(A) leader Ramdas Athawale on Sunday said the "Mahayuti" in Maharashtra will come together to form the state government. Athawale's startling claim comes amid the ongoing impasse in Maharashtra, which has led to the trio of Shiv Sena, NCP and Congress to consider jointly staking claim for government formation. Maharashtra: Shiv Sena May Get 16 Cabinet Berths, NCP 14, Congress 12; Sharad Pawar Rules Out Mid-Term Elections.
"I told Amit bhai (BJP president Amit Shah) that if he mediates then a way can be found out to which he (Amit Shah) replied 'don't worry, everything will be fine. BJP and Shiv Sena will come together to form government'," Athawale said after the NDA meeting in the national capital ended.
Athawale's RPI was a constituent of the NDA alliance in Maharashtra. The coalition was expected to form the next government in the state after they cumulatively crossed the halfway majority mark on the declaration of results on October 24.
The government, however, could not be formed as Shiv Sena laid claim over the chief ministerial post. The BJP, which won nearly double the seats, categorically refused Sena's bid to share the CM chair for two-and-a-half years each.
Former chief minister Devendra Fadnavis, before submitting his resignation on November 8, accused the Sena leadership of betraying the principles of Hindutva and "coalition dharma" by reaching out to the Congress and NCP for forming the government.
Uddhav Thackeray, the chief of Sena, retailated to Fadnavis' charge by accusing the BJP of not honouring the promise of "equal sharing of power". Thackeray claimed that Shah had assured Sena that the government in Maharashtra would be led on an equal footing by both the parties after the assembly polls.