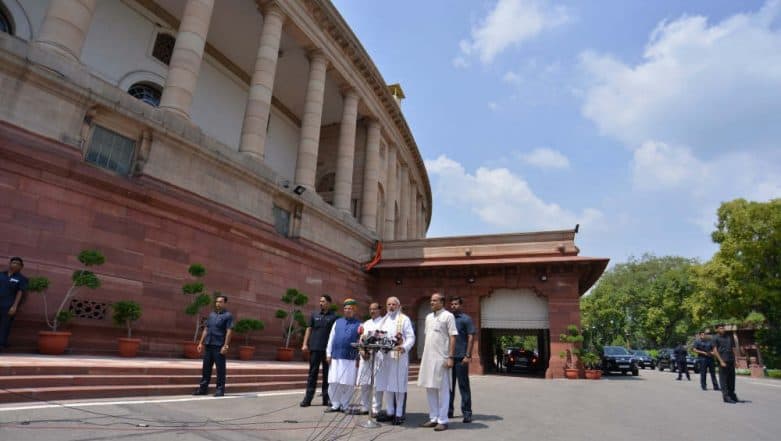 New Delhi, January 7: The Citizenship Amendment Bill, 2016, which will be submitted in Lok Sabha today, has divided the ruling National Democratic Alliance (NDA), with BJP allies Shiv Sena and Janata Dal (United) pledging to vote against the controversial legislation. The proposed amendment to the Citizenship Act of 1955,  has been opposed by another BJP ally Asom Gana Parishad (AGP) in Assam.
The Citizenship Amendment Bill will grant citizenship to minority communities from Afghanistan, Bangladesh, and Pakistan after six years of residence in India, instead of 11. "We are determined to oppose the Citizenship (Amendment) Bill, 2016, in Parliament. The people of Assam, irrespective of their caste, religion and creed, oppose the proposed legislation," Shiv Sena spokesperson Sanjay Raut said in a statement. AASU Says Won't Be Part Committee Set Up by Centre Unless Citizenship Bill is Scrapped.
BJP's ally in Bihar, JD(U) said it opposes the Citizenship Bill because it harms the identity and culture of Assam and the northeast. Besides, at least four opposition parties - Congress, TMC, CPI(M) and the Samajwadi Party - have moved dissent notes ahead of the final report of the joint parliamentary committee on the Citizenship Amendment Bill, which will be submitted in Lok Sabha today.
While speaking in Silchar, Assam on Friday, Prime Minister Narendra Modi reiterated the Centre's commitment to passing the Citizenship Amendment Bill. "The Citizenship Bill is an atonement of the wrong that was done during India's partition. I hope this bill is passed soon in Parliament. India will safeguard all who had been victims of partition," he said.
Assam Will go to 'Jinnahs' if Citizenship Bill Fails: Himanta Biswa Sarma
Senior Assam minister Himanta Biswa Sarma on Sunday said the state will go to 'Jinnahs' if the Citizenship Amendment Bill is not passed. "People are concerned that we are trying to bring somebody (outsiders), which is false. Without that Bill, we are surrendering ourselves to the philosophy of Jinnah… This is a fight between Jinnah's legacy and India's legacy," Sarma said at a press conference.