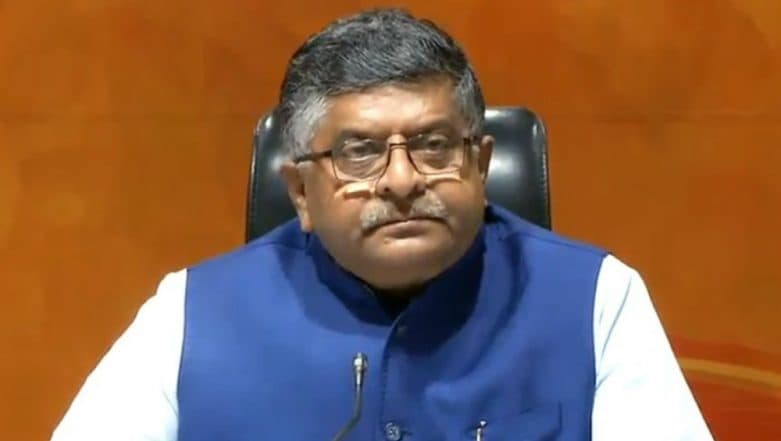 New Delhi, January 22: Union Minister Ravi Shankar Prasad on Tuesday hit out at the Congress and claimed that the EVM hackathon event held in London on Monday was organised by the Opposition party. Prasad also said that the organiser of the London event was a Congressman. The minister also accused the Congress of defaming India's democracy and the Election Commission for making claims of Lok Sabha Elections 2014 being rigged. EVM Hackathon in London: '2014 Lok Sabha Elections Were Rigged...Gopinath Munde Was Murdered as He Knew About It', Says US-Based Expert Syed Shuja.
Questioning the presence of senior Congress leader Kapil Sibal at the London event, Prasad said, "What was Mr Kapil Sibal doing there? In what capacity was he present there? I believe he was monitoring the situation on behalf of Congress party. Is the Congress sponsored event designed to insult the popular mandate of 2014?" London EVM 'Hackathon': Election Commission Denies Tampering Charge, Mulls Legal Action Against Syed Shuja.
Meanwhile, the Congress said that Sibal attended the event in his personal capacity. The Congress distanced itself from the London press conference wherein a self-proclaimed Indian cyber expert claimed that electronic voting machines (EVMs) can be hacked and the 2014 election was "rigged", and demanded an investigation into the allegations.
Congress spokesperson Abhishek Singhvi said party leader Kapil Sibal was invited by a journalist and he did not represent the Congress party at the press conference, held under the aegis of the Indian Journalists' Association (Europe).
In a series of startling claims on Monday, a US-based cyber expert who exhibited how an electronic voting machine used by the Election Commission of India (ECI) could be "hacked", said the 2014 Lok Sabha polls were entirely "rigged" by the Bharatiya Janata Party (BJP). Syed Shuja claimed that senior BJP leader Gopinath Munde was "murdered" as he was about to expose the party leadership for "rigging" the parliamentary elections in 2014.
The Election Commission of India too dismissed the claims made by Shuja at the press conference. The ECI said that it was looking at legal options to take action against the organisers of the event in London.