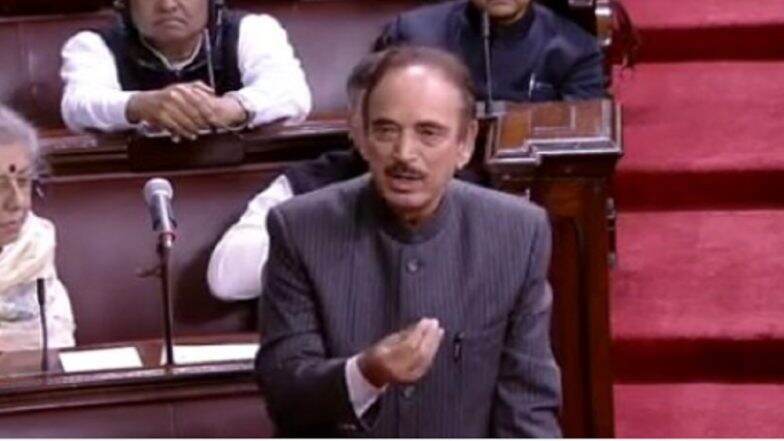 New Delhi, September 15: Senior Congress leader from Jammu and Kashmir, Ghulam Nabi Azad, talking ahead of the hearing of his petition challenging the abrogation of Article 370 and the subsequent government decisions by the government said that the petition is in his personal capacity and as a resident of Jammu and Kashmir. The Member of Parliament (MP) from Jammu and Kashmir said that his petition is not political in nature and that it is to "know the plight of those lakhs of people." Home Minister Amit Shah on August 6 had presented the the Jammu and Kashmir Reorganisation Bill in the Rajya Sabha, scrapping Article 370 and ending the special status to Jammu and Kashmir. Article 370 Abrogated From Jammu and Kashmir: Home Minister Amit Shah Proposes Scrapping of the Article, What Does the Article State?
Former Jammu and Kashmir Chief Minister and senior Congress leader Ghulam Nabi Azad has filed a petition in the Supreme Court, challenging security lockdown and communication blackout in the state. A special bench of the Supreme Court will hear Ghulam Nabi Azad's plea, along with Habeas Corpus petitions and other petitions against the Jammu and Kashmir lockdown, tomorrow, on Monday. Ghulam Nabi Azad Moves Supreme Court Challenging Jammu And Kashmir Lockdown Post Article 370 Repeal.
Read the ANI Tweet Below
Ghulam Nabi Azad,Congress on his petition in SC on #Art370: The petition is in my personal capacity, as a resident & as a Member of Parliament from Jammu & Kashmir. I would like to know the plight of those lakhs of people, it is on humanitarian basis, nothing to do with politics https://t.co/n7HPlv2Be9 pic.twitter.com/D6lhv5muk0

— ANI (@ANI) September 15, 2019
More than a dozen petitions have been already filed in the apex court in connection with Jammu and Kashmir. The state has been under unprecedented security lockdown and mobile services snapped since the Modi government withdrew its special status under Article 370 of the Indian Constitution and bifurcated the state into two union territories - Jammu and Kashmir with a legislature and Ladakh without one. The Supreme Court had earlier issued a notice to Centre and others saying that a five-judge Constitution Bench will hear all the petitions related to abrogation of Article 370, in the first week of October.