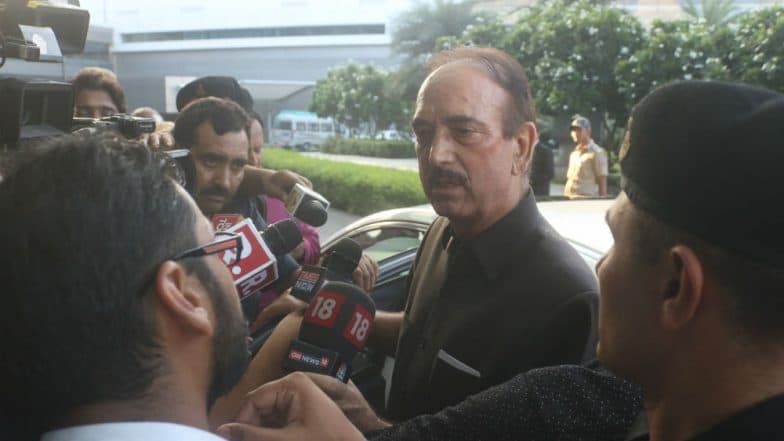 New Delhi, September 15: Former Jammu and Kashmir Chief Minister and senior Congress leader Ghulam Nabi Azad has filed a petition in the Supreme Court, challenging security lockdown and communication blackout in the state. A special bench of the Supreme Court will hear Ghulam Nabi Azad's plea, along with Habeas Corpus petitions and other petitions against the Jammu and Kashmir lockdown, tomorrow. Jammu And Kashmir Under Siege: Security Lockdown, Communication Blackout And UT Status Leave Kashmiris With No Autonomy.
More than a dozen petitions have been already filed in the apex court in connection with Jammu and Kashmir. The state has been under unprecedented security lockdown and communication blackout since the Modi government withdrew its special status under Article 370 of the Indian Constitution and bifurcated the state into two union territories - Jammu and Kashmir with a legislature and Ladakh without one. NSA Ajit Doval on Article 370 Repeal: Majority of Kashmir Supporting Move, 92.5% of J&K Freed of Restrictions.
On Thursday, the Jammu & Kashmir People's Conference, led by Sajad Lone, moved the Supreme Court challenging the abrogation of Article 370 through a presidential order. "The Governor of State of Jammu and Kashmir kept the entire nation in the dark and the country was not informed that such a drastic action against the interest of the state is being taken and the Amaranth pilgrims were asked to interrupt their religious pilgrimage," said the petition.
The petition contends that the presidential order was issued pursuant to the "concurrence" of the government of Jammu and Kashmir, despite in the absence of an elected government in the state, under the provisions of the Constitution and is thus, an affront on the Constitution and a blatant attack on the federal nature of the Constitution and freedom of people of the state.
A separate petition has also been filed over the "illegal detention of children" in Jammu and Kashmir following the abrogation of Article 370. Alleging the illegal detention of children in Kashmir, as reported in the media, the petitioners, Enakshi Ganguly, an eminent child rights expert, and Shanta Sinha, first chairperson of the National Commission for Child Rights (NCPCR), have sought judicial intervention in the matter.