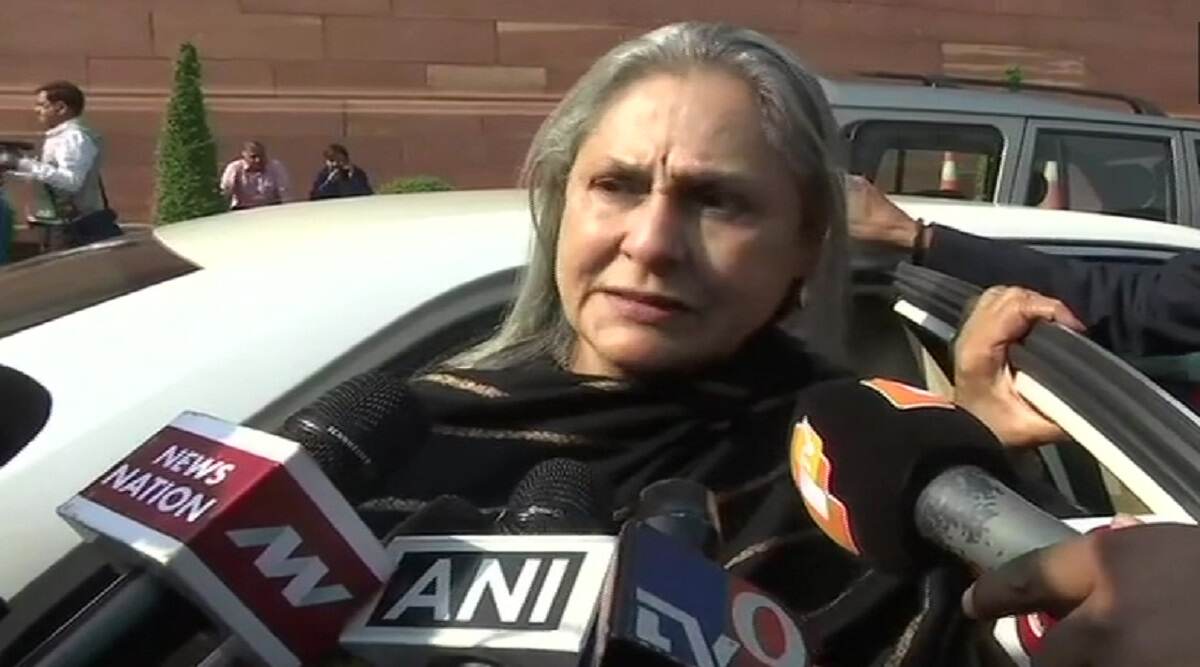 New Delhi, December 2: Days after a Hyderabad female veterinary doctor was gang-raped and murdered in Shamshabad, the incident rocked Parliament on Monday. Lawmakers not only demanded stern punishment for the four accused who committed the heinous crime but also wanted that the Telangana government should be asked to give explanation. 'Hyderabad Vet Rape-Murder Case to Be Heard in Fast-Track Court,' Says Telangana Chief Minister KCR.
Reactions in Rajya Sabha:
Rajya Sabha MP Jaya Bachchan demanded that the accused should be lynched. Speaking in the Upper House over the incident, Bachchan said, "I think it is time the people now want the government to give a proper and a definite answer. These people (the accused in rape ) need to be brought out in public and lynched."
Jaya Bachchan's Speech in Rajya Sabha:
#WATCH "People now want Govt to give a definite answer. These type of people (the accused in rape case) need to be brought out in public and lynched," Rajya Sabha MP Jaya Bachchan on rape & murder of woman veterinary doctor in Telangana pic.twitter.com/HFNjUHtSHB

— ANI (@ANI) December 2, 2019
AIADMK MP Vijila Sathyananth demanded that the culprits should be hanged before December 31. She further added, "A fast track court should be set up. Justice delayed is justice denied." Congress MP and the Leader of Opposition in the Upper House Ghulam Nabi Azad asked people to stand together against the crime. He said that the problem couldn't be solved through legislation alone.
Meanwhile, Vice-President and Rajya Sabha Chairman stated that only the new bill against crime could not prove deterrent. He added that political will, administrative skill, and a change of mindset is required. Hyderabad Vet Rape-Murder Case: Cyberabad Police Commissioner Conducts Inquiry Over Delay in Filing 'Missing' FIR; 3 Cops Suspended.
Reactions in Lok Sabha:
In Lok Sabha also, MPs equivocally condemned the incident. Defence Minister Rajnath Singh said, "This act has brought shame to the entire country. It has hurt everyone. The accused must be given the most stringent punishment for their crime." He added that his government is ready to make law to prevent such incidents in future.
UKN Reddy, Congress MP from Nalgonda, Telangana, demanded that fast track should be set up and accused should be hanged till death. He said, "One of the causes of the incident is indiscriminate sale of liquor. We request a fast track court be set up and accused hanged till death."
Telangana Chief Minister K Chandrashekhar Rao ordered the establishment of a fast-track court for the trial of the gang rape-murder case. He also assured all possible help to the victim's family. The 27-year-old doctor was gang-raped and burnt to death on the intervening night of November 27-28. Her charred body was found on Thursday near Shadnagar town of Hyderabad under a National Highway 44 bridge On Friday Cyberabad police arrested four accused - Mohammad Areef, Jollu Shiva, Jollu Naveen, and Chintakunta Chennakeshavulu.