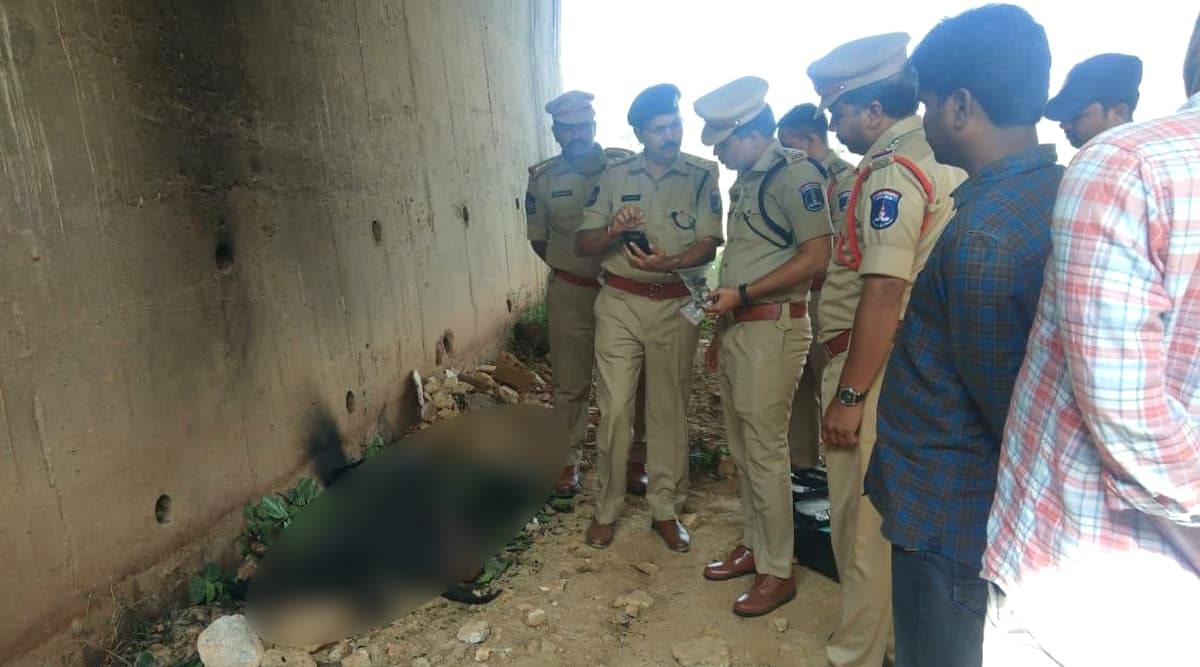 Hyderabad, November 30: Days after the gangrape and murder of a female veterinary doctor in Shamshabad, three police personnel were suspended on Saturday for dereliction of duty. The officials have been placed under suspension until further orders. Cyberabad Police Commissioner VC Sajjanar conducted a detailed inquiry and found that the cops delayed the registration of an FIR relating to the missing woman on the intervening night of November 27 and 28 over jurisdiction issue between the two police stations. Hyderabad Vet Rape-Murder Case: Anguished Locals Clash With Police, Hurl Slippers, Get Lathicharged in Retaliation (Watch Videos).
The cops who are placed under suspension due to negligence in the duty are - M. Ravi Kumar, SI of Police, Shamshabad PS, P Venu Gopal Reddy, Head Constable, RGIA Airport PS and A. Sathyanarayana Goud, Head Constable, RGIA Airport PS. Sajjanar said, "Today a detailed inquiry was conducted on dereliction of duty on delaying FIR registration relating to a missing woman of Shamshabad Police Station on intervening night of November 27-28."
The family of the victim had alleged that the police did not respond quickly when they approached them to lodge the missing complaint at 11 pm on the night of the incident. They said the police wasted a lot of time over jurisdiction issue between two police stations besides asking them inappropriate questions. The Commissioner of Police has also instructed all the officers of the Cyberabad police to register the case irrespective of jurisdiction.
Earlier in the day, the four accused - Mohammad Areef, Jollu Shiva, Jollu Naveen, and Chintakunta Chennakeshavulu- were sent to 14-day judicial remand. They were shifted from Shadnagar police station to Chanchalguda Central Jail. Locals also hurled slippers on police after cops stopped them from entering the police station where the accused were lodged. In retaliation, the cops resorted to lathicharge. Hyderabad Veterinary Doctor Rape-Murder: 'Terrible Violence Beyond Imagination,' Tweets Rahul Gandhi.
On Saturday, as a mark of protest against the horrific crime, administration of Chilkoor Balaji Temple closed the holy shrine for 20 minutes. Devotees remained outside and performed "Maha Pradakshinam", a prayer for the safety of women and girls. Youth Congress workers held a protest march at Jantar Mantar, against the rape and murder of the 27-year-old veterinary doctor. Bharatiya Janata Party (BJP) Mahila Morcha members also took part in candle march in Siliguri.
The 27-year-old doctor was gang-raped and burnt to death on the intervening night of November 27-28. Her charred body was found on Thursday near Shadnagar town of Hyderabad under a National Highway 44 bridge. According to reports, the woman was gang-raped and murdered on Wednesday night near Outer Ring Road at Shamshabad on the city outskirts.