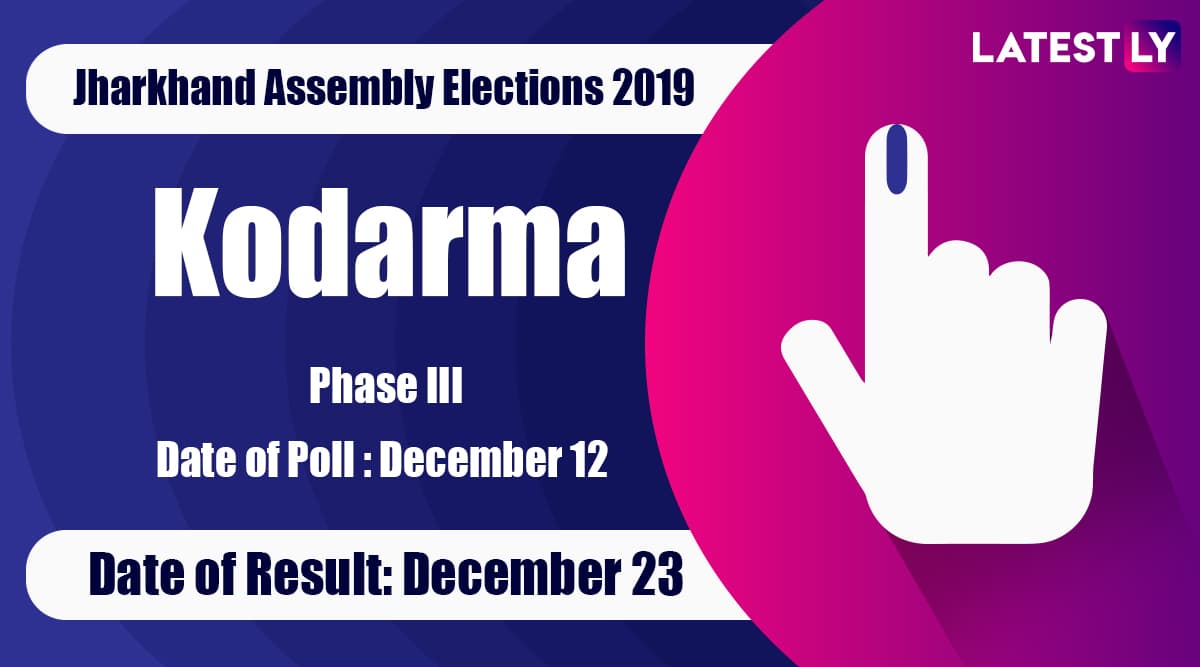 Ranchi, December 11: The assembly constituency of Kodarma goes to poll on December 12 in the third phase of polling in Jharkhand. Kodarma is located in the Godda district in the state of Jharkhand. It falls under the Parliamentary constituency seat of Kodarma district. The major contest on this seat is between the Lok Jan Shakti Party's Rajeev Kumar Pandey and against independent MLAs Rajkumar PD Yadav and Gulam Mustafa. The sitting MLA in the Kodarma constituency is Dr. Neera Yadav of the BJP. Jharkhand Assembly Election 2019 Dates: Know Phase-Wise And Constituency-Wise Schedule For Vidhan Sabha Polls.
The major political parties contesting the Assembly Elections in Jharkhand include Bharatiya Janata Party (BJP), Jharkhand Vikas Morcha (JVM) and the alliance between Jharkhand Mukti Morcha (JMM), Congress and Lalu Prasad Yadav's Rashtriya Janata Dal (RJD). These three parties have come together to take on the BJP in the ensuing elections for the 81-member Jharkhand assembly. While BJP plans to go solo this time, the JMM will contest 43 seats, Congress wil contest on 31 seats and RJD will contest on 7. Jharkhand Assembly Elections 2019 Dates And Full Schedule Announced by Election Commission: Polling in 5 Phases.
In Jharkhand, the five-phase elections are scheduled to be contested between November 30 to December 20. The first phase of election in the state had taken place on November 30. The voting for the third phase will be conducted on December 12, the fourth phase on December 16, and the fifth and last phase on December 20.The counting of votes will take place on December 23.
In the 2014 Assembly polls in Jharkhand, the BJP had won the elections by defeating Congress and its major allies RJD, Janata Dal (United), and Jharkhand Mukti Morcha (JMM). Ever since Jharkhand was formed, it was the first time in 2014, that a single-party (BJP) formed a majority in the state assembly. The BJP had won in 43 seats out of 81 seats, 2 more that required majority.
| MLA Candidates | Party | Votes |
| --- | --- | --- |
| Ramesh Harshdhar | JVM | 9557 |
| Gulam Mustafa | IND | 861 |
| Dr. Neera Yadav (Current MLA) | BJP | 63675 |
| Santosh Kumar Singh | AAP | 620 |
| Yogendra Kumar Pandit | IND | 4169 |
| Prakash Ambedkar | BSP | 3627 |
| Chandradev Yadav | IND | 2449 |
| Bhuneshwar Giri | IND | 2384 |
| Raj kumar Pd. Yadav | IND | 1745 |
| Dhiraj Kumar | IND | 1346 |
| Deepak Yadav | IND | 1318 |
| Amitabh Kumar | Rashtriya Janata Dal | NA |
| Shalini Gupta | AJSU Party | NA |
| Mahendr Prasad | Moolniwasi Samaj Party | NA |
| Md. Mubark | Pragatishil Samajwadi Party (Lohia) | NA |
| Rajiv Kumar Pandey | Lok Jan Shakti Party | NA |
| Subhash Mistry | Samajwadi Party | NA |