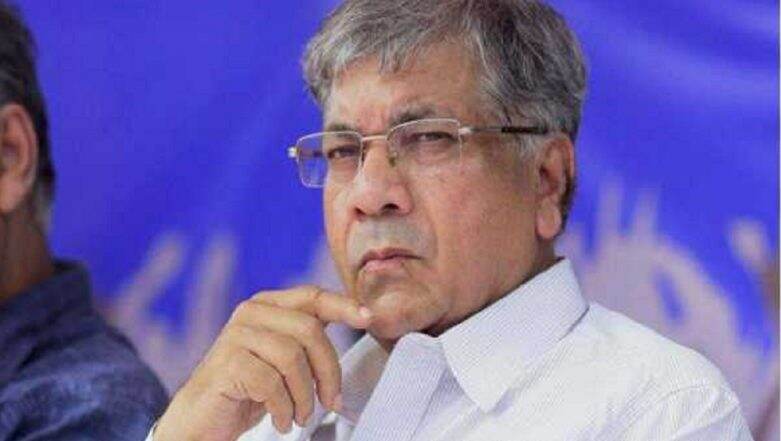 Solapur, March 11: In a setback for Congress to garner the support of Dalits in the upcoming Lok Sabha Elections, Vanchit Bahujan Aghadi's (VBA) Prakash Ambedkar on Monday announced that he would be contesting the general polls from Solapur constituency. Earlier, there were speculations that the Dalit leader might contest polls from Akola seat.
Since the Solapur seat had been represented by Congress's Sushil Kumar Shinde – former chief minister of Maharashtra, Ambedkar's decision to contest from the seat is like a jolt to Congress's aspirations, which is planning to retain the seat back from BJP's Sharad Bansode – sitting MP. Lok Sabha Elections 2019: In Maharashtra, Congress-NCP in Talks With Prakash Ambedkar to Include BBM in Grand Alliance. 
A few days back Congress leaders from the state had been in talks with Ambedkar over a possible alliance with VBA in Maharashtra, provided that cut off their ties with All India Majlis-e-Ittehad-ul-Muslimeen (AIMIM) and chunk off their demand of 12 seats. Congress had agreed to give two seats to VBA, and urged them to snap ties with Asaduddin Owaisi's party, calling it communal.
With the agreement not working out between the parties for 48 Lok Sabha seats in Maharashtra, Ambedkar had announced to contest polls without Congress. Asked if he is willing to consider an alliance with Congress, Ambedkar said that he could if Congress agrees to the demand of 22 seats. Maharashtra Lok Sabha Elections 2019 Dates: Constituency-Wise Complete Schedule Of Voting And Results For General Elections. 
The Lok Sabha Elections in Maharashtra will take place in four phases. The dates of polling are – April 11, April 18, April and April 29. The results would be announced on 23.