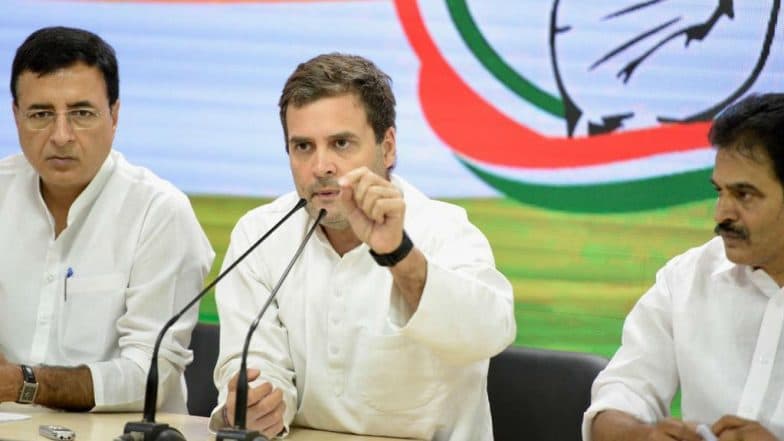 New Delhi, August 23: Congress leader Rahul Gandhi will visit Jammu and Kashmir tomorrow, on Saturday, August 24. The Congress leader will be accompanied by CPI(M) General Secretary Sitaraman Yechury, senior Congress leader from Jammu and Kashmir, Ghulam Nabi Azad and leaders from Opposition parties. This will be Gandhi's first visit since the abrogation of Article 370 and bifurcation of the state of Jammu and Kashmir into Union Terriroties of Jammu and Kashmir and Ladakh. Rahul Gandhi Accepts Jammu And Kashmir Governor Satya Pal Malik's Invite to Visit Valley, Says 'I Don't Need Aircraft, But Freedom to Travel, Meet People'.
Rahul Gandhi was critical of Modi government's move to abrogate Article 370 from Jammu and Kashmir, ending the special status accorded to the former state turned Union Territory. Gandhi had said that he came across some media reports of violence in the valley. "People were dying in the state and the situation was not normal as claimed by the government," he said. Article 370 Abrogated From Jammu and Kashmir: Home Minister Amit Shah Proposes Scrapping of the Article, What Does the Article State?
Gandhi also had a run-in with Jammu and Kashmir governor Satyapal Malik on Twitter. The governor had said that Rahul Gandhi was trying to politicise the matter of Jammu and Kashmir and that he should visit the valley if he wants to know the "real ground situation." 'Will Send Plane for Rahul Gandhi, Come Here, Then Speak': Jammu and Kashmir Governor Satya Pal Malik.
Malik had said that Gandhi should be ashamed. The governor also invited Gandhi to the valley and see the ground reality. "I have invited Rahul Gandhi to come here. I will send you an aircraft, to see the situation and then speak up," Malik said.
Satyapal Malik said that, "Rahul Gandhi is politicising the matter by seeking to bring a delegation of opposition leaders to create further unrest and problems for the common people. He has put forth many conditions for visiting Jammu and Kashmir, including meeting mainstream leaders under detention."
The Congress leader had replied saying he accepted the governor's invitation, but requested the "freedom to travel and meet the people, mainstream leaders and our soldiers stationed there," in a jibe to governor Malik's offer to send an aircraft to observe the ground situation.