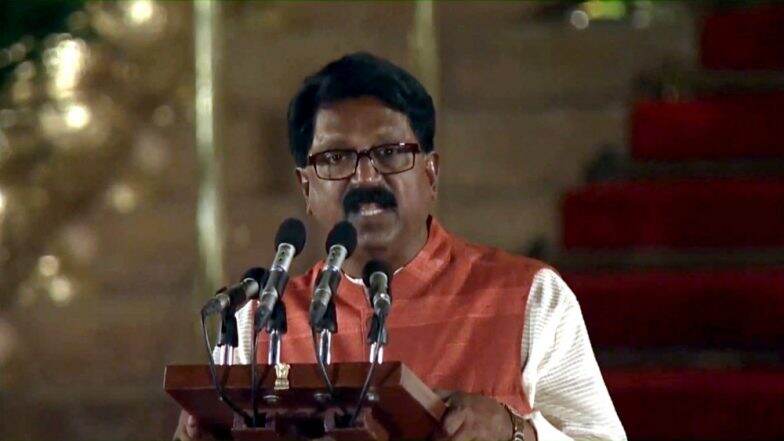 Mumbai, November 11: With ties deteriorating between Hindutva allies Bharatiya Janata Party (BJP) and Shiv Sena, the latter's lone Minister in the Narendra Modi government - Arvind Sawant - has resigned from his post. Sawant, the Lok Sabha MP from Mumbai South constituency, was inducted as the Union Minister of Heavy Industries and Public Enterprises in May this year. Maharashtra Government Formation: Shiv Sena Invited by Governor to Stake Claim After BJP Turns Down Invite.
The 68-year-old lawmaker, while speaking to news agency ANI in the early hours of Monday, said he is quitting from his ministerial berth in the Modi government. "I am resigning from my ministerial post," Sawant was quoted as saying.
The resignation comes a day after the Nationalist Congress Party (NCP) of Sharad Pawar asked the Shiv Sena to snap ties with the NDA in both the state as well as the Centre if its wants the Opposition's support to form government in Maharashtra.
Update by ANI:
Union Minister of Heavy Industries and Public Enterprises & Shiv Sena MP Arvind Sawant: I am resigning from my ministerial post. pic.twitter.com/6UVYpXK6Sa

— ANI (@ANI) November 11, 2019
'Why Stay in Delhi?' Tweets Arvind Sawant
शिवसेनेची बाजू सत्याची आहे. अशा खोट्या वातावरणात दिल्लीतील सरकार मध्ये तरी का रहायचे?

आणि म्हणूनच मी केंद्रीय मंत्री पदाचा राजीनामा देत आहे. या संदर्भात आज सकाळी ११.०० वा. दिल्ली येथे मी पत्रकार परिषद (Press Conference) घेणार आहे.

— Arvind Sawant (@AGSawant) November 11, 2019
The Sena-BJP tensions escalated after the results of Maharashtra assembly elections 2019 -- which left no single-party with a full majority. Although the NDA alliance sailed above the halfway mark by 17 seats, the post-poll government formation process was vitiated as both the parties could not agree to the terms of the next government.
While Sena has been seeking the chief ministerial post for two-and-a-half years, the BJP has categorically denied. The latter has pointed out that it has won nearly double the seats than the Uddhav Thackeray-led party. "The mandate allows Devendra Fadnavis to continue as the CM," Finance Minister in the outgoing government, Sudhir Mungantiwar had said.
On Sunday, the split in NDA was nearly sealed after the BJP came out in the open expressing its will to not to form the government in the state. The retreat from the single-largest party has compelled Governor Bhagat Singh Koshyari to invite Sena for government formation. The party will be able to come to power if the two major Opposition parties - the Congress and the NCP - extend support.