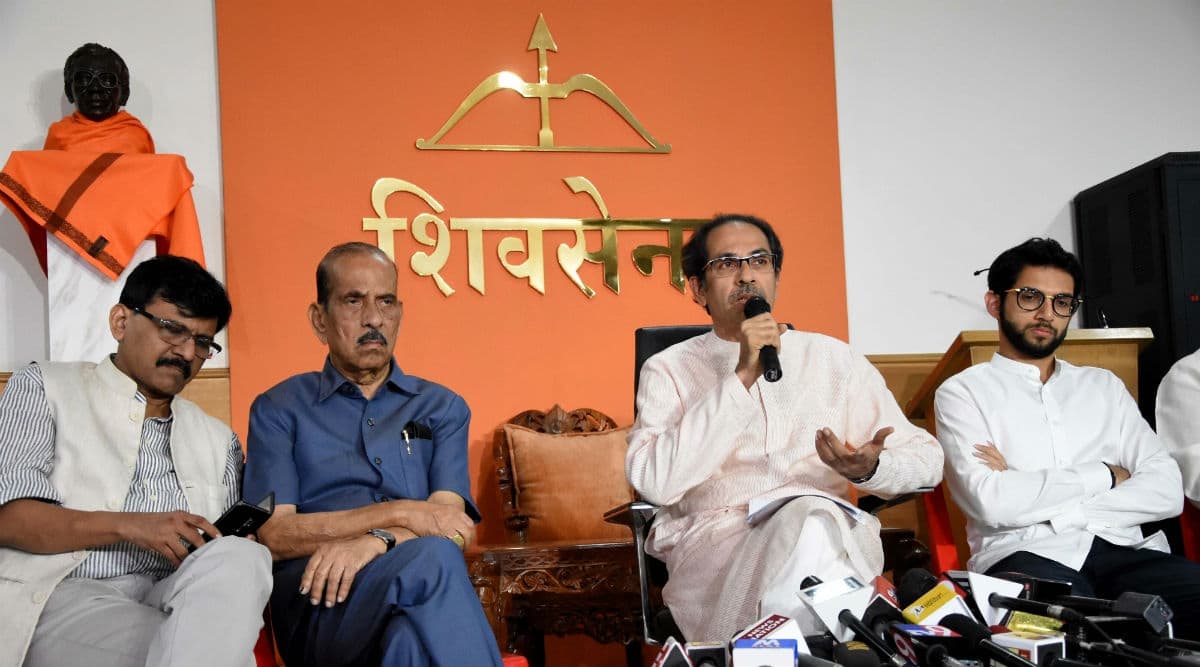 Mumbai, November 10: Hours after the Bharatiya Janata Party (BJP) refused to stake claim, Maharashtra governor Bhagat Singh Koshiyari has now invited the second largest party Shiv Sena to form government in the state. The state is witnessing a political stalemate since last two weeks after the Uddav Thackeray-led party refused to support its ally BJP in forming the government. Earlier in the day, Maharashtra BJP chief Chandrakant Patil said that the saffron party would not form the government.
Addressing the media, Patil said that party's stand has been conveyed to the governor after a series of marathon meetings of the core committee. He also blamed the Shiv Sena for disrespecting the mandate given by the people of Maharashtra. Meanwhile, after the BJP rejected the governor's invitation, Shiv Sena MP Sanjay Raut said that if no other party is willing to form the government in Maharashtra, then his party is ready to stake their claim. He also hinted at forming an alliance with the Congress and the Nationalist Congress Party (NCP).
On November 9, the governor invited the BJP to form the government in the state. Caretaker Chief Minister and head of the BJP legislative party Devendra Fadnavis had also exuded confidence to form the government. Maharashtra Government Formation: From BJP-Led Minority Government to Shiv Sena-NCP-Congress Alliance, List of Likely Political Scenarios.
Meanwhile, after the BJP decided not to form the government, the Congress also indicated at supporting the Shiv Sena. Congress leader Ashok Chavan said, "We are keeping an eye on recent developments. We are meeting now and discussing all the options before us. We have not decided anything yet." Similarly, the NCP is also mulling over supporting the Shiv Sena. The NCP has called a meeting of its MLA's on Tuesday to discuss its strategy.
NCP spokesperson Nawab Malik said, "If Governor invites Shiv Sena to stake claim to form govt then we will think about our next step.Till now,we haven't received any proposal from Shiv Sena. The final decision will be taken by Congress and NCP together as declared by Pawar Sahab." However, the Sharad Pawar-led party asked the Shiv Sena to pull out of the National Democratic Alliance (NDA) if they want NCP's support. Maharashtra Government Formation: Shiv Sena Should Accept Deputy CM Post For Aaditya Thackeray And Leave CM Chair For Devendra Fadnavis, Says Ramdas Athawale.
The BJP contested the recently concluded assembly elections in an alliance with Shiv Sena. However, the alliance fell apart as the saffron party rejected the Shiv Sena's demand for the CM post. The Thackeray-led party then started to explore other options to form the government. In the assembly elections, the BJP won 105 seats, while the Shiv Sena bagged 56. The Congress and the NCP remained victorious on 44 and 54 seats respectively.