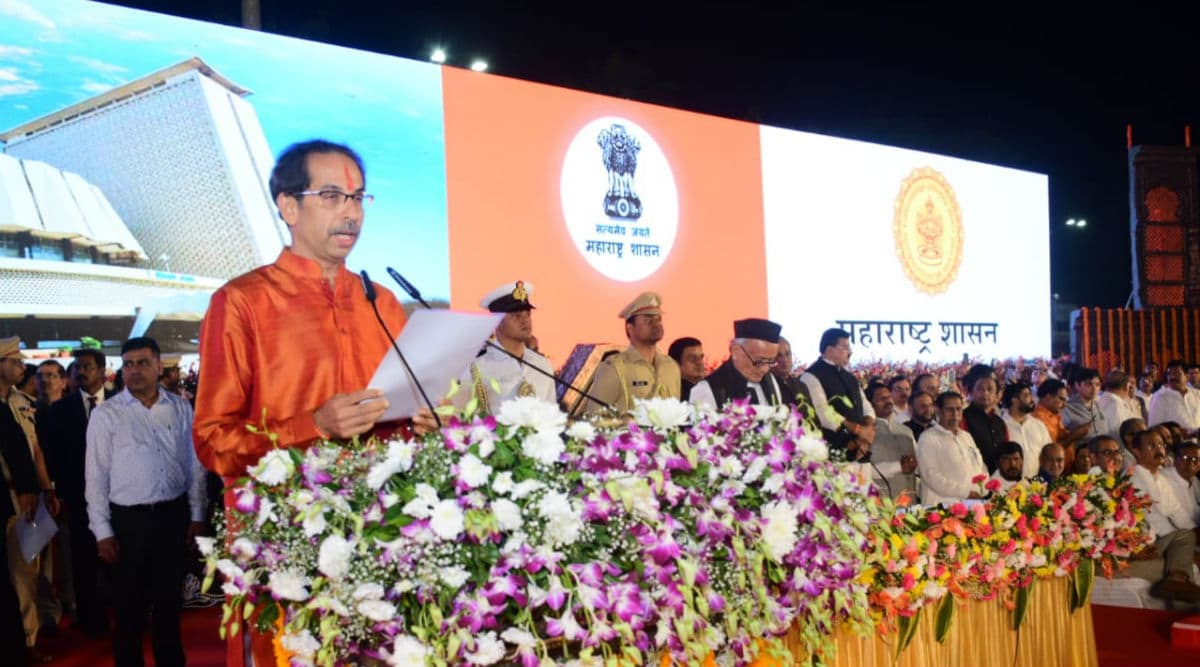 Mumbai, November 28: Ending the Shiv Sena's 20-year drought from helm of power in Maharashtra, party supremo Uddhav Thackeray was sworn in on Thursday as the Chief Minister. The Oath to Office was administered to him by Governor Bhagat Singh Koshyari at the historic Shivaji Park in Dadar. A crowd of over 50,000 supporters, including cadres of the Congress, NCP and Shiv Sena, assembled at the ground to witness the swearing-in ceremony. Uddhav Thackeray Becomes Maharashtra CM: A Soft-Spoken Shiv Sena Leader Emerges From Shadows to Become Rightful Heir of Bal Thackeray's Legacy.
Among top political leaders who attended the oath-taking event were Congress veterans Kapil Sibal, Ahmed Patel and Mallikarjun Kharge, NCP president Sharad Pawar, DMK supremo MK Stalin and MNS chief Raj Thackeray -- who is also the cousin of Uddhav Thackeray. Uddhav Thackeray to Hold First Cabinet Meeting Today, Likely to Review Bullet Train Project.
Uddhav's predecessor Devendra Fadnavis, former Gujarat chief minister Shankarsinh Vaghela, Madhya Pradesh Chief Minister Kamal Nath and his Chhattisgarh counterpart Bhupesh Baghel were also in attendance.
Along with Uddhav, six other leaders took oath as Minister in the new government. They include NCP's Jayant Patil and Chhagan Bhujbal, Congress' Balasaheb Thorat and Nitin Raut, along with Shiv Sena's Subhash Desai and Eknath Shinde.
Wishes Sent by Ex-PM Manmohan Singh
Dr.Manmohan Singh in a letter to Uddhav Thackeray: I am very happy to know that you are taking oath as the 19th Chief Minister of Maharashtra. It is a historic event and I commend you on your visionary leadership. pic.twitter.com/6U7pUumX7r

— ANI (@ANI) November 28, 2019
Former Prime Minister Manmohan Singh and Congress chief Sonia Gandhi, who could not attend the swearing-in ceremony, expressed their confidence in the coalition government led by Uddhav. The two leaders sent a letter to the Sena chief to wish him well.
Uddhav, 59, is the first member of the Thackeray political clan to head the chief ministerial post. He is also the first CM to be appointed from Shiv Sena after a gap of two decades. The last Chief Minister from the party was Murli Manohar Joshi, who headed a coalition government of the BJP and Shiv Sena.
Notably, Uddhav was not projected as the chief ministerial candidate ahead of the polls. Sena had fought the assembly elections in a pre-poll alliance with the BJP. While the latter projected Devendra Fadnavis as the CM candidate, sections of the Sena had pushed for Uddhav's son Aaditya Thackeray as the Chief Minister.
After no single party succeeded in crossing the majority mark, the Sena strengthened negotiations with the BJP, demanding rotational chief ministership. After Fadnavis categorically rejected their demand, the party explored other options. The hectic round of realpolitik led to an unexpected alliance, comprising of ideological rivals Congress and Sena, with the Pawar-led NCP acting as the bridge.