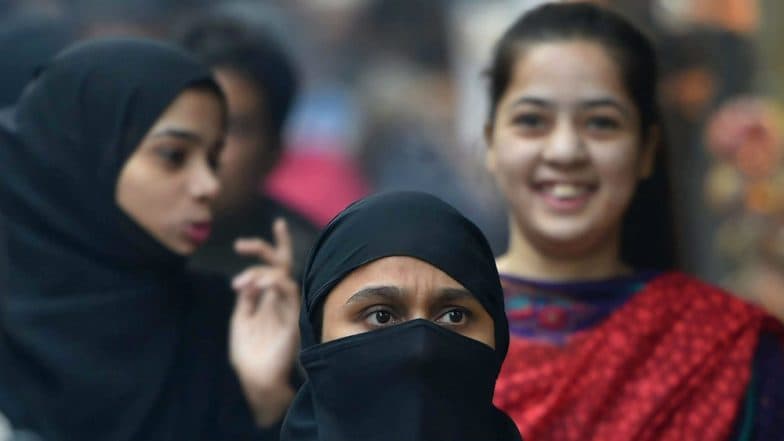 New Delhi, Aug 10: The government will re-introduce the Muslim Women (Protection of Rights on Marriage) Bill, 2017, which seeks to criminalise instant triple talaq, in the Rajya Sabha with a new amendment today. The Cabinet on Thursday proposed three changes in the Bill. The Triple Talaq Bill has been stuck in the Upper House due to Opposition demands on making the offence bailable. The Lok Sabha passed the Triple Talaq Bill in December last year.
The government has kept triple talaq or talaq-e-biddat, an Islamic practice allows Muslim men to call off their marriage by saying 'talaq' thrice, a non-bailable offence but has made a provision allowing a magistrate to give bail to the men found instantly divorcing their wives. Here's everything you need to know about the Muslim Women (Protection of Rights on Marriage) Bill.
1- The triple talaq bill makes the pronouncement of talaq-e-biddat 'void and illegal'. "Any pronouncement of talaq by a person upon his wife, by words, either spoken or written or in electronic form or any other manner whatsoever, shall be void and illegal," says the clause 3 of the bill.
2- The bill makes triple talaq a cognizable and non-bailable offence. It means a person who is accused of giving triple talaq to his wife can be arrested without an arrest warrant.
3- Though the bill makes triple talaq a non-bailable offence, the Cabinet has proposed a provision which says a magistrate can grant bail to men found guilty of giving instant triple talaq to their wives.
4- One of the changes proposed by the Cabinet says only the victim, blood relation or relation by marriage are allowed to lodge FIR in the case.
5- Under the newly-proposed amendment, a magistrate can compound the offence on appropriate terms and conditions if the wife and the husband desire to settle their differences.
6- The Bill proposes that a man who pronounces triple talaq shall be punished with a three-year jail term and a fine.
7- The Bill allows triple talaq victims to seek subsistence allowance from her husband for herself and her dependent children.  A First Class Magistrate will decide the amount of the allowance.
8- A woman can also seek the custody of her minor children from the magistrate who will take a final call on the issue.
If the amended triple talaq bill is passed in the Upper House, it will have to go back to Lok Sabha for approval of the amendments.