It is almost time for Diwali 2018 and before the actual day of the festival, there are other days which are just as significant and celebrated. Each day has its importance and it starts the festival which is usually spread across five days. Dhanteras, also known as Dhantrayodashi is the first day of Diwali festivities. Dhanteras 2018 will be on November 5 this year. On this day, people worship Goddess Lakshmi, the goddess of wealth. People greet each other for good luck, wealth and prosperity on this day. They send across Dhanteras messages on WhatsApp or keep Facebook statues to pass on their greetings. The festival is celebrated by people of different communities and thus greetings are also exchange in all languages. If you are looking for Dhanteras greetings in Hindi, let us help you with some. We give you a collection of Dhanteras images, pictures and Dhanteras messages, that you can send across to your friends and family. Diwali 2018: Why Is Dhanteras Celebrated? Origin and Significance of The Festival of Wealth.
Another significant tradition of Dhanteras is buying gold on this day. Other than gold and silver, people also buy new items in the forms of investments, from gadgets, home appliances to even a new house. It is considered that a purchase or an investment will bring in good luck for the year ahead. There are even specific times to make the purchase of gold or gold jewellery. Dhanteras 2018 Auspicious Time to Buy Gold: Know Shubh Muhurat to Purchase Jewellery, Silver Coins & Utensils on Diwali.
 Dhanteras 2018 Wishes in Hindi
Dhanteras 2018 Ki Badhai!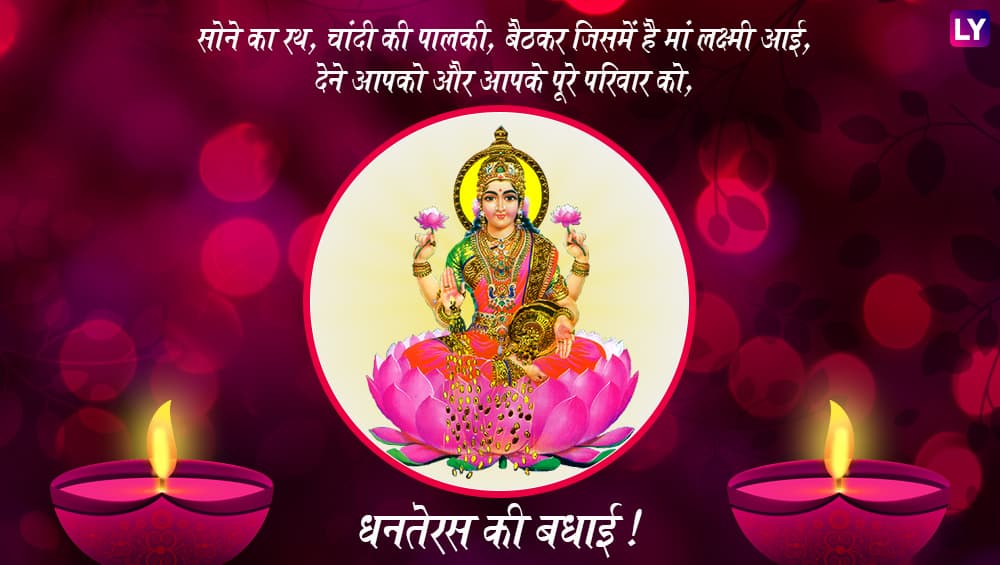 Message reads: Sone ka rath, Chandi ki palki, baithkar jisme hai maa Lakshmi aayi, dene aapko aur aapke pure parivar ko Dhanteras ki badhai.
Shubh Dhanteras 2018!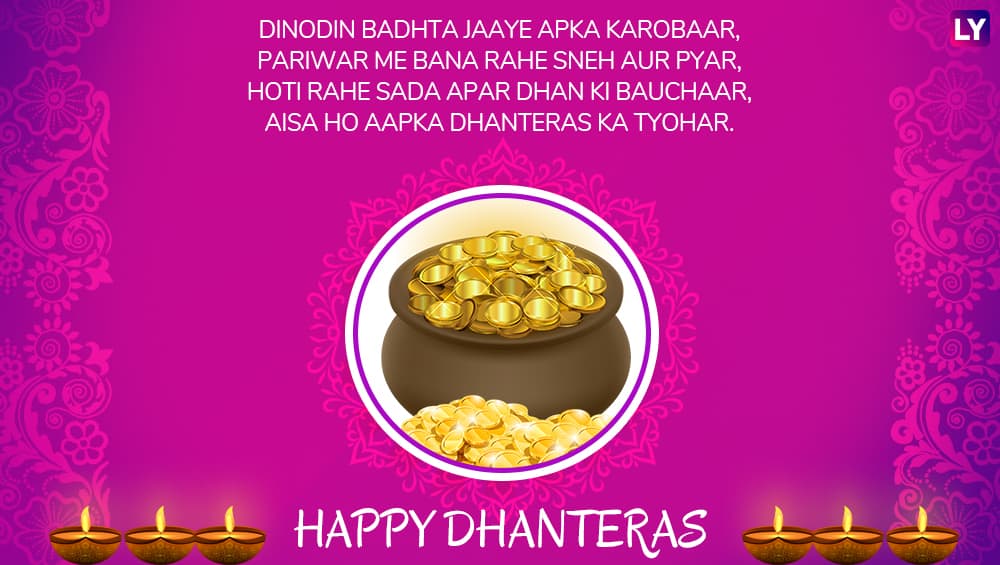 Message reads: Dinodin badhta jaaye apka karobaar, Pariwar me bana rahe sneh aur pyar, Hoti rahe sada apar dhan ki bauchaar, Aisa ho aapka DHANTERAS ka tyohar. Happy Dhanteras.
Dhanteras Ki Hardik Shubhkamnayein!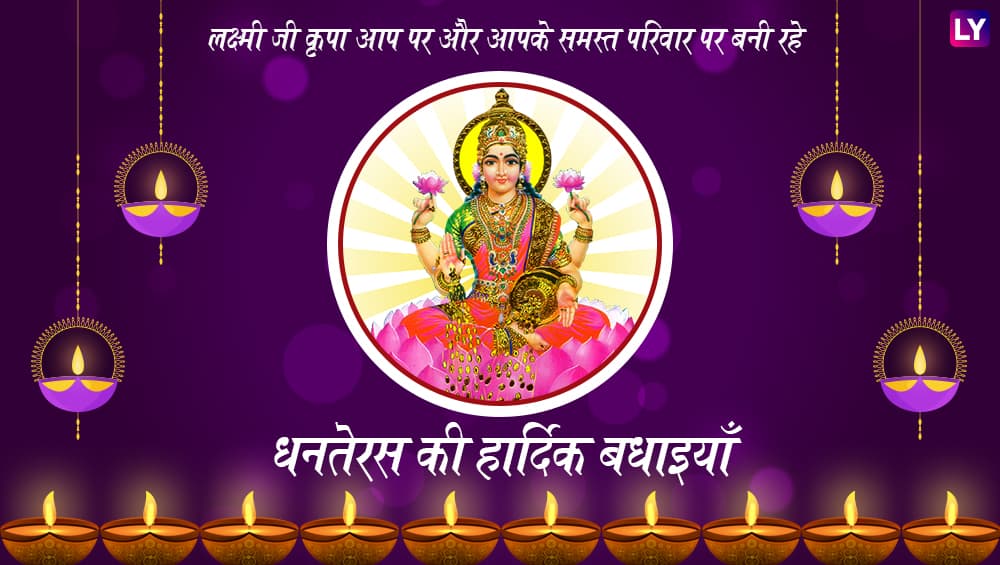 Message reads: Lakshmi ji krupa aap aur aapke samasta parivaar par bani rahe, Dhanteras ki hardik badhaiyaan!
Happy Dhanteras 2018 to You & Your Family!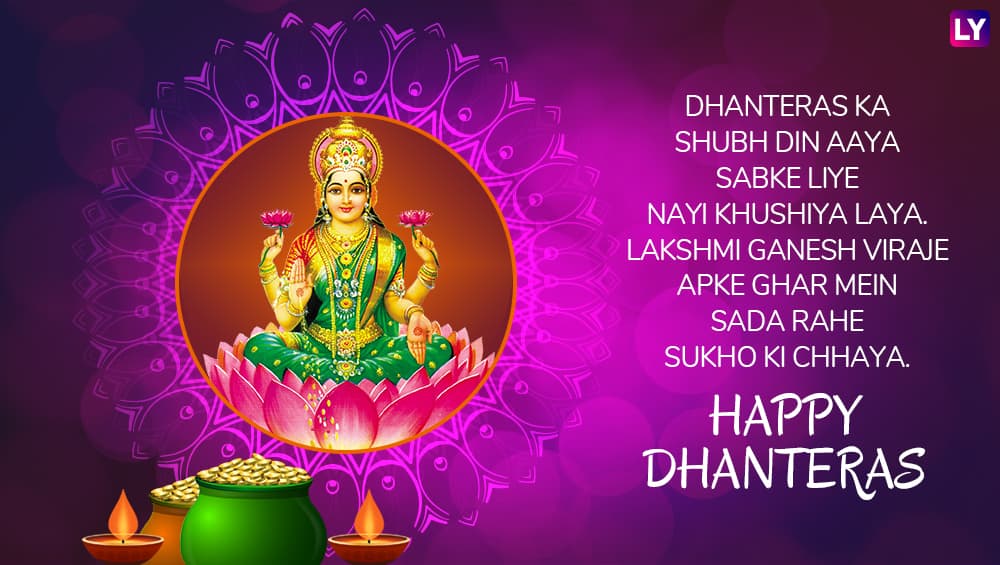 Message reads: DHANTERAS ka shubh din aaya, Sabke liye nayi khushiya laya. LAKSHMI GANESH viraje apke ghar mein sada rahe sukho ki chhaya. Happy Dhanteras.
A Happy & Prosperous Dhanteras 2018!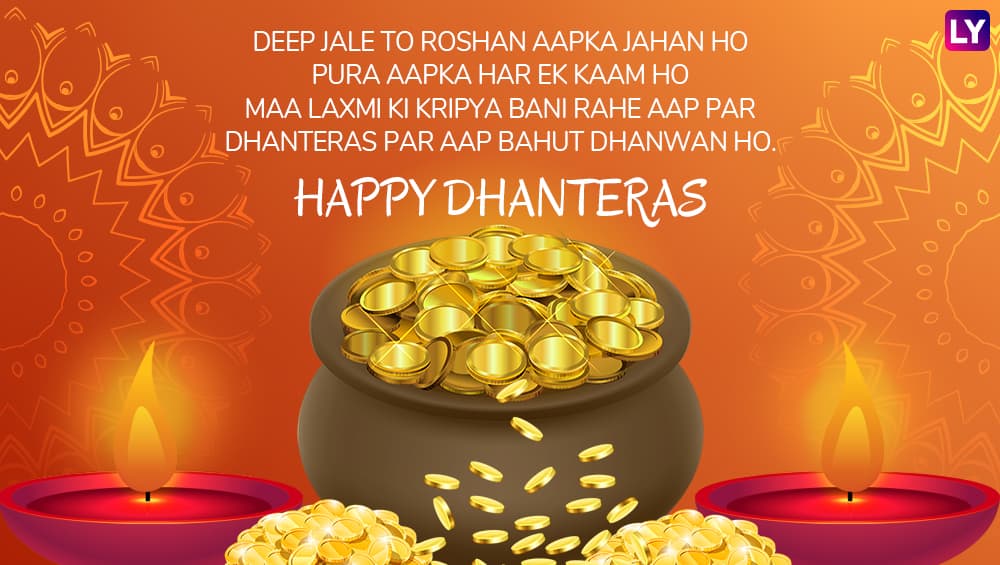 Message reads: Deep jale to roshan aapka jahan ho, Pura aapka har ek kaam ho, Maa laxmi ki kripya bani rahe aap par, Dhanteras par aap bahut dhanwan ho. Happy Dhanteras.
Dhanteras GIF Images
Happy Dhanteras
We hope these Dhanteras messages in Hindi help you to send across the best wishes to your loved ones, this Diwali. There are a lot of sale and discounts going on on many shopping platforms so make sure you make most of them for the festive purchase. And we wish you all a very Happy Dhanteras!