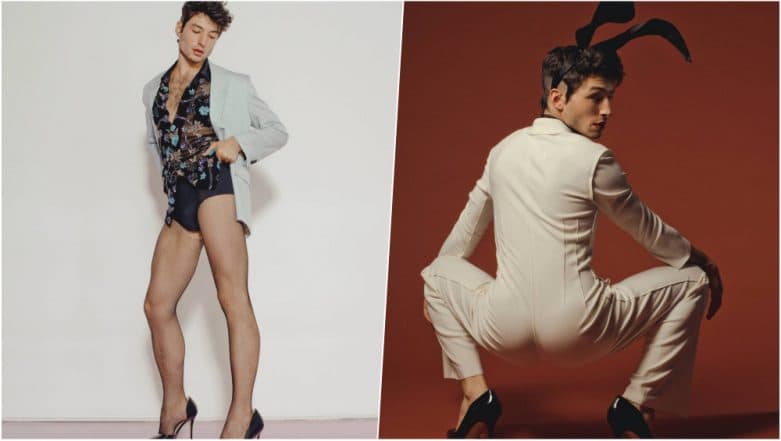 Ezra Miller is undoubtedly one of the most colourful and yet intense personalities one would ever come across. He is breaking stereotypes one day at a time and this time he posed for the new issue of Playboy. The 26-year-old is a rising star and is known for his eccentric red-carpet style. Recently, the actor walked in a puffy shiny black Moncler jacket for the premiere event of Fantastic Beasts: The Crimes of Grindelwald in which he will play the role of an American wizard Credence Barebone. For his Playboy interview Ezra talks about his sexuality, childhood abuse and his sex life. Ezra Miller Walks in a Shiny Puffer Coat at the Red-Carpet Event of Fantastic Beasts Premiere in Paris, See Pics.
For the photo shoot, Ezra is seen wearing bunny ears, floral shirts, fish nets and 14-inch high heels, as asked by Ezra himself. He is also seen wearing white lingerie and white pantsuit and wearing red lipstick in some pictures and is exuding oodles of glamour and sensuality. In terms of sexual preference, the actor is attracted to both men and women. However, a series of failed relationships have convinced Miller that monogamy is not for him. He says he belongs to a polycule (non-monogamous relationships).
Ezra Miller Poses for Playboy Magazine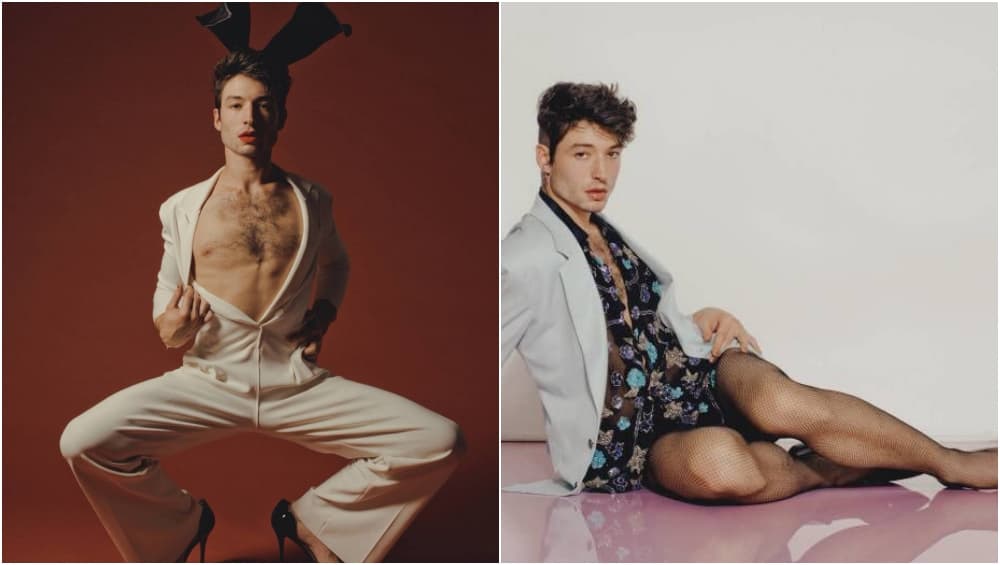 The Perks of Being a Wallflower star says, "I'm trying to find queer beings who understand me as a queer being off the bat, and I feel like I'm married to them 25 lifetimes ago. And then they are in the squad – the polycule." And talking on sexual abuse in the Hollywood industry, Ezra reveals, "I've been attacked repeatedly in my life – I've been attacked by fucking bigots, man. Of course, I've been in audition situations where sexuality was totally being leveraged. Twitterati can't get over Ezra's recent Playboy photoshoot and netizens are applauding this young rising star.
Someone tell me how Ezra Miller can pull this off in the most amazing way.

I love this!https://t.co/T1LAHtYgHX

— shaina // shay•nuh (@shayyyyz) November 16, 2018
Are we sure that Ezra Miller isn't a cosmic deity that fell to Earth one day and just decided to live amongst us? pic.twitter.com/6tNJqFzxSm

— Jay Thomas (@ThisJayThomas) November 16, 2018
ezra miller is a goddamn angel

— rima (@cosmicIorde) November 16, 2018
Ughhhh he is on another level of prettiness 🤩😍 King/Queen #EzraMiller pic.twitter.com/4zqHcz9jA4

— 🍕🍔🍮🍗🍤 (@Mmettmegaclever) November 16, 2018
Towards the end, when asked about he persevered through all the sexual abuse and failed relationships, Ezra gives the credit to art. He says, "Art is the only thing that I have. If I didn't have art, I'd be so fucking dead – so long ago, I'd be dead. I probably would have done it myself." Fantastic Beasts will release on November 16.