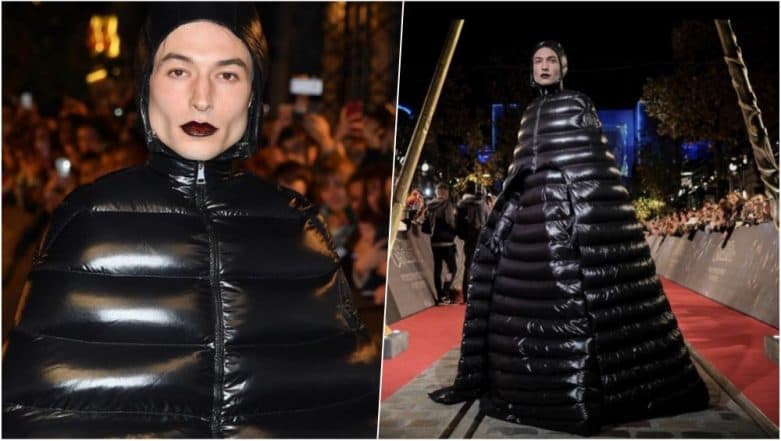 At the premiere event of Fantastic Beasts: The Crimes of Grindelwald held in Paris, Ezra Miller stunned everyone with his red carpet look on Thursday evening. While other men would feel restricted in a tux and a bow tie, Miller knows how to redefine fashion for men. Ezra is also the first actor who identifies as 'queer' to carry a superhero movie in Warner Bros.' upcoming Flash film in 2020. Ezra stood out in a look that not many can any pull off. Miller wore a shiny floor-length puffer jacket. Fantastic Beasts The Crimes of Grindelwald's First Reactions Are Out! Harry Potter Spinoff Gets High Praise From Early Screening - Read Tweets.
Ezra's shiny garment comes from Valentino creative director Pierpaolo Piccioli's recent collaboration with Italian sportswear label Moncler as part of their new Geniuses program. The oversized puffer coat look was completed with gloves, a hood and a bold burgundy lip with highly-contoured cheek bones. In his recent interview with The Hollywood Reporter, the actor spoke about his own #MeToo story which happened when he was underage. Priyanka Chopra is Ready to Run the World in Black Puffy Jacket, Which Not Everyone Can Pull Off (See Pics).
Ezra Miller in Over-Sized Puffer Jacket at Fantastic Beasts Premiere Event
Same #ezramiller pic.twitter.com/G4P1LhHiks

— Oppa (@rickyroyalty) November 9, 2018
Here's How Twitter Applauded Ezra's Look
Only ezra Miller could pull THIS off pic.twitter.com/ImnpVfApRN

— chloe loves ben hardy🥰 (@killerqveen__) November 9, 2018
Ezra Miller has my heart pic.twitter.com/0wf4XrJ0JW

— Sophie Boskovich (@boskowitch) November 9, 2018
Ezra Miller is a rare and fascinating creature pic.twitter.com/hxlTlRD9Wb

— God bless Eva Green's boobs (@hopelesslyysad) November 8, 2018
In his recent interview, Miller said, "I don't identify as a man. I don't identify as a woman. I barely identify as a human." In the Fantastic Beasts sequel, Miller plays an American wizard Credence Barebone. The movie will be released on November 16. Miller has become known for his gender-bending fashion choices and recently broke the internet with his cover story for GQ Style with his unique style on full display.