In the name of fashion, designers bring out the wackiest and craziest trends ever one can think about. In the latest, French clothing brand and designer label Yves Saint Laurent has launched a penis jewellery range. Let's be clear, it is not jewellery for your phallus but a phallus-shaped jewellery. The latest release of jewellery includes a pair of penis earrings and a penis pendant necklace. Wait till you hear the price that will burn more than a hole in your pockets, that is if you are even remotely thinking to make a purchase. Fendi's Scarf Worth USD 990 'Looks Like a Vagina', Social Media Users Make Jokes.
This line of accessories certainly cannot be worn out for any family occasion if you plan to show it off in front of your relatives. The earrings are made from golden brass and have 'Sain Laurent Paris' engraved on the back. The fancy pair is priced at 215 pounds i.e. approximately Rs.20,000. And the necklace, made of 100% brass and a YSL charm on the clasp is priced at 520 pounds i.e. Rs. 50,000. Nordstorm is Selling 'Taped Up' Sneakers for Rs 41000! Netizens are Losing Their Cool Against The Brand for Glorifying Poverty.
YSL Penis Earrings & Necklace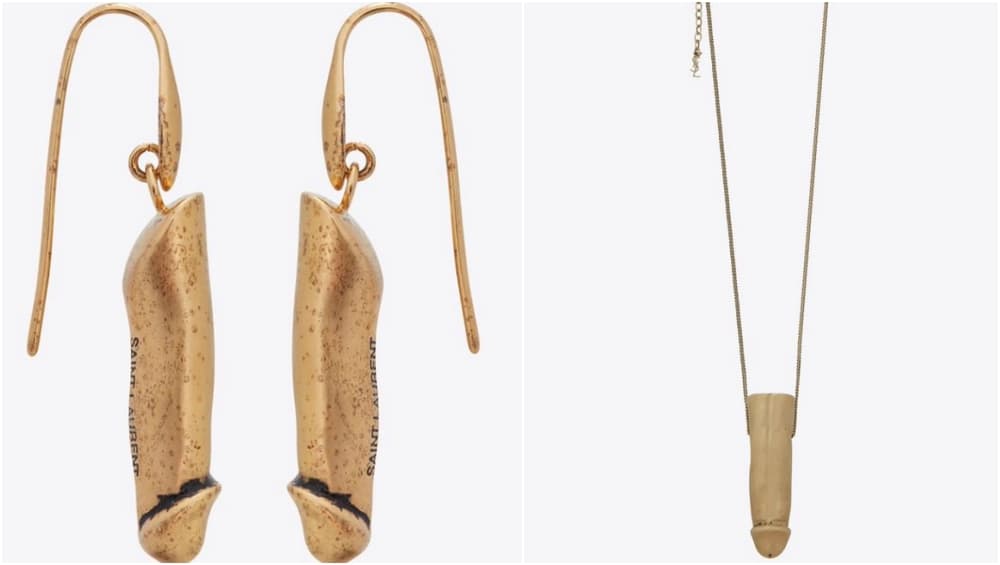 People on Twitter started sarcastically suggesting that if someone hasn't finalised their Christmas present yet, one can opt for YSL's controversial jewellery range.
Anyone putting these on their Christmas list?? @jonnystaub??? @NiraArora?? https://t.co/5cVWRTtu0s

— Amy Beeman (@AmyBeeman) November 9, 2018
Once again, I read the hed wrong. I thought it was "jewelry FOR the penis," and I couldn't figure out how that would work.https://t.co/SKgyfSnw8M

— Margo Howard✍️ (@Margoandhow) November 9, 2018
This is not the first time that fashion brands have launched a controversial line of clothes or jewellery. According to Metro, in 2014, Tom Ford sold 18K gold penis necklaces and in 2016 Vivienne Westwood also sold a penis-shaped earring stud which soon sold out. Unfortunately, the controversial jewellery is only available in the retail store and not online. Despite their hefty pricing, the earrings and necklaces have actually sold out. YSL's current creative director is Anthony Vaccarello, an Italian-Belgian fashion designer. Well, let us know in comments what are your thoughts on this bizarre jewellery range.
(The above story first appeared on LatestLY on Nov 12, 2018 11:50 AM IST. For more news and updates on politics, world, sports, entertainment and lifestyle, log on to our website latestly.com).