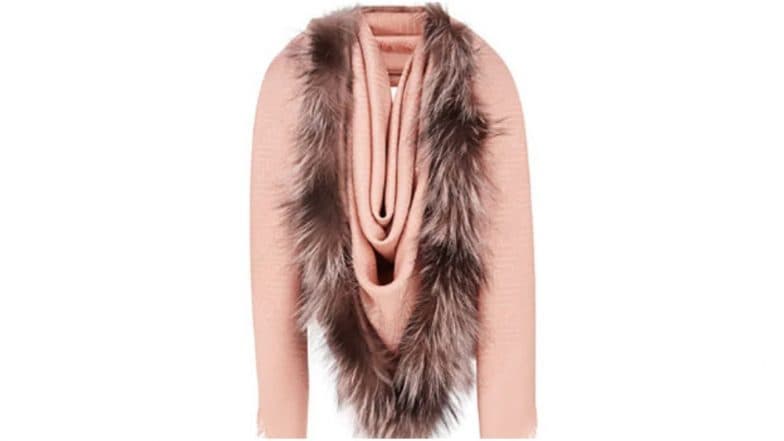 Fendi, known for their ridiculously expensive clothes is grabbing eyeballs for a bizarre thing. A shawl from their latest women's collection is grabbing eyeballs on social media. Other than the fact that the scarf is priced at USD 990 (approx Rs 72,000), Twitterati noticed some peculiar about it. Some social media users are of the opinion that it looks like a vagina!
The pink silk scarf with fox fur trimming has been folded, rolled and kept in a manner that it appeared like a vagina to many. While Fendi is no longer selling the scarf on its website, you can buy it from online retailer Farfetch for USD 999. The website has named it the 'Touch Of Fur shawl'. The shawl is also available in colours of blue and blood red. The product detailing reads: 'Expect to see delicately monogrammed print work and rich colourways'
Here are some of the Twitter reactions:
#MondayMotivation can I get a #fauxfur #vulvascarf please? pic.twitter.com/w1vM0pknHF

— Fashion Bloc (@fashionbloc) October 15, 2018
The Most expensive @Fendi scarf 🧣 looks somehow familiar especially when flipped 😃 pic.twitter.com/s9wQe1qQXE

— Toundi🇺🇬 (@amaleekr) October 15, 2018
What do you think about the pink scarf? Do let us know in the comment section below.
This new Fendi fur-lined scarf which cost #375,000 has got media users furious saying the scarf appears like the female genitals.

True or False pic.twitter.com/R7TK4utVIF

— OluwaLamzy (@theLamzyy) October 14, 2018
A Twitter user wrote, "Look at this fancy scarf. It looks like a vulva." Named 'The Touch of Fur', the shawl has become the butt of all jokes on Twitter. Many said that wearing the scarf would make them probably look like the moment when they were born. Meanwhile, some mocked the luxury fashion brand for using real fur.