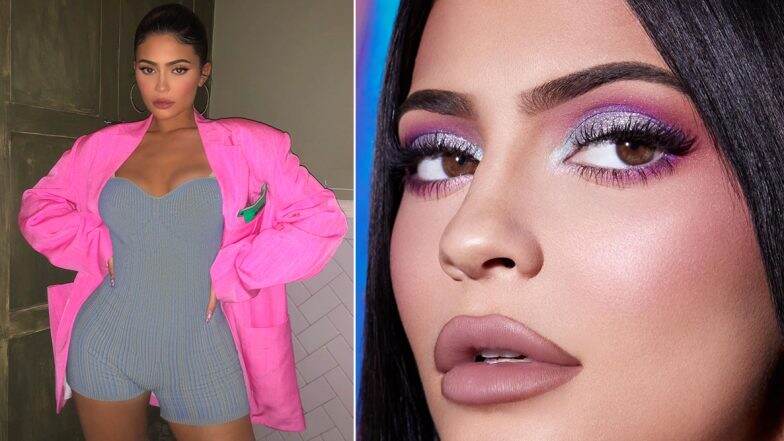 Kylie Jenner has been a teen obsession ever since she was 16. The Keeping Up with the Kardashians star has been in the spotlight since the age of 11 and changed the makeup game even before she hit 18. She came out with her own makeup and skincare line called Kylie Cosmetics and Kylie Skin and bot were equally successful because of her massive following. There are thousands of videos on Youtube on Kylie Jenner's makeup and how to achieve her makeup looks. So that's what we're going to learn today. Gigi Hadid Look Book: From Feathery Brows to Glossy Skin, How to Cop the Supermodel's Signature Style.
Kylie Jenner has always had the same makeup style. She has the Kardashian glam style which works for every occasion. If you've always tried to achieve that Kylie Jenner sultry look, here are things you can switch up in your makeup to look more like the reality TV star. Ariana Grande Look Book: From Winged Eyeliner to Bronzed Skin, Here's How to Look Like the 7 Rings Singer.
Kylie Jenner's Pout (Duh!)
Kylie always has a natural pout. No matter what the event, she always goes for a nude lip. After all, she was the one who started the nude lip trend again. Even though her lipstick shades are nothing crazy, her lips always pop because of the overlining and shading.
Kylie Jenner's Pout
View this post on Instagram
How to Get Kylie Jenner's Pout
Start by slightly overdrawing your lips with a brown lip pencil. Pick a pencil that is a shade darker than your natural lip colour. Feather the product in a little so it doesn't create a strong, harsh line. Now fill in the centre with a lighter shade of lipstick. Blend the two colours and you're done! You need not use the products she uses. Use what works for you.
Kylie Jenner's Soft Wings
Just like all of us, Kylie Jenner is also a fan of winged eyeliners. But she doesn't go for a regular liquid eyeliner for her wings. Instead, her wings are soft and smoked out. It helps define her eyes but doesn't look too much.
Kylie Jenner's Soft Wings
View this post on Instagram
How to Get Kylie Jenner's Soft Wings
Simply line your eyes with a dark brown or black eyeshadow. Make sure the eyeshadow is bendable and line your eyes with a matte black eyeshadow. Smudge it out as much as you like.
Kylie Jenner's Kontour and Skin!
Just like the Kardashians, Kylie Jenner also loves contouring. Her cheekbones are always well defined and her skin is usually matte. Makeup artists like Wayne Goss suggest using either highlighter or bronzer, as the two coming together gives a whole different look to one's face. And Kylie does exactly that.
Kylie Jenner's Base Makeup
View this post on Instagram
How to Get Kylie Jenner's Contour and Skin
Powder your face. Don't bake your face if you have dry skin but make sure to powder it all in place. Kylie rarely has that dewy, model skin. She always keeps her skin matte and camera ready. Go for powder contours and bronzer and carve out those cheekbones and jawline. Skip highlighter and go for blush. Kylie loves blushers and she even said that in her Vogue "get ready with me" video. It's all about bronzer and blush for Kylie.