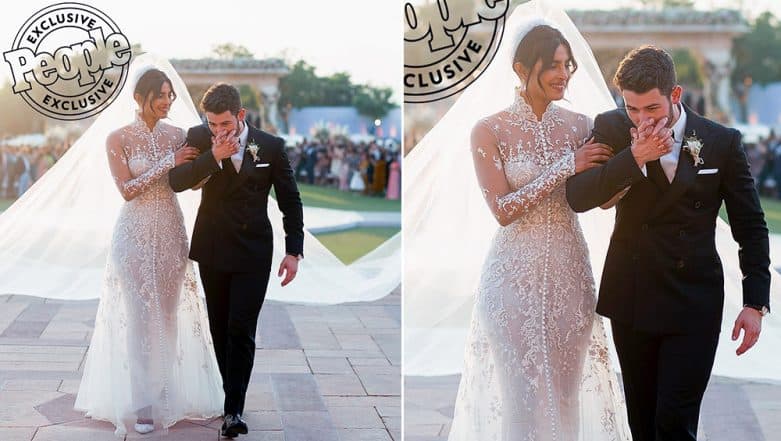 Can Nick Jonas stop being so adorable? And all the guys out there, you better start taking a cue or two from this American singer, who's a perfect life partner. The Jumanji actor tied the knot with his ladylove, Priyanka Chopra, on December 1 and their Christian wedding was quite a special affair for him. While we know he was quite smitten by the actress, even before they appeared at MET Gala 2017, today, he's head over heels in love with her. This good-looking duo was the happiest on their D-day and looked charming in their Ralph Lauren customised creations. Since their association with the brand holds special significance (MET Gala again), they decided to pick the same designer for their most special day. Priyanka Chopra on marrying Nick Jonas: 'I knew this was the best decision of my life'.
Ralph Lauren designing for the bride and groom is extra special since the designer has previously designed bridal gown only thrice in his life and that too for his family members. Yes, Priyanka is special and so is everything around her. The designer took to his Instagram page to share details of the bride and groom's outfits and well, we must applaud him for those intricate details that we're about to explain. The First Picture of Priyanka Chopra and Nick Jonas From Their Christian Wedding Is Out and It's Simply G-O-R-G-E-O-U-S.
 

View this post on Instagram
Nick wore a purple label double-breasted tuxedo with a piece of bride's dress hand-embroidered with the Urdu words 'My Jaan'. The words were weaved at the interior lapel of his jacket, just over his heart! Now, these details would definitely make any girl go aww...
Nick was always adamant on getting Priyanka Chopra whatever she wants. While the couple had a host of international venues to choose from, she wanted to get married in a country that she calls home. And Nick had no qualms in that. We must say this 'Pardesi Babu' has in fact impressed all our 'Desi' hearts.