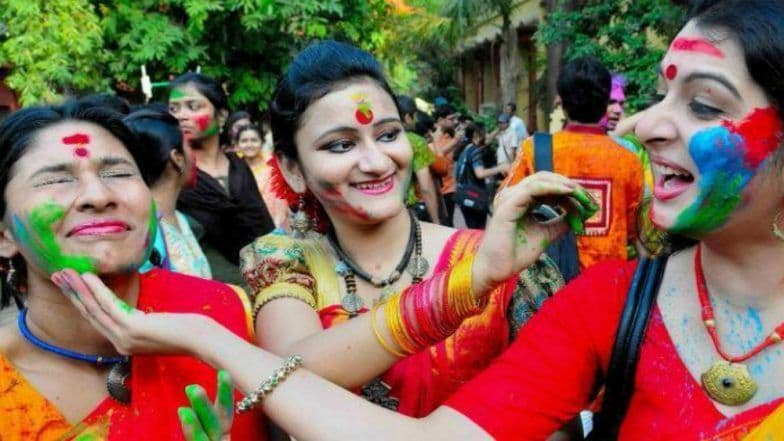 This year, Basant Panchmi will be celebrated on February 10, Sunday. Vasant Panchami, also spelled Basant Panchami, is a festival that marks the arrival of spring, celebrated by people in various ways depending on the region. The Vasant Panchami also marks the start of preparation for Holika and Holi, which occurs forty days later. However, the Panchmi has special significance in the state of Bengal, where the occasion provides special opportunities to the young and happening. For them, Basant Panchmi or Saraswati Puja is an occasion to put their best foot forward and meet the special friends they otherwise wouldn't get a chance to even talk to. Saraswati Puja 2019 Wishes in Hindi: Basant Panchami WhatsApp Stickers, GIF Image Messages, Quotes and SMS to Send Happy Vasant Panchami Greetings.
The many anecdotes and memories that Bengalis share of Saraswati Puja, makes people wonder if Saraswati Puja in West Bengal it's Very Own Valentine's Day.
Below are the reasons why people think so.
1. No Studying on Saraswati Puja
Saraswati Puja, a ritual or day observed or celebrated in the honour of the goddess of learning, is actually a day when students have the freedom from their books and instruments of learning (save the brain and mind). Bengalis believe that this day Maa Saraswati blesses the books and other learning materials and hence they deposit it under the feet or near the photos of the Goddess. So it's a virtual chutti for the students, a time that they use for catching up with the loved ones (not necessarily) more often than not.
2. Proximity to Valentine's Day
It is no secret that the ghost or angel of Valentine's Day is just round the corner when Saraswati Puja is celebrated. However, given the stigma (still) attached with girls meeting boys and vice versa, especially on Valentine's Day, couples have the extra motivation of ensuring that they at least catch a glimpse or exchange few words before the V day.
3. Occasion to Dress Up
It is said that girls in Bengal wear yellow sarees to mark Saraswati Puja and that even the boys ensure that they are not left behind in the race to impress the goddesses everywhere. And when one is ready to be at their best, they are most likely to meet the best.
4. Legacy or Rumour
Few things are untouched by rumours or legacy. That the day has come to be recognised as a day when lovers of learning and wisdom seek blessings for knowledge as well as love, nobody wants to be left behind in the race .
5. It's a Holiday!
All great things are reserved for holidays. Be it rest, leisure or love. Then why should the youth be left behind? Saraswati Puja or Basant Panchami is the day when it's a holiday for the young souls in West Bengal and they ensure they make the most out of it in terms of social networking and expanding their friend circle. Basant Panchami provides the best opportunity for that.
On a serious note, Basant Panchami is celebrated on the fifth day of spring, Basant Panchami (or Vasant Panchami) is also known Shri Panchami. The day is of much importance to students with schools and colleges celebrating the festival in a big way. Keeping up with the new-age celebratory style, students wish each other on Saraswati Puja. Basant Panchami Images & Saraswati Puja HD Wallpapers for Free Download Online: Wish Happy Vasant Panchami 2019 With WhatsApp Sticker Messages and GIF Greetings.
Basant Panchami or Vasant Panchami is made up of two Hindi words – "Vasant" means "spring" and Panchami means "the fifth day." Basant Panchami is celebrated annually on the fifth day of the bright half of the Hindu lunisolar calendar month of Magha, which corresponds to late January or February as per Gregorian calendar. Happy Basant/Vasant Panchami to all.