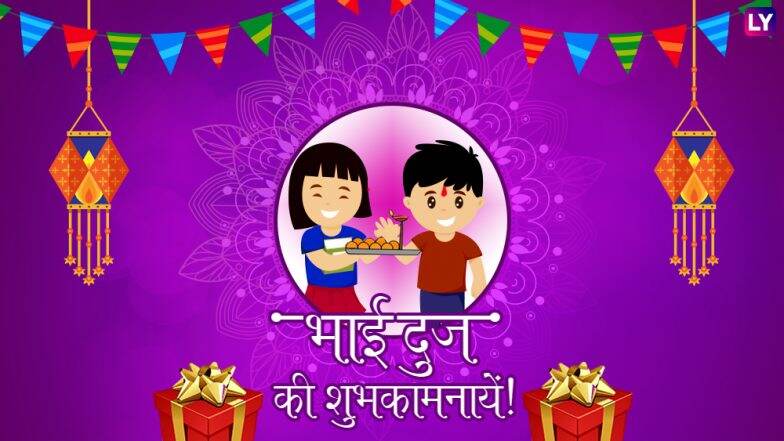 This entire week, people were immersed in the celebrations of Diwali by wishing and greeting each other on the auspicious festival. Badi Diwali was marked on November 7 and today i.e. November 9 marks the last day of the celebrations where people will observe Bhai Dooj across the country. The festival of Diwali is one of the biggest and widely celebrated occasions in the country. While the main Diwali day is on November 7, the other days also have their unique significance. While Diwali sees a lot of greet and meets among families and friends, it also highlights the very sacred relationship between a brother and sister. The day of Bhai Dooj also known as Bhau Beej honours the bond of love between brother and sisters. Bhai Dooj 2018 will be celebrated on November 9. But not all brothers and sisters can make it for meeting every year and carry on the tradition. But thanks to technology, even the longest of distance is reduced. Those who cannot meet with their siblings or cousins, exchange Bhai Dooj messages and greetings with each other. These Bhai Dooj greetings are a reminder that even if you'll are unable to meet for whatever reasons, the day still remains special. Bhai Dooj messages, images, pictures, GIFs are exchanged to convey the message across. If you too have been looking for Bhai Dooj messages in Hindi, Bhai Dooj images and quotes, let us give you a collection. Bhai Dooj 2018 Date & Time: Bhai Tika Shubh Muhurat, Bhau Beej Significance & How to Celebrate the Festival of Sibling Bond.
Siblings or cousins, all brothers and sisters await this celebration. Sister pray for their brother's prosperity and in return the brother showers her with gifts and also a promise to protect them in time of need. Bhai Dooj is an occasion which sees many family get-togethers as families, cousins, all come together to celebrate this day. A special feast is also held. But not all families can make it, which is when the Bhai Dooj messages are exchanged widely. These messages too talk of the special bond between the siblings and cousins and serve as a good reminder of memories. Bhai Dooj 2018 Gift Ideas: Thoughtful and Affordable Unique Gifts For Brothers and Sisters on Bhau-Beej.
Bhai Dooj Messages in Hindi for Diwali 2018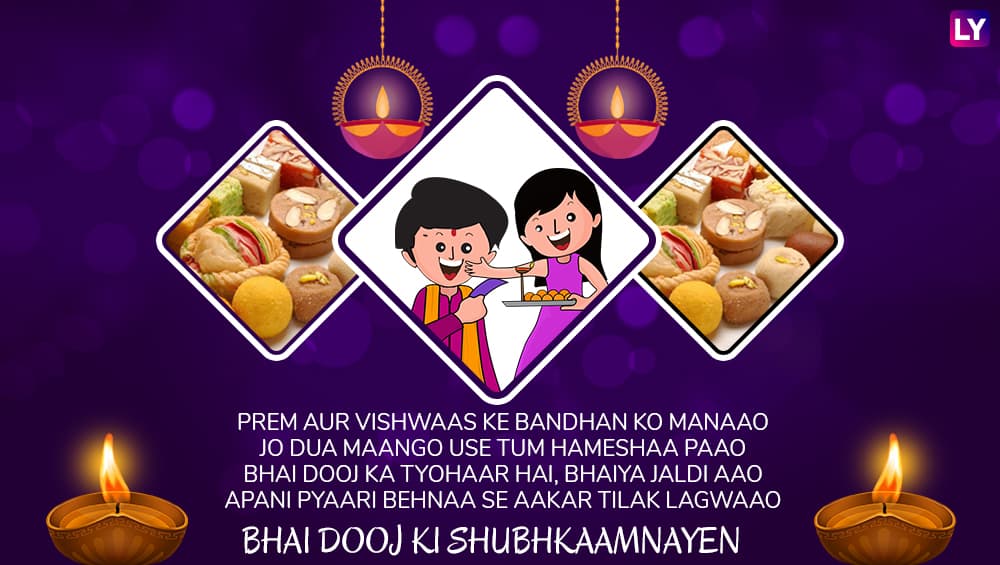 Message reads: Prem aur vishwaas ke bandhan ko manaao, Jo dua maango use tum hameshaa paao, Bhai dooj ka tyohaar hai, bhaiya jaldi aao, Apani pyaari behnaa se aakar tilak lagwaao. Bhai dooj ki shubhkaamnayen!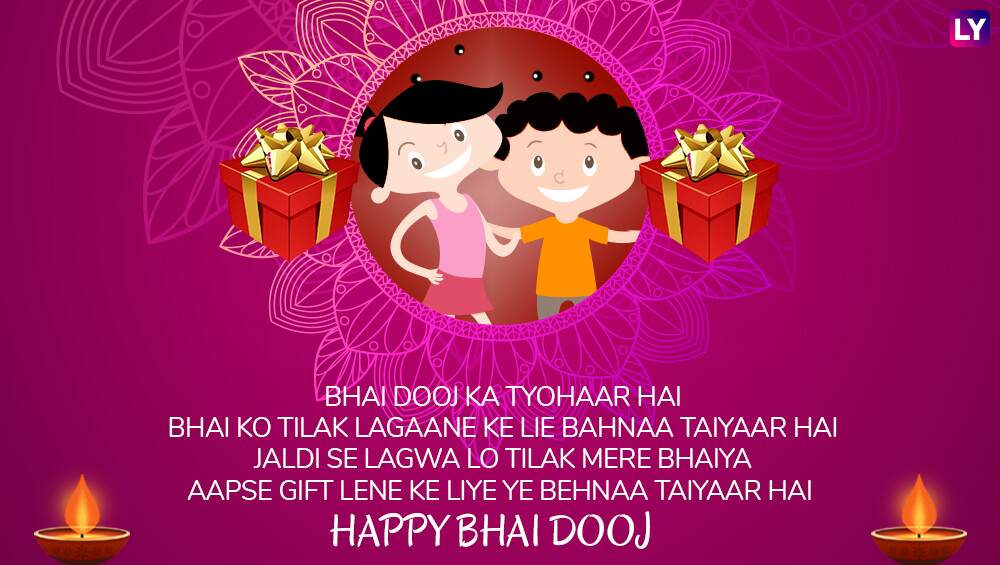 Message reads: Bhai dooj ka tyohaar hai, Bhai ko tilak lagaane ke lie bahnaa taiyaar hai, Jaldi se lagwa lo tilak mere bhaiya, Aapse gift lene ke liye ye behnaa taiyaar hai. Happy Bhai Dooj!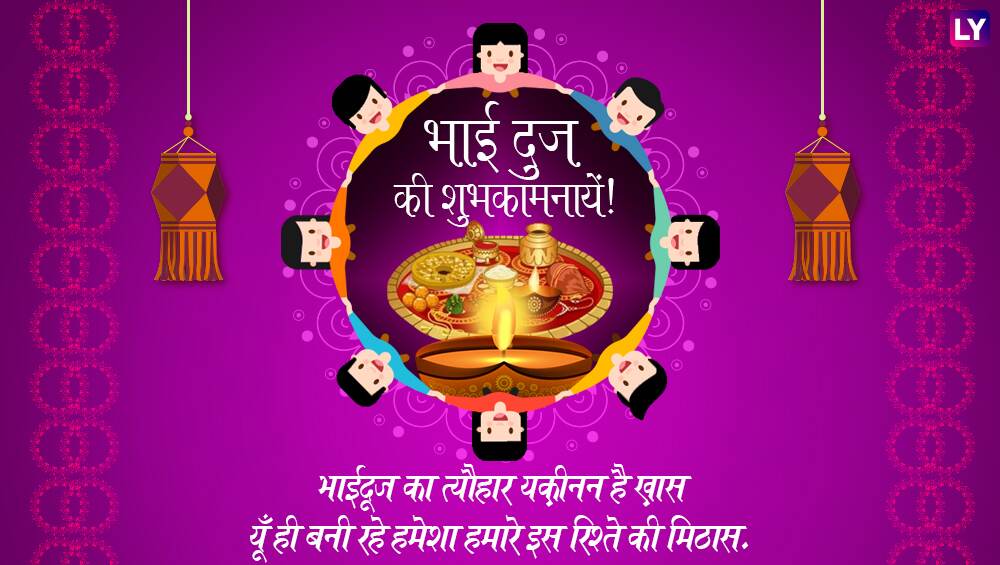 Message reads: Bhai Dooj ka tyohaar hai yakeenan hi khaas, yuhi bahi rahe hamesha humare is rishte ki mithas. Bhai Dooj ki Shubhkamnayein.
Message reads: Bhai ddoj ka aya hai shubh tyohaar, behno ki duaon bhaiyon ke liye hazaar, bhai-behen ka yeh anmol rishta hai bahut atoot, bana rahe yeh bandhan hamesha khub! Bhai Dooj ki Shubhkamnayein.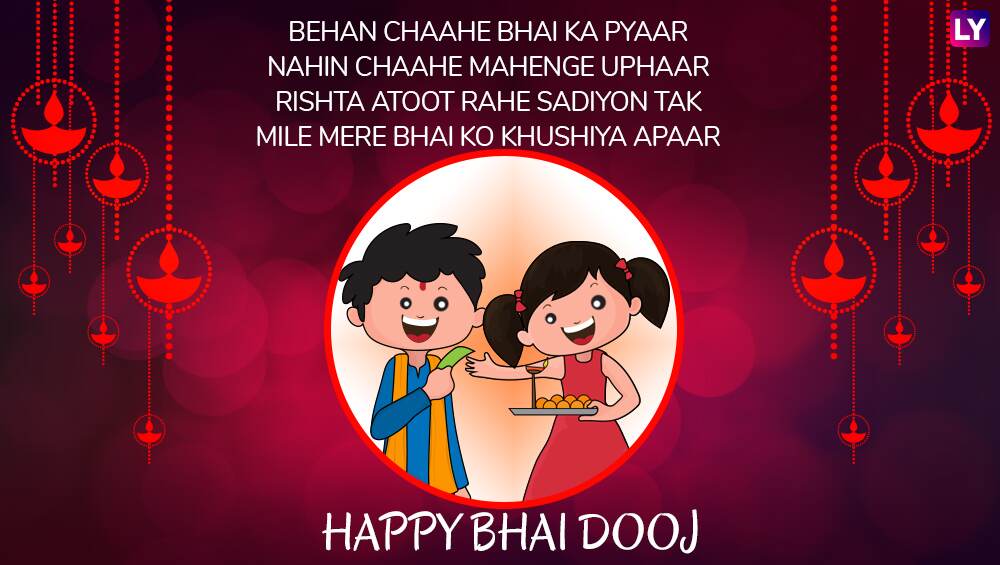 Message reads: Behan chaahe bhai ka pyaar, Nahin chaahe mahenge uphaar, Rishta atoot rahe sadiyon tak, Mile mere bhai ko khushiya apaar
Happy Bhai Dooj!
Bhai Dooj GIFs
Bhai Dooj GIF messages
You can send across these Bhai Dooj messages and Bhai Dooj GIFs to your brothers and sisters this festive season. If you are unable to celebrate the special day together make sure you send these beautiful images and pictures reminding them of the bond you'll share. Don't forget to ask for your gifts! Wish you all a Very Happy Bhai Dooj!