14th September is celebrated as Hindi Diwas across the country. It observed to promote and propagate the Hindi language and its cultural heritage and values among the people of the nation. The ever extended protests and demonstrations, on this day in 1949, Hindi became the official language. Since then, we celebrate September 14 as Hindi Diwas. The event holds a great significance for us. Government offices, firms, schools, colleges and other institutions mark Hindi Diwas with great enthusiasm. As the day approaches us, students and individuals of all ages are preparing to recite beautiful poems in Hindi during the programme. Without looking any further, here we have compiled the best heart touching phases or 'Kavita' on matrubhasha Hindi to observe Hindi Diwas 2018. History, Significance of The Day; Is Hindi Losing Its Relevance to English Today?
The concern over choosing an official language for the constitution was still unattended. At the initial stage, the Indian Constitution and laws were written in English until Hindi was added as an official language. It was the popular artist Beohar Rajendra Simha who illustrated the final manuscript of Constitution of India including the complete Preamble page in Hindi. On September 14, 1949, the Constituent Assembly accepted Hindi written in Devnagri Script and English as an official language. Later, Pt. Jawaharlal Nehru announce this day to be celebrated as Hindi Diwas in the country. Hindi Mother Tongue of 44% Indians, Bangla in the Second Place & Sanskrit Becomes the Least Spoken Language.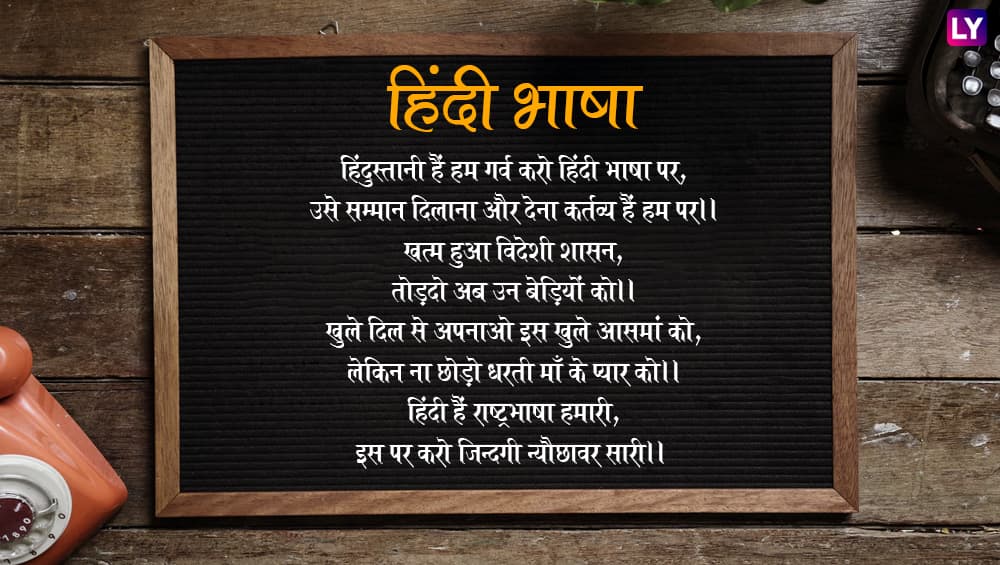 हिंदी भाषा
"हिंदुस्तानी हैं हम गर्व करो हिंदी भाषा पर,
उसे सम्मान दिलाना और देना कर्तव्य हैं हम पर।।
ख़त्म हुआ विदेशी शासन,
तोड़दो अब उन बेड़ियों को।।
खुले दिल से अपनाओ इस खुले आसमां को,
लेकिन ना छोड़ो धरती माँ के प्यार को।।
हिंदी हैं राष्ट्रभाषा हमारी,
इस पर करो जिन्दगी न्यौछावर सारी।।"
जीवन की परिभाषा
"जन-जन की भाषा है हिंदी
भारत की आशा है हिंदी….
जिसने पूरे देश को जोड़े रखा है
वो मजबूत धागा है हिंदी ……
हिन्दुस्तान की गौरवगाथा है हिंदी
एकता की अनुपम परम्परा है हिंदी…..
जिसके बिना हिन्द थम जाए
ऐसी जीवनरेखा है हिंदी……
जिसने काल को जीत लिया है
ऐसी कालजयी भाषा है हिंदी …..
सरल शब्दों में कहा जाए तो
जीवन की परिभाषा है हिंदी ……"
-- अभिषेक मिश्र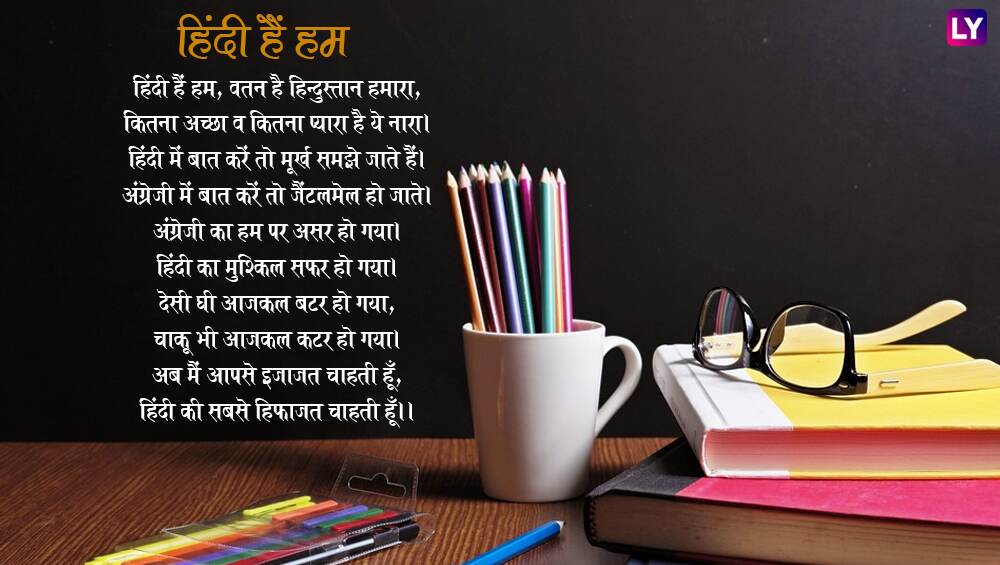 हिंदी हैं हम
"हिंदी हैं हम, वतन है हिन्दुस्तान हमारा,
कितना अच्छा व कितना प्यारा है ये नारा।
हिंदी में बात करें तो मूर्ख समझे जाते हैं।
अंग्रेजी में बात करें तो जैंटलमेल हो जाते।
अंग्रेजी का हम पर असर हो गया।
हिंदी का मुश्किल सफ़र हो गया।
देसी घी आजकल बटर हो गया,
चाकू भी आजकल कटर हो गया।
अब मैं आपसे इज़ाज़त चाहती हूँ,
हिंदी की सबसे हिफाज़त चाहती हूँ।।"
-- दिविशा तनेजा
राष्ट्र के माथे की बिंदी है ये हिन्दी
"संस्कृत की एक लाड़ली बेटी है ये हिन्दी।
बहनों को साथ लेकर चलती है ये हिन्दी।
सुंदर है, मनोरम है, मीठी है, सरल है,
ओजस्विनी है और अनूठी है ये हिन्दी।
पाथेय है, प्रवास में, परिचय का सूत्र है,
मैत्री को जोड़ने की सांकल है ये हिन्दी।
पढ़ने व पढ़ाने में सहज है, ये सुगम है,
साहित्य का असीम सागर है ये हिन्दी।
तुलसी, कबीर, मीरा ने इसमें ही लिखा है,
कवि सूर के सागर की गागर है ये हिन्दी।
वागेश्वरी का माथे पर वरदहस्त है,
निश्चय ही वंदनीय मां-सम है ये हिंदी।
अंग्रेजी से भी इसका कोई बैर नहीं है,
उसको भी अपनेपन से लुभाती है ये हिन्दी।
यूं तो देश में कई भाषाएं और हैं,
पर राष्ट्र के माथे की बिंदी है ये हिन्दी।"
India is a land of varied culture. We have many languages and dialects that are spoken, the official language of Hindi represents the country as a whole. Both Hindi and English was declared as official languages of India to balance the concern of the citizens across. Since some part in our country are not very comfortable in understanding Hindi. Apart from the official language, Indian constituent's eight schedule includes 22 languages.