This year, Indians will mark the 72nd anniversary of India's independence and like every year the country will come together to remember the martyrs who sacrificed their lives fighting for our country's independence. To mark this special occasion, and to show their patriotic side, people wear Indian-flag inspired tri-coloured clothes and celebrate the event with their friends and family. To compliment your clothes, we share with you some tri-coloured makeup ideas and tips that all the makeup junkies out there can try out this Independence Day.
Also, if you wish to go different, instead of opting for tri-colour outfits, incorporate the colours into your makeup. There are several ways in which you can play with the four colours on our Indian flag. But the mostly you can play around with your eye makeup using all the colours. It is important to note that for your makeup and colours to stand out, your skin base needs to be prepped and cleaned efficiently. Below we tell you how you can use the Indian flag colours on different parts of your face. Independence Day 2018: Eminent Women Leaders of The Post Independence Era in India
Different colours on the eyes help accentuate the overall makeup. You can play with all the four colours on your eyes or choose just two, depends how you want to create the look. Make sure that you don't end up creating a mess. If you are using more than two colours, it is imperative to get them blended properly to display the hues of each colour. First, clean and moisturise your face. Prep your eyes with primer and use a concealer to create a base for your eyeshadows. Now, you can create a tri-coloured eye makeup using the three most basic colours – orange, green and blue. Below we share with you a tutorial on how you can you can create a simple Indian-flag inspired eye makeup.
Watch Video of Tri-Coloured Indian Flag Eye Makeup
If you wish to achieve a less dramatic look, instead of applying orange, green, blue or white eyeshadow, you can create a look by drawing a winged or simple eyeliner with the respective colours. Now that your eyes are all colourful, it is best to keep the overall makeup neutral. You can opt for nude lipstick and a dewy skin to complete your look.
Tri-Coloured Indian Flag Eye Makeup
You can also use just one colour for your eye, for example, you can create a green smokey eye. Use a dark and light green matte eye shadow to create the look and use a smudgy green pencil for the lower lash line. If you do opt for a tri-coloured eyeliner, you can fill in the waterline with white eyeliner to brighten the eyes and use your blue eyeliner below the waterline, on the lower rim of the eyes. If you want to create more drama, use a white mascara on your eyelashes.
Green Smokey Eye Makeup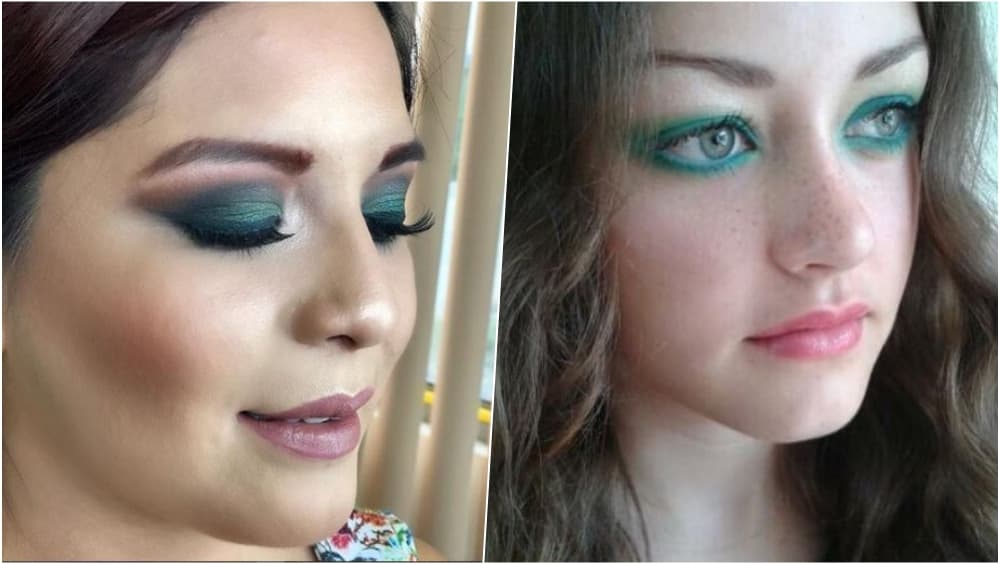 For your lips, you can always use a shade of orange, either a matte or gloss. And if you are the adventurous and bold, opt for a dark blue and green lip colour. Make sure that you keep your eye makeup subtle, we do not want to create a scary look. Makeup isn't restricted to your face alone. To complete the entire look, paint your nails with bright saffron, white, green or blue. You can even sport individual colours on each finger. Accessorise with jewellery going with your makeup and outfit. Makeup can be fun, but you do not want to go berserk. Keep it simple and elegant and let the message come across in your makeup. This Independence Day flaunt your makeup and your best style. Happy Independence Day!