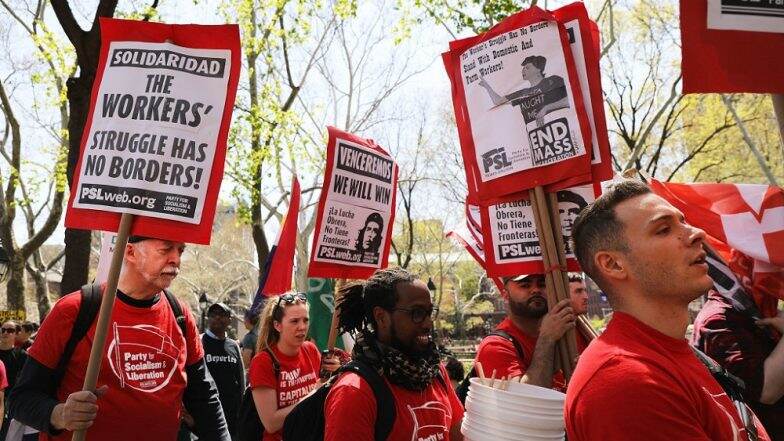 The International Workers' Day, which celebrates the struggle, dedication and commitment of the actual producers rather than those who own the means of production, will be celebrated on May 1. The proletariat festival commemorates the late 19th century movement which had dented the biggest blow to the cycle of exploitation, and made 8-hour working day a reality. Download Free International Workers' Day HD Images With Quotes to Greet Fellow Comrades!
International Workers' Day 2019: Date & Significance
In the United States and different parts of the world, it is celebrated as 'Labour Day'. The day's importance dates back to the 19th century. There are many instances in the history which indicate that the 'Labour Day' was first proposed in the 1880s. Some say it was in 1880, some say 1882, while some argue that it was in 1887, 1889, and 1894. However, whatever the date was, the central theme to observe the day as Labour Day was to celebrate Labour.
Another anecdote from the history indicates that May 1 was chosen as International Workers' Day to celebrate 1886 Haymarket Affair in Chicago, in the United States. The event was about 400,000 workers protesting peacefully for an eight-hour day, after which it took an ugly turn. Several workers died, and scores were injured in the violence that took place during and after the demonstration. The event snowballed, and there were protests and demonstrations held in different parts of the world.
In different parts of the world, the day is celebrated in many forms. In parts of the world, it is marked as Labour Day. In some parts of the world, it is known as International Workers' Day, whereas in many European countries it is celebrated as May Day too.
There are several arguments over the commencement of the commemoration of Labour Day. It is also because the date, May 1, has seen several labour movements and essential workers' demonstrations throughout the 19th and 20th century.
However, one can call it by whatever name; the event and the date is observed to commemorate the labour's and working classes' hard work.