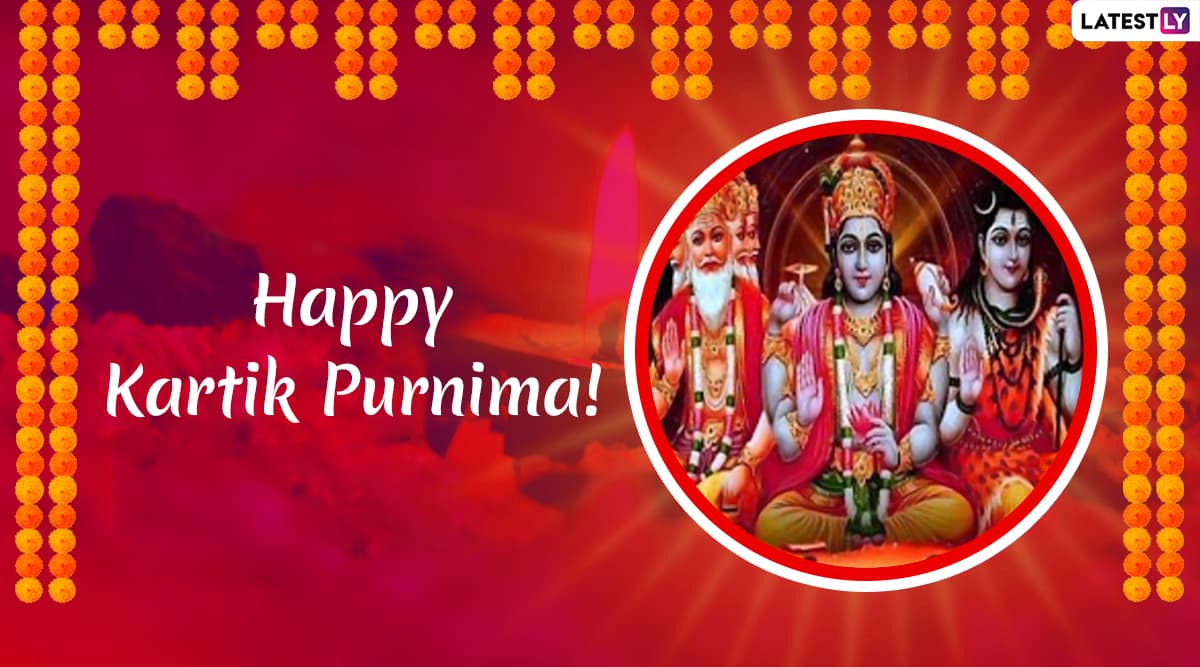 Kartik Purnima 2019 is being celebrated on November 12 this year. It is a very auspicious celebration marked by mostly the Hindus, Jains and Sikhs. Kartiki Purnima as the name suggests is marked on the Purnima (full moon) day or the fifteenth lunar day of Kartik. Also called as Tripuri Purnima it marks the killing of demon of Tripurasura by Lord Shiva. This day is also marked as the Diwali of Gods or Dev Deepawali. Good wishes and messages are also passed along to everyone. People look for greetings of Happy Kartik Purnima, Kartik Puja images, wishes, quotes and SMS to send everyone over Facebook and WhatsApp. We make it easier for you, as we give you a nice collection of Kartik Purnima messages, which you can download for free and send everyone. Kartik Purnima 2019 Date: Significance, Purnima Tithi, Celebrations Related to Dev Deepawali.
Kartik Purnima is also marked as the birthday of Matsya, the fish-incarnation of Lord Vishnu. Not just Matysa, it is also celebrated as the birthday of Vrinda, the personification of holy basil plant Tulsi. There are several associations to this auspicious day. It is associated with Prabhodini Ekadashi, the end of Chaturmaas. With so many special traditions and legends to this day, Kartik Purnima is marked in different ways in different parts of the country. And such a joyous occasion would be incomplete without sending good wishes and messages for the day. Kartik Purnima messages, greetings, images and wishes are sent across on this day. Given below is a nice collection of the same. Dev Deepawali 2019 Date: Know Significance, Rituals and Celebration of Varanasi's Grandest Festival of Lights.
Kartik Purnima 2019 Messages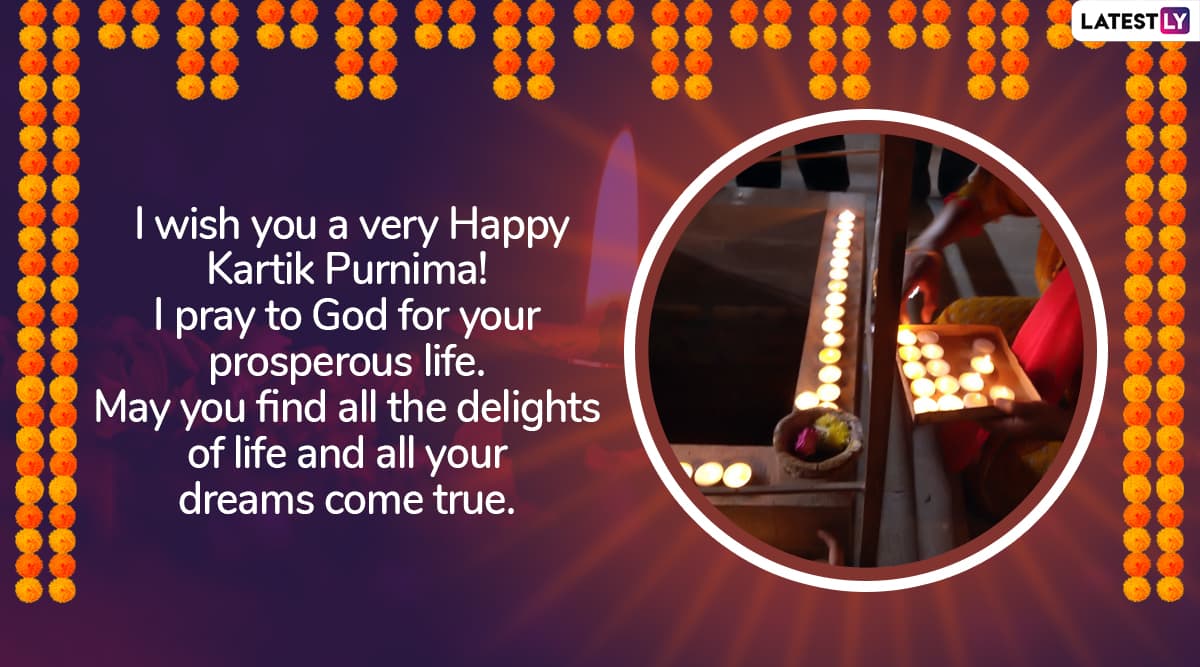 Message reads: I wish you a very Happy Kartik Purnima! I pray to God for your prosperous life. May you find all the delights of life and all your dreams come true.
Message reads: May you find the blessings of Lord Shiva always bestowed upon you to show you the right path in life and to take you to new heights. Happy Kartik Purnima to you!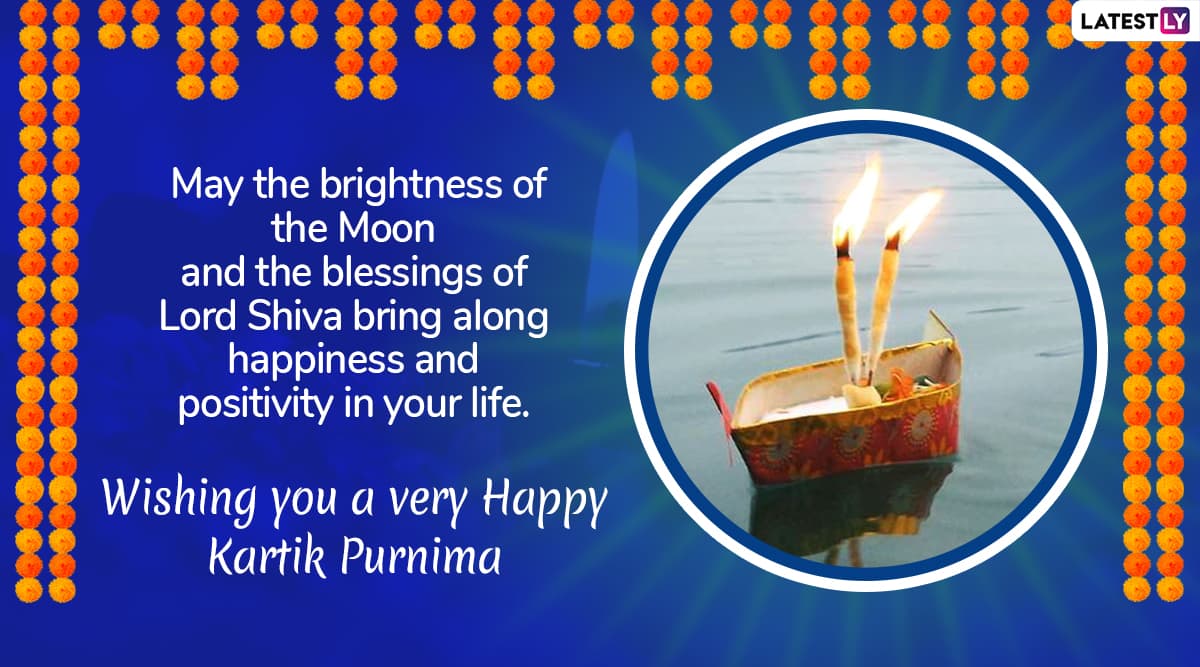 Message reads: May the brightness of the Moon and the blessings of Lord Shiva bring along happiness and positivity in your life. Wishing you a very Happy Kartik Purnima.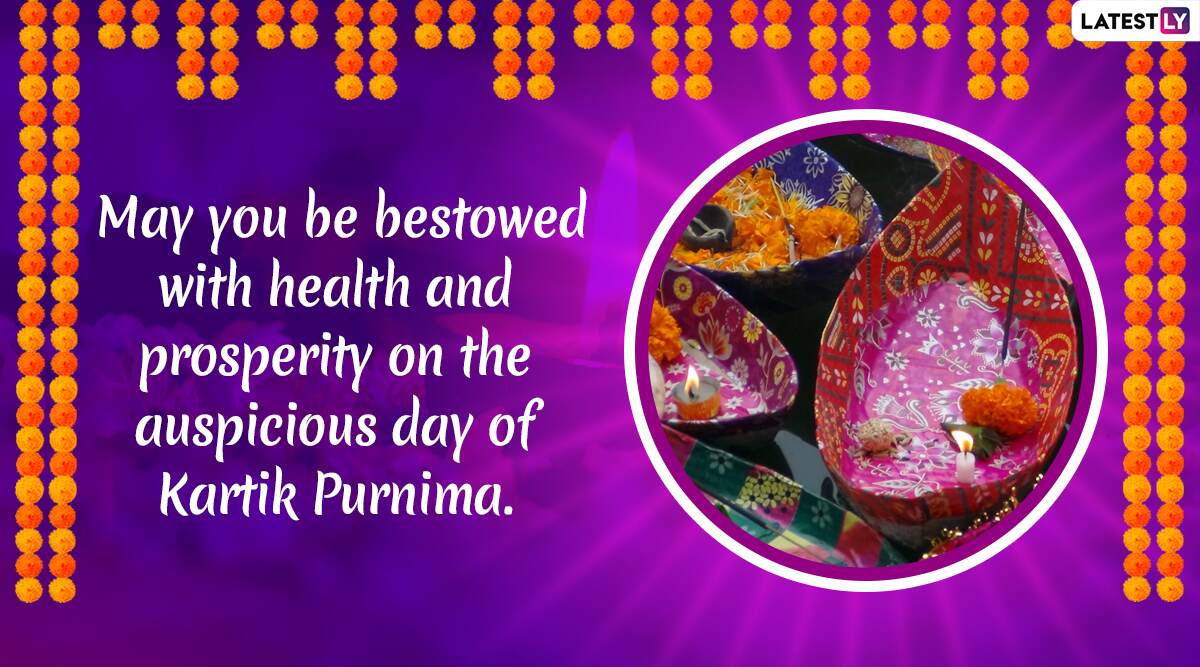 Message reads: May you be bestowed with health and prosperity on the auspicious day of Kartik Purnima.
Dev Deepawali on Kartik Purnima is a grand celebration that takes place in the North Indian states. People travel from all over the country to be a part of these celebrations. As good vibes of the festival fill everyone, we hope the above collection of Kartik Purnima wishes and messages help you to pass on the greetings of the same. We at LatestLY also wish you a very Happy Kartik Purnima 2019!