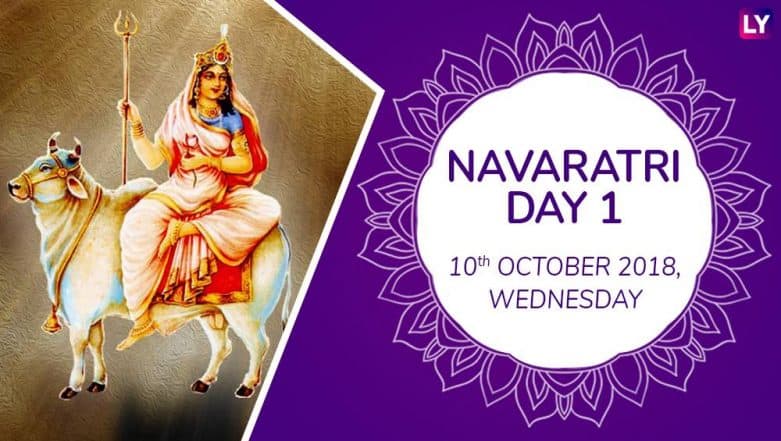 The nine-day festival of Navaratri also spelt as Navratri celebrated in honour of Goddess Durga and her nine forms begins on October 10, 2018. Sharad Navratri falling post-monsoon in September-October is the most significant of all Navratri. The 'Festival of Nine Nights' is dedicated to praying to all-powerful Goddess Parvati and her nine reincarnations who hold a significant in respective ways. On the first day of Navratri, devotees worship the first form of Durga Maa - Devi Shailputri after Ghatasthapana, an essential ritual of invocating Maa Shakti. Let us know a little more about Goddess Shailputri, Shailputri Puja, Shubh Muhurat (auspicious timings), Puja Vidhi (rituals) mantras and aarti to begin the Navratri 2018 festival. Navaratri 2018 Dates & Tithi Calendar: Shubh Muhurat & Time for Puja and Aarti During Nine-Day Sharad Navratri Festival.
Maa Shailputri was born to Parvat Raj Himalaya or Himavat, the King of Mountains. She is the first avatar of Goddess Parvati who in her previous birth was Sati. She had immolated herself after Sati's father Daksha insulted her husband, Lord Shiva publicly during a yajna. As the daughter of Himalaya, Shailputri, Maa Parvati married Shiva again. She is believed to be an absolute form of Mother Nature who is also the embodiment of Lord Brahma, Lord Vishnu and Lord Shiva. Sharad Navaratri 2018: Nine Avatars of Goddess Durga, Navdurga Pictures, Mantras & Celebration Dates of Navratri Festival.
Etymology and Iconography
Shailputri gets her name from two words in Sanskrit – Shail (mountain) and putri (daughter). This avatar of Parvati is also known as Hemavati, once again based on her father's name Himavat. Idols and pictures of Devi Shailputri depict her mounting on top of a bull, earning her another name of Vrisharudha. The goddess has a crescent moon on her forehead, two hands, carrying a Trishul (trident) in right hand and a lotus flower in left hand. She is the goddess of the Muladhara Chakra or the Root Chakra, who upon awakening begins her journey upwards. Shailputri is associated with crimson red colour.
Shailputri Puja Vidhi - Shailputri Mantra and Prarthana or Prayer of Shailputri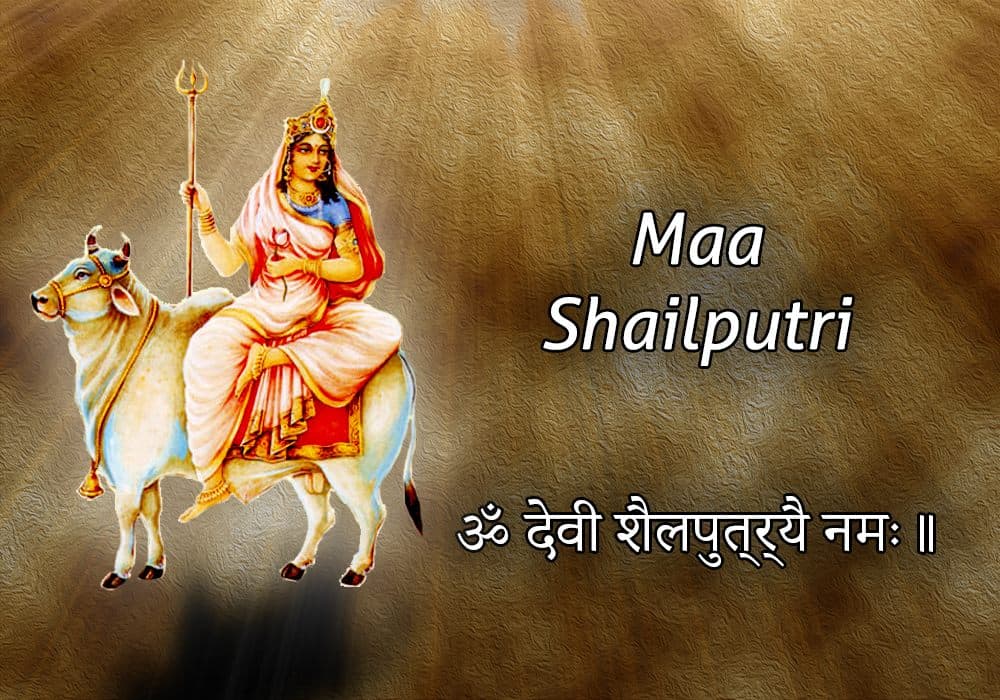 Shailputri Puja takes place on day one of Navratri. Devotees first perform an important ritual of Ghatasthapana and Kalash Sthapana, which epitomises women power. It involves the invocation of Goddess Durga to dwell into the Kalash and bless the place with her stay over the nine days. People observing fast for the festival must ensure to worship Maa Shailputri with jasmine (Chameli) flowers.
Shailputri Mantra - ॐ देवी शैलपुत्र्यै नमः॥ Om Devi Shailaputryai Namah॥
Shailputri Prarthana - वन्दे वाञ्छितलाभाय चन्द्रार्धकृतशेखराम्। वृषारूढां शूलधरां शैलपुत्रीं यशस्विनीम्॥ Vande Vanchhitalabhaya Chandrardhakritashekharam। Vrisharudham Shuladharam Shailaputrim Yashasvinim॥
Shailputri Maa governs Lord Chandra (moon), and anyone who is suffering from Chandra Dosha must worship this avatar of Adi-Shakti to eradicate all negativities. As the ruler of Mooldhara Chakra, praying to Shailputri will enable devotees to gain knowledge of the present, past and future. One must entirely devote themselves to the goddess with pure heart and soul. Devi Shailputri will fulfil their wishes and desires.