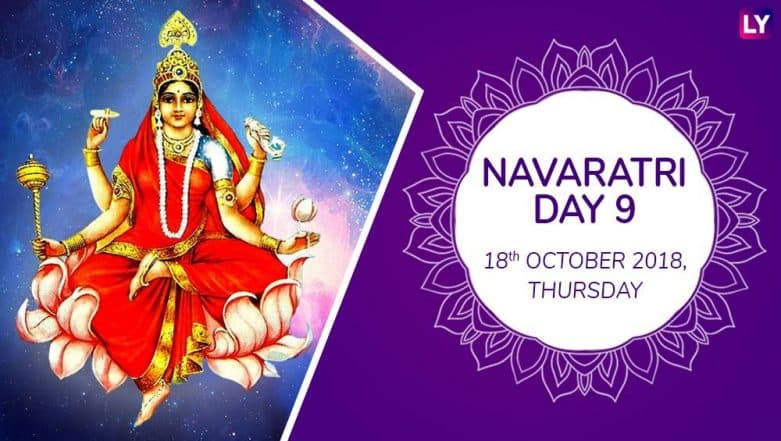 The ninth day of Navratri festival is devoted to Siddhidatri, the ninth manifestation of Devi Durga. Sharad Navratri which falls in September- October is considered the most magnificent of all Navratri. During Navaratri, all the nine forms of goddess Durga is worshipped. It celebrated the victory of goddess Durga over the demon to restore dharma. After the nine days of Navratri celebration, the tenth day is celebrated as Vijayadashmi or Dusshera festival. On the ninth day of Navratri, devotees worship the ninth form of goddess Durga- Devi Siddhidatri. Let us know a little more about Goddess Siddhidatri, Siddhidatri Puja, Shubh Muhurat (auspicious timings), Puja Vidhi (rituals) mantras and aarti to begin the Navratri 2018 festival. Navratri 2018 Dates, Days & Tithi Calendar: Shubh Puja Muhurat & Time for Aarti During Nine-Day Sharad Navaratri Festival.
It is believed that Lord Shiva has attained all his 'siddhi' (knowledge) from Devi Siddhidatri. When Mahadev was blessed with different 'Siddhis', Half of Lord Shiva's body got compromised with goddess Siddhidatri. Therefore, earning him another name Ardhanarishwar. Sharad Navaratri 2018: What Are Nine Avatars of Goddess Durga or Navdurga? Pictures, Mantras & Celebration Dates of Navratri Festival.
Etymology and Iconography
Siddhidatri gets her name from two Sanskrit words- Siddhi (knowledge) and datri (giver or awarder). Idols and pictures of Devi Siddhidatri depict her sitting on a lion or fully bloomed lotus. She has four hands and holds mace with lower right hand, lotus flower in lower left hand, conch shell in the upper left hand and a Discus (Chakra) in the upper right hand. She possesses eight supernatural power named Mahima, Anima, Laghima, Garima, Prapti, Ishitva, Prakambya and Vashitva.
Siddhidatri Puja Vidhi - Siddhidatri Mantra and Prarthana or Prayer of Siddhidatri
Siddhidatri Puja takes place on the ninth day of Navratri, Devotees first worship Navratri Kalash. To impress Devi all the chapters of 'Durga Saptashi' are recited as mantras and Mahanavmi's fast is observed. In the end, Brahmaji and Lord Shiva are also worshipped.
Siddhidatri Mantra - ॐ देवी सिद्धिदात्र्यै नमः॥ Om Devi Siddhidatryai Namah॥
Siddhidatri Prathana - सिद्ध गन्धर्व यक्षाद्यैरसुरैरमरैरपि। सेव्यमाना सदा भूयात् सिद्धिदा सिद्धिदायिनी॥ Siddha Gandharva Yakshadyairasurairamarairapi। Sevyamana Sada Bhuyat Siddhida Siddhidayini॥
According to Indian mythology, the ninth avatar of Durga, Maa Siddhidatri removes ignorance and provides a bunch of knowledge to her devotees. She is also worshipped by Deva, Asura, Yaksha and Siddha. Maa Siddhadhatri's power and glory are indefinite and worshipping her on a ninth day bestow all siddhis to her devotees.