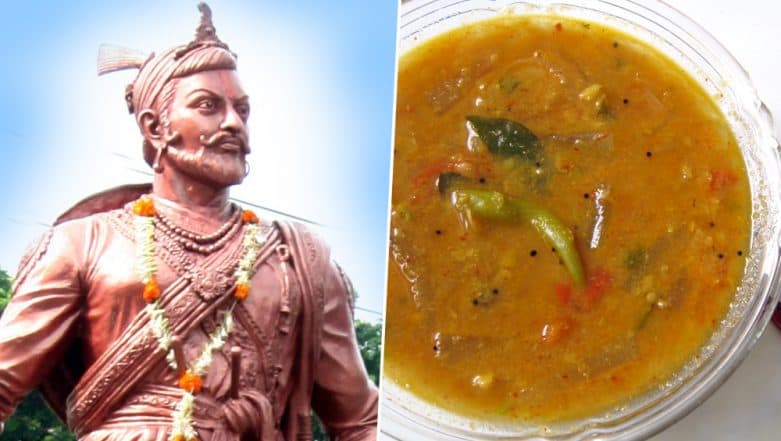 If you are a lover of South Indian food, then you'd also be loving Sambar, a tasty stew made with lentils and veggies. But the essentially South Indian dish relished with Idli or Vada has its traces to Maratha ruler Sambhaji Maharaj. Sambhaji Raje Bhosale was the eldest son of great leader Shivaji Maharaj. He was the second ruler of the Maratha kingdom as a successor of his father. He ruled the Marathi kingdom for about 9 years. Born on May 14, 1657, today marks the 362nd birth anniversary of the great leader. And on this day, let us tell you the connection of Sambhaji Maharaj with hugely popular dish Sambar. National Curry Week 2018: Know Everything About Celebrations of the Popular Indian Dish in the UK.
The origins of the dish of Sambar go to the Thanjavur kitchen. Legend has it that it was Shahji Maharaj who attempted to make dal here. Shahaji decided to enter the royal kitchen one day and decided to make 'amti' a tangy dal made commonly by Maharashtrians. In his ingredients, he used Toor Dal and added tamarind pulp instead of Kokum. The other chefs in the kitchen told him that tamarind is never added to the dal but he said he was just experimenting. When the final dish was served in the court, everyone loved it. And it is said that they Sambhaji Maharaj was the guest of the day in the court and the 'dal' was first served to him. Because he liked it so much it was named it after him as Sambar.
While some stories say it was Shahaji Maharaj who cooked the sambar, others records point that it was Sambhaji himself who came up with this recipe. It is said that when the head chef was away, Sambhaji entered the royal kitchen and decided to make the dal for himself. He used the Toor daal, tamarind and loved the concoction that it turned out to be. So it was named after Sambhaji Maharaj. 6 'Chinese' Dishes You Didn't Know Are Actually Indian.
Eventually, the dish became popular in the Southern kingdoms, from where it spread to other parts of the country. So even today, the sambar is attributed to being a South Indian dish. And over the years, the recipes have evolved and today there are over 20 varieties within Sambar itself. Since we are talking so much about Sambar, we are sure some of you would want to relish it too.
Watch Recipe Video of Sambar:
So we do not know who exactly cooked up the first Sambar, but we are sure all the foodies are just grateful that the lovely concoction exists. But one thing is for sure, Sambhaji Maharaj does have some connection with Sambar.