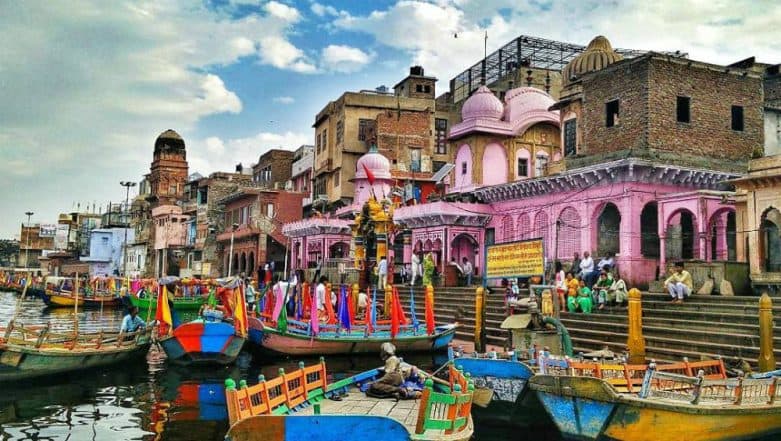 The city of Mathura and Vrindavan is all gearing up to honour and celebrate the birth anniversary of Goddess Yamuna. Popularly known as Yamuna Chhath or Yamuna Jayanti, is a significant Hindu festival which is dedicated to Goddess Yamuna. It is observed on Sashthi (6th day) of the Shukla Paksha or the waxing phase of the moon during the Hindu month of Chaitra. Every year, it falls during the month of February and March. This year, the auspicious day is on March 23. This is mostly celebrated in the north Indian states especially in Uttar Pradesh.
Yamuna Chhath attracts a lot of tourists. Every year lakhs of people are gathered in the ghats of Yamuna to offer prayers to the rising and the setting sun. It is observed with great devotion, individuals worship Goddess Yamuna and seek for happiness and success in their lives. Devotees get up before dawn to take a holy bath in the Yamuna river. Goddess Yamuna is known to be the companion of Lord Krishna. Hence, on this day people also seek his blessings.
Significance of Yamuna Chhath
According to the Hindu mythology, Goddess Yamuna is believed to be the wife of Lord Krishna. Due to this, she is highly revered in Braj. Yamuna Jayanti is celebrated with immense zeal especially in Vrindavan and Mathura. In India, river Yamuna is considered to be a sacred river along with Ganga, Godavari, Brahmaputra and Saraswati. As per another legend, River Yamuna descended on Earth during the Sashthi of the Chaitra month. Since then, this day is celebrated every year as the birth anniversary of Yamuna.
Yamuna Chhath Celebrations
On this auspicious day, devotees get up early before dawn to take a spiritual bath in the Yamuna river. It is enormously believed that taking a holy dip into the Yamuna river purifies the soul, one can attain eternal joy and love. As Goddess Yamuna is known to be the companion of Lord Krishna, people also worship him. Devotees chant Krishna Hare Krishna mantra as they offer prayer to the Hindu lord. Some even observe fast during Yamuna Chhath and devotees break it the next morning after the puja rituals.
On the occasion of Yamuna Jayanti, individuals prepare special food known as naivedyam and offer it to the Goddess. Once the puja ceremonial is done, the food is donated first to the Brahmins and distributed among friends and relatives as prasad. The festival is celebrated with immense fervour and enthusiasm, attracting visitors from every corner of the world.