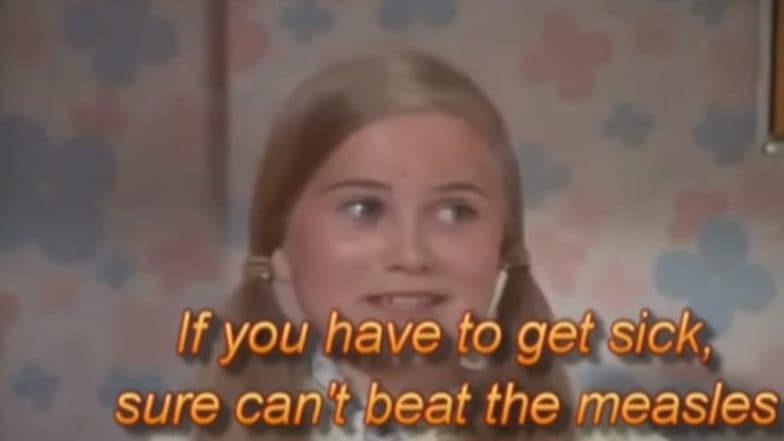 Marcia Brady, the iconic eldest daughter of the Brady family from the hit American tele series The Brady Bunch is now an unofficial spokesperson for the Anti Vax movement. People opposing vaccines have dug up an old episode of the Brady Bunch where the entire Brady brood has measles. In one of the episodes titled "Is There a Doctor in the House?" Marcia Brady declares: "If you have to get sick, sure can't beat the measles." Anti-vaxxers have been using the episode as proof to declare that measles is no big deal. But the actor who portrayed Marcia, Maureen McCormick is not too pleased, especially since the US is battling a measles crisis. Anti-Vaxxer Memes Go 'Viral' as Measles Outbreak Rise Globally.
In the episode, the Brady children suffer from measles and are asked to stay at home. The mother Carol Brady, describes their symptoms as "a slight temperature, a lot of dots and a great big smile." The episode implies that measles is a rather harmless illness that can be fixed by taking a few days off at school.
Watch the Brady Bunch Video:
The anti-vaccination movement in the US, which is responsible for the re-emergence of measles, believes that vaccines do more harm than measles. And McCormick is upset that her character is being used to further the misconception. MR Vaccine: What Are Measles and Rubella? Why Parents Should Vaccinate Children Against These Diseases.
In an interview with NPR, McCormick said: "I think it's really wrong when people use people's images today to promote whatever they want to promote and the person's image they're using, they haven't asked or they have no idea where they stand on the issue."
The measles outbreak in the US has reached epidemic proportions. In the year 2000, the country officially declared that measles was finally eradicated. But the anti-vaccination movement that picked steam in the recent past has thrown a spanner in the immunisation efforts. As of early 2019, with around 700 cases of measles reported, US is battling its worst outbreak in history.