A picture of a bizarrely-shaped blood clot was has been going viral on social media. The story behind the image is equally strange. A 36-year-old man with a history of heart diseases, coughed up this bizarre-looking clot shaped like his right bronchial tree at a hospital in California. The man had been constantly coughing up blood and mucus. But after a particularly violent bout, he coughed out a clot that at first looked like a part of his lung. The case report of the now deceased patient has been published in the New England Journal of Medicine and presented by surgeons from the University of California.
According to his case report, he had a long history of cardiac diseases and suffered from heart failure. Following a complete heart block, he was fitted with a pacemaker. During the next week, the patient was coughing up blood and mucus, and during one of those bouts, what looked like an intact cast of the right bronchial tree was expelled out. It was actually a piece of blood clot collected inside the patient's lungs. Boy's Whistling Cough! Not a Disease, but a Toy Whistle Lodged in His Throat: Watch Video.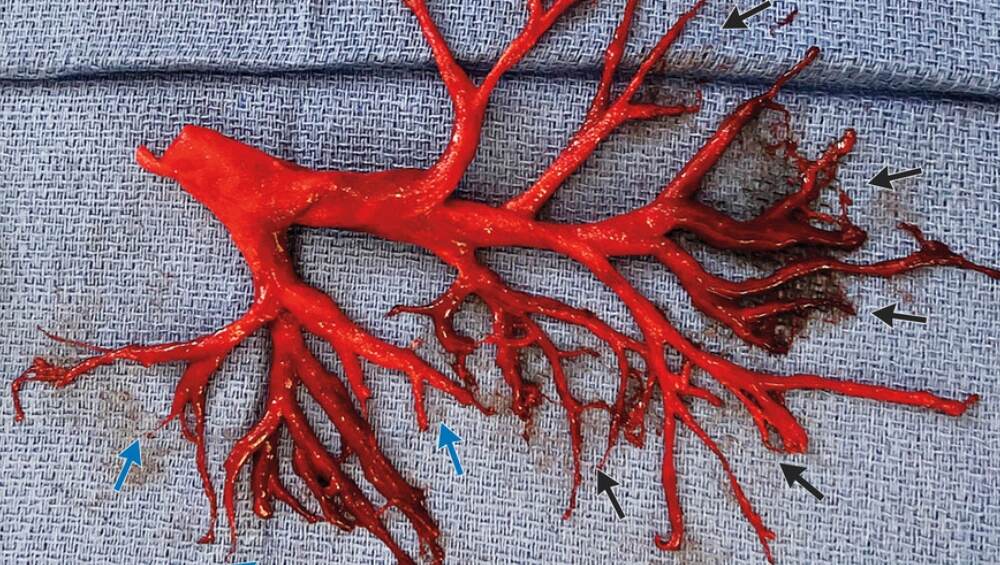 Part of the man's right bronchial tree (Photo Credits: The New England Journal of Medicine)A week after the incident, the patient died after suffering from more heart-related complications. There was too much fluid in the blood and low amount of circulatory blood in the body. Home Remedies To Prevent and Treat Sore Throat and Cough During Seasonal Change This Winter.
The case report states that his ejection fraction (the blood pumped out with each heart contraction) was a mere 20 percent, when it's supposed to be between 50 and 75 percent. He suffered from the narrowing of the bicuspid aorta for which he was fitted with a bioprosthetic aortic valve. In addition to this, he also had an endovascular stent placed due to an aortic aneurysm.
Although coughing out an entire lung is impossible, one can suffer from a hernia of the lung, where a part of the organ sticks out of the ribs, if one coughs too hard.
(The above story first appeared on LatestLY on Dec 10, 2018 10:45 AM IST. For more news and updates on politics, world, sports, entertainment and lifestyle, log on to our website latestly.com).