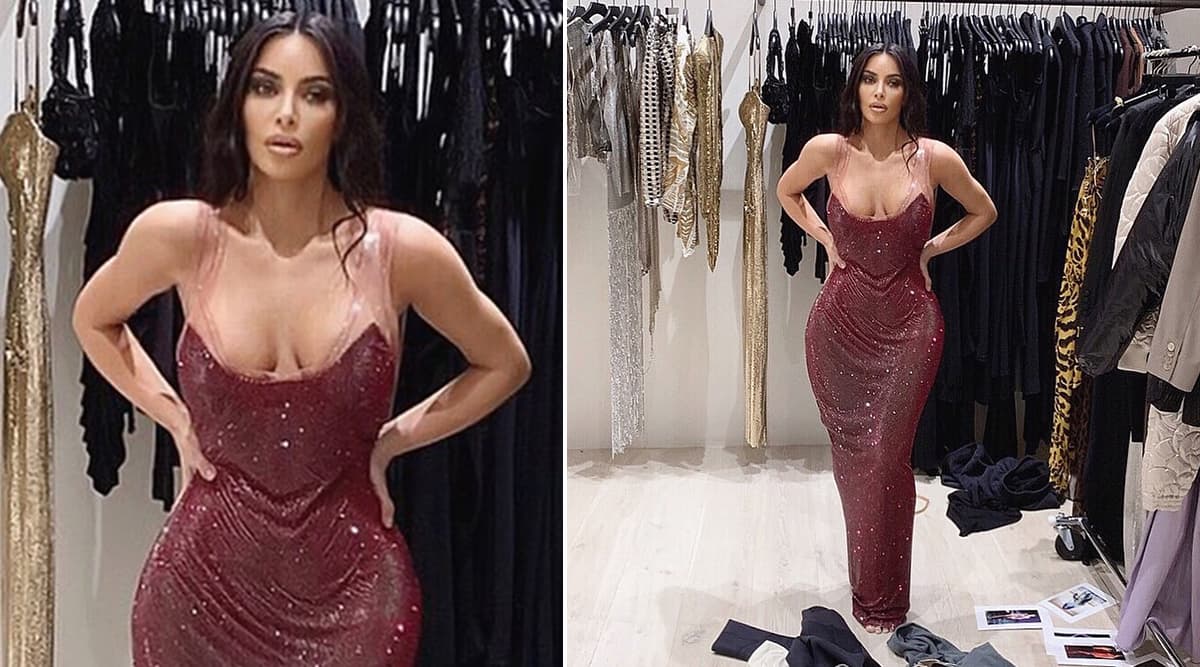 If you though your struggle is real, give it a break! Even Kim Kardashian cannot fit in the clothes that she might desperately want to. The 39-year-old took to Instagram to mourn how a stunning Versace gown does not fit her anymore, after she recently gained some weight. She posted a photo of herself in her dressing room with racks of clothes behind and some on the floor. This is disheartening! The beauty mogul looks visibly disheartened while she was trying out the sparkly burgundy colour gown. Sharing the throwback picture on Instagram, Kim said how wonderful it would have been, if only it fit. Anaconda in Kim Kardashian's Backyard! Kris Jenner Shares Video of The Massive Snake From Her Daughter's LA House. 
The glittery dress featured spaghetti straps and a plunging neckline, seemed to fit her like a glove. But according to the 39-year-old, it just was not working. "How good would this Versace dress have been if it fit," she captioned the photo while sharing on her Instagram along with a sobbing emoji. We hear you, Kim! It is extreme sadness when you struggle to fit into your favourite clothes. And when you don't fit into a gorgeous dress like this one, it might seem like an end of the world. Kim Kardashian Shows You How to Get Gravity-Defying Breasts Using SKIMS Body Tate and Pasties. 
Here's the Pic:
View this post on Instagram
While it seems that the dress is fitting her enough, Kim is not satisfied. Maybe a zipper somewhere on the garment did close, but elsewhere on the gown, the fabric was too small. Mostly, Kim's dresses are either custom-made or at least tailored to her precise measurements. But it appears her old measurements are smaller than what her frame is now. And that is why the mother of four is so bummed about the dress not fitting appropriately.
The KKW beauty mogul recently came out to her fans that her body has changed shape and like most of us, her weight fluctuates. She had even upped her workout routine to get back into the shape. We are sending our thoughts and wishes to Kim at her difficult time. We hope that she is back into her perfect curves (which she still is in) and fits into this gorgeous burgundy coloured sparkly Versace piece.