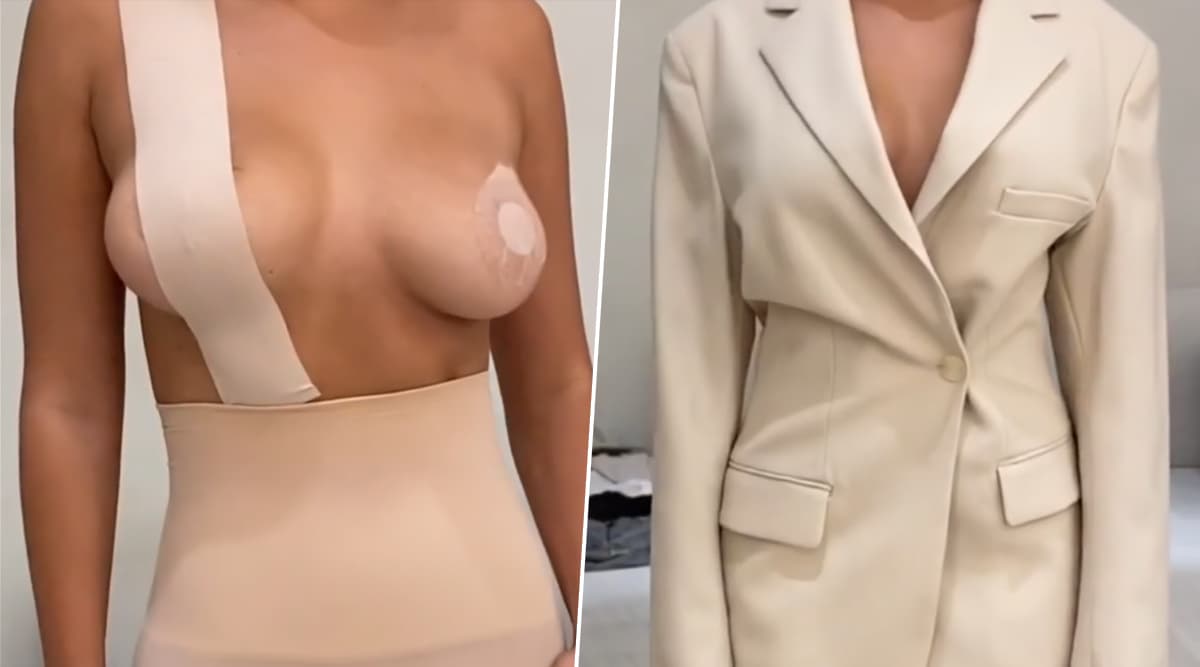 We've all wondered about Kim Kardashian's gravity-defying breast. Right from pantsuits to dresses with plunging necklines, whatever Kim K wears, you see her perky boobs defying all norms. Most of Kim Kardashian's sartorial choices have made us go, "does she even wear a bra?" and if she doesn't, "what sorcery is this?" Well, the trick is now no longer a secret. Body tapes are your way to go. Even back in 2016 when the picture of Kim K posing with tapes on her boobs went viral, it spread confusion as to what was she exactly wearing. It inspired many people to use duct-tapes and other forms of masking tape to try this trick out. However, now her brand SKIMS has come up with amazing Tonal Body Tapes and Pasties that can give you the "boob lift" you need. You will no longer need a bra to support your breasts. Get Perky Breasts like Kim Kardashian Without Duct Tapes! SKIMS Launches Body Tape to Lift Boobs in Plunging Neckline Dresses. 
We've all been there when we desperately wanted to wear a backless dress or something with a deep plunging neckline but ditched because we didn't know what to do with our boobs. Well, you have your answer now. These easy-peasy stick-on pasties and body tapes can help you wear any dress you want while keeping your boobs firm. They can also help you achieve a boob lift, giving you a super hot cleavage. You don't need any  Let's see how the whole procedure goes about:
Body Tape
All you have to do is run up the body tape vertically on your upper body in a way that it covers the nipples and your areolas and sticks on the shoulder blades, very similar to suspenders you would wear. This will help your nipples to not pop out over your dress while giving your breasts an instant lift.
Watch Video:
Pasties
These little stick-on bras can help your nipples stay sweat-proof and "blend with your skin and keep you concealed for up to 12 hours".
Watch Video:
Well, now the secret is out! It is actually so simple to look so sexy. I can already hear myself bid bye to the pesky underwires and bra straps, digging into my skin. This has to be one of the most clever ways of concealing nipples and well as getting a non-surgical breast lift.