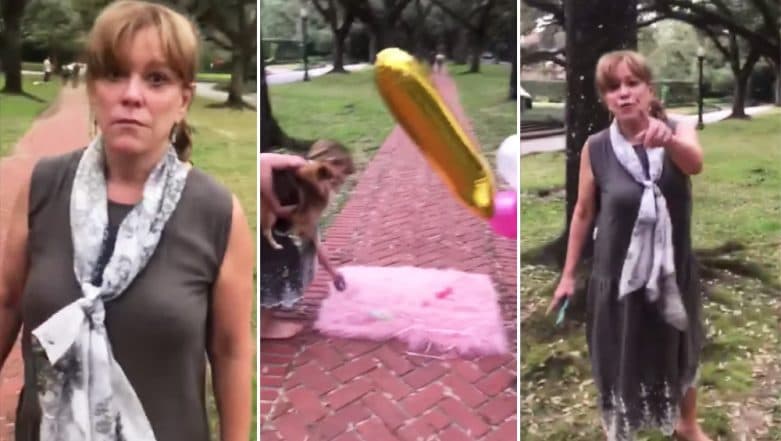 What happens when your child's first photoshoot is crashed by a rude person creating a ruckus for no reason? Well if you think this scenario to be unimaginable and rude, something like this did happen. A couple who had come to have a photoshoot with their 11-month-old child for her first birthday became a target for this rich woman in no time. In a viral Facebook post, the mother of the baby accounted for the first-hand description of the whole drama they were subject to for no reason. On Saturday 16th February Kelyn Alyssa along with her husband was enjoying her day with her 11-month-old baby 1st birthday photo shoot at Broadacres in Houston. US Girl Dumps Cheating Boyfriend on Her 21st Birthday, Video Goes Viral!
However, in some time a woman began to shout at them from her car calling them out for taking pictures and "trampling" the grass. The woman shouted: "You are trampling the grass that WE pay for." However, things went worse when she came out of a light blue Jaguar; convertible emerges barefoot marching towards them. She unleashed her dog and began to shout at them. Even after being calmly asked by teh family to restrain her dog that was scaring the baby, she didn't and continued yelling at them. Kelyn said in her Facebook post that, "The lady begins shouting at us that we are on private property, and that she will not restrain her dog because she can do whatever she wants there." She further explained, "She(the woman) passed people taking fashion shoots, people crouching on the walkway, "trampling" her beloved grass - and came directly at the photoshoot with the gold "1" balloon to cause a scene. With an 11 mth old sitting on the floor. And her parents making funny faces to make her laugh. Absolutely disgusting."
Not only that, in the video, the woman can be seen trying to attack the woman holding the camera trying to record her. She always went ahead to destroy their photoshoot setting as it can be seen in the video. Kelyn described: " At this point the lady stomps towards my baby and starts aggressively trying to remove the props placed around her, startling me. The baby, petrified by her aggression, started to scream and started crawling away from her into my arms."
Take a look at the argument video:
Kelyn also mentioned that "A police report has been filed. We will be pressing charges and are currently seeking legal counsel on this matter."