WhatsApp has been trying its best to curb the issue of fake messages being spread through the medium, however, there seems to be no respite to the menace. As online shopping portals got ready for Diwali shopping season with attractive sales, miscreants promoting fake sites also pumped up their game. People have been receiving WhatsApp forwards with the link of a fake website designed to look like Amazon.
The fake website's message going viral titled 'Amazon Big billion sale offer' has an array of items at discounted rates. While a Panasonic Mixer Grinder that actually costs Rs 4,699 on Amazon is priced at as low as Rs 10 on the fake site, a Canon camera that costs more than Rs 90,000 is priced at Rs 199. The fake list of items featured on the site also includes an Apple Watch Series 3 GPS at Rs 11. dmartındia.com/voucher is FAKE Website! D-Mart is NOT Giving FREE INR 2500 Shopping Voucher to Celebrate its 17th Anniversary
Other products on the list include Bluetooth speaker, headphones, smartwatches and smartphones. Users are advised not to fall for his message and refrain from clicking on the link. WhatsApp Fake News: Narendra Modi Government to Give Away Free Cycles Under Pradhan Mantri Cycle Yojana 2018 on 15th August? Read Hoax Message
The WhatsApp forward going viral reads,
"*Amazon की सबसे बड़ी Sale*
*1. Canon Dslr camera* - Rs. 199 Only.
*2. Vivo v11 Mobile* - Rs. 1799 Only.
*3. Apple watch * - Rs 11 Only.
*4. Jbl Bluetooth Speaker* - Rs 117 Only.
And many more products at *99 percent discount*
*Order Now* - http://amazon.big-billion-sale-offer.in
( Free Delivery And Cash On Delivery Also Available)."
Here are screenshots of the above message received as a WhatsApp forward: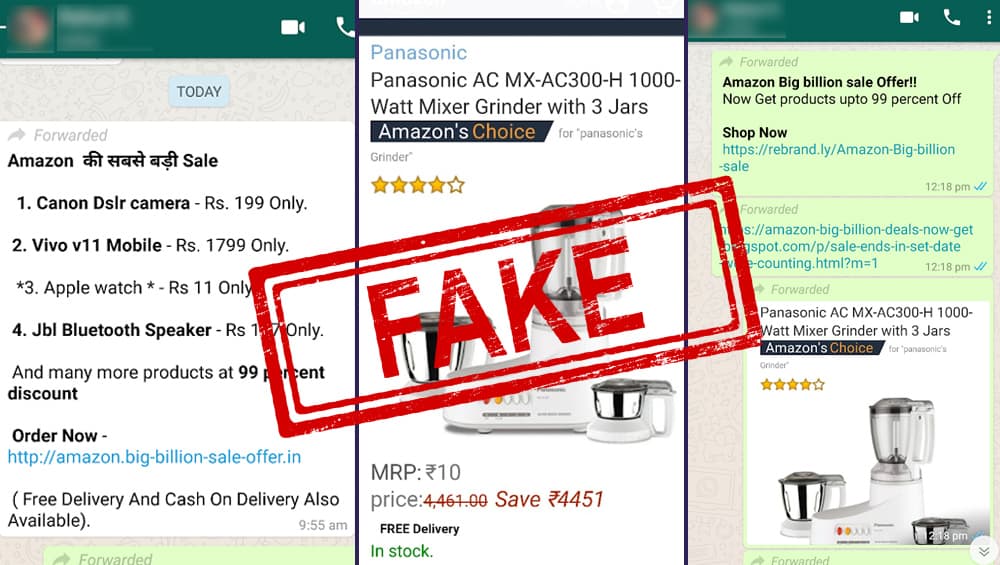 It is just a 'blogspot.com' link with 'Amazon Big Billion' written on it. The site makers also forgot that Big Billion sales belong to Flipkart and not to Amazon.in. When you try to order a product, it says "you have to invite minimum 10 Friends because we want to make it the greatest giveaway of the year(Diwali Offer)." As brands come up with a sale every festival, it has become easy for fraudsters to fool people with fake messages.
As fake WhatsApp forwards lead to various issues, the instant messaging app limited the forwarding of a message in India earlier this year. In a statement, Whatsapp said, "In India - where people forward more messages, photos, and videos than any other country in the world - we will also test a lower limit of 5 chats at once and we'll remove the quick forward button next to media messages."
Fact check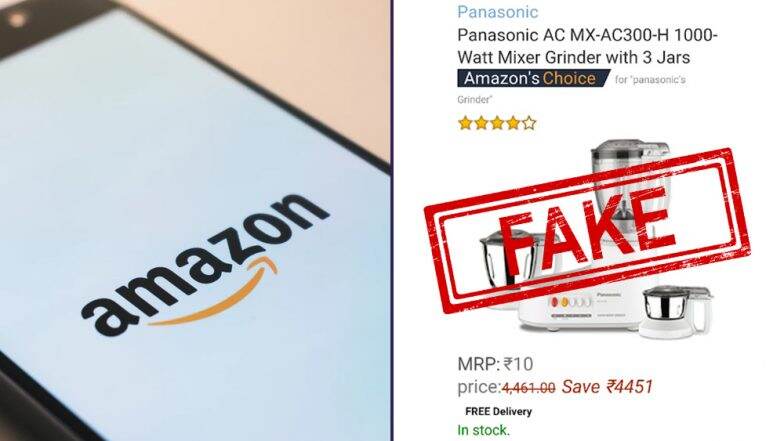 Claim
Amazon Big Billion Sale Offer on WhatsApp.
Conclusion
The WhatsApp message is fake as people have been receiving WhatsApp forwards with the link of a fake website designed to look like Amazon.