Rumours spread like wildfire. Controlling fake messages being circulated on social media has almost become impossible. From mob lynching to creating unnecessary health scare, fake messages have created havoc in the country lately. These hoax messages also try and grab your attention with discounts on popular brands related to an anniversary celebration, sale, so on and so forth.
Messages claiming to be from the government have also managed to fool people in the past. They come loaded with freebies, offers, unknown government schemes, programs and all sorts of features. And the latest message to go viral on social media claims that the Narendra Modi government is offering free cycles to 'boys and girls' under
'Pradhan Mantri Cycle Yojana 2018'. It does not specify who made the declaration or the source of the information.
Below is the fake message which is going viral on WhatsApp:
*फ्री साईकिल वितरण योज़ना भारत सरकार*
सभी लड़के और लड़कियों को मिलेगी मुफ्त में साइकिल 🚲
सभी साइकिलें 15 अगस्त को बांटी जाएंगी, यहाँ से अपना फॉर्म भरे👇
👉🏼 http://Bharat-Sarkar.com/साईकिल/
🙏🏼 *विनती:* 🙏🏼 कृपया इस मैसेज को अपने दोस्तों, रिश्तेदारों और सारे ग्रुप्स में शेयर करे ताकि सभी विधार्थी इस योजना का लाभ उठा सके।
It says that all girls and boys will get free cycles and that the cycles will be distributed on August 15. The fake message also has a link which redirects to http://bharat-sarkar.com. It asks people to forward the message to friends and relatives and to avail the benefits provided by the government.
Here is a screenshot of the fake WhatsApp message: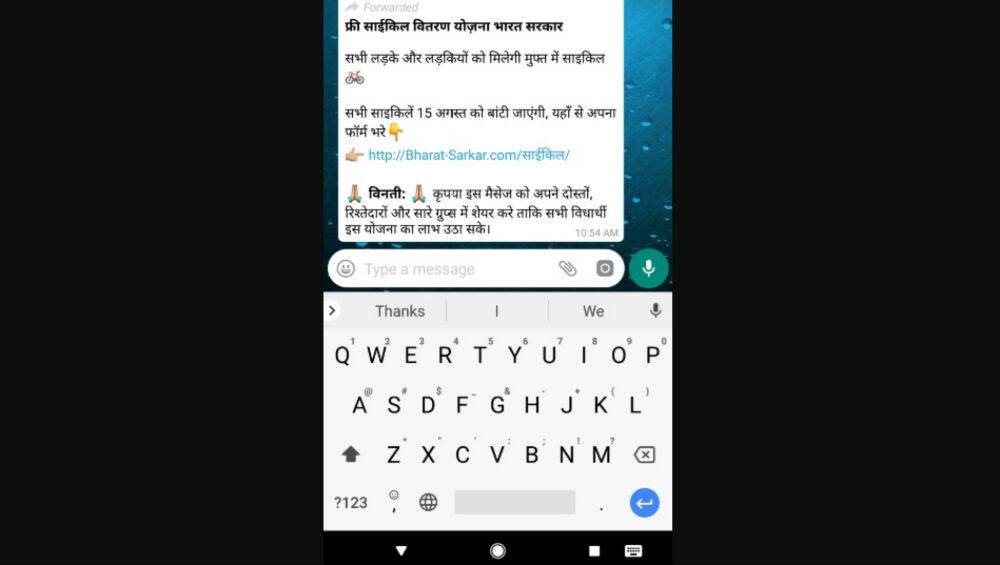 It asks you to register on the website with details after filling in your name, father's name, the name of your school, the class you are studying in, address and the state you are applying from. Once you register, it says they have received your application and to complete the process, a pop message asks you to forward it to 10 more people on WhatsApp.
Such messages claiming to be from the government have become quite common in the country. One should cross check with a credible source before falling for such messages. Many-a-times these fake messages come with grave discrepancies and spelling errors which points out that it is not real. For e.g. in this message, the link of the website ends with Sarkar.com; all links to government websites will end only in: .gov.in and not in anything else (e.g. .com). Websites like these can also carry viruses and one has to be careful to not click on the links given in these messages.
In an effort to reduce the spread of fake news, WhatsApp is limiting the number of people you can forward messages to. After coming under the radar for being the medium that intices violence, the social media platform came up with the step. Trying to make it harder for fake news to go viral, users will now be able to forward messages to just 20 people and limited to just five in India. Earlier, the limit was 250 users.
Fact check
Claim :
Narendra Modi Government to Give Away Free Cycles Under Pradhan Mantri Cycle Yojana 2018 on 15th August
Conclusion :
The news is fake as it does not specify who made the declaration or the source of the information.
(The above story first appeared on LatestLY on Jul 24, 2018 03:37 PM IST. For more news and updates on politics, world, sports, entertainment and lifestyle, log on to our website latestly.com).