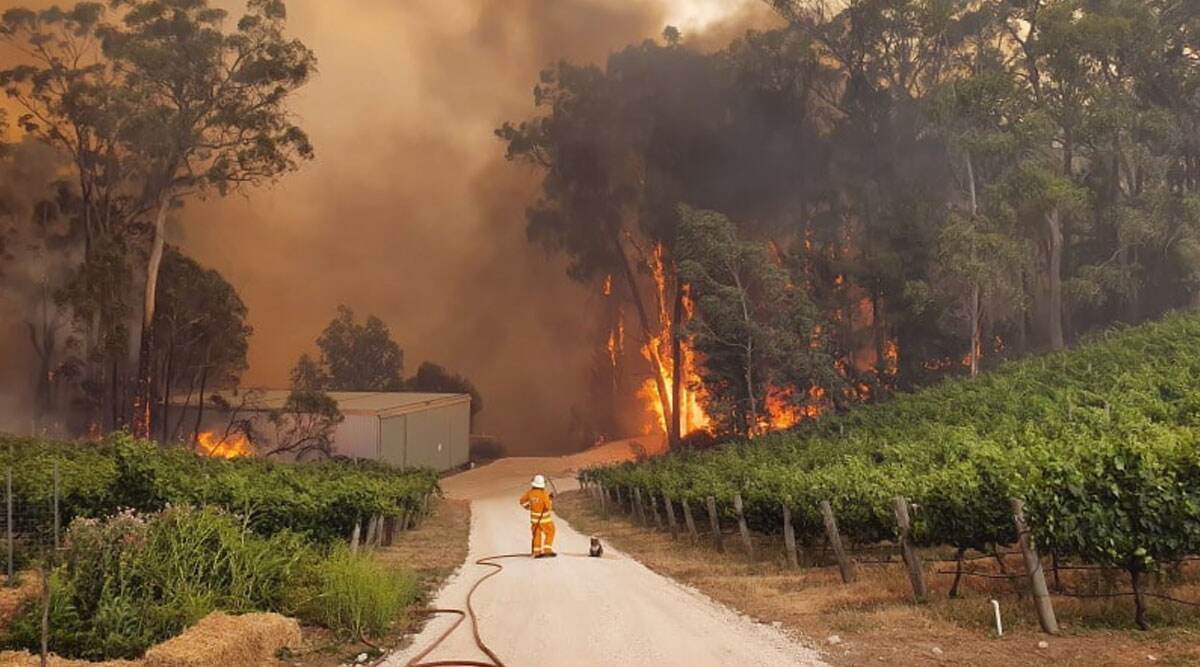 Australia is battling some of the worst bushfires the country has ever seen. The fires reportedly were so out of control last week that the New South Wales Government declared a State of Emergency—the second time in two weeks. This is having a significant impact on the country's wildlife. Amid the raging fire destroying forests, a heartbreaking moment was captured that encapsulates the horror and devastation being caused by the bushfires. A firefighter and koala can be seen in the photo, standing side by side, as both helplessly watch the animal's habitat burning down. Ever since uploaded on social media, the image has been making rounds, intensifying climate change fear. Australian Woman Cooks Sunny Side-Up Egg on Sidewalk As Heatwave Hits Melbourne. 
Catastrophic fire conditions have raged through Australia in recent months. More than 1,000 homes have been damaged or destroyed in New South Wales alone. Around 1,100 hectares of vineyards destroyed in South Australia. Firefighters are working round the clock to save as many lives, as they can. This shocking photo was shared to Facebook by the Eden Hills County Fire Service. The fire in question occurred at the Lobethal vineyard to the west of Adelaide. Thirsty Koala Drinks Water From Bottle Amidst Heatwave in Australia. 
View Pic:
The raging fire has killed around nine people. It also feared that around 1,000 koalas have also fallen victim to the flames. Another video was doing rounds on the internet that showed a firefighter feeding water to a thirsty koala. Emergency crews continue to battle amid the raging fire.
Watch the Video:
This will melt your heart. As you know Australia is facing one of the biggest bush fires now. Here a kind firefighter providing water to a Koala while its home is burning. This species has just lost many parts of its habitat. Disaster to wildlife looks like this. Credit in video. pic.twitter.com/YIPwzahQCr

— Parveen Kaswan, IFS (@ParveenKaswan) December 24, 2019
Earth's climate is changing faster than at any point in the history of modern civilization as a result of human activities. It was first the Amazon Rainforest in Brazil that sparked the debate over climate change and now the Australian fire, which is intensifying the current concern.