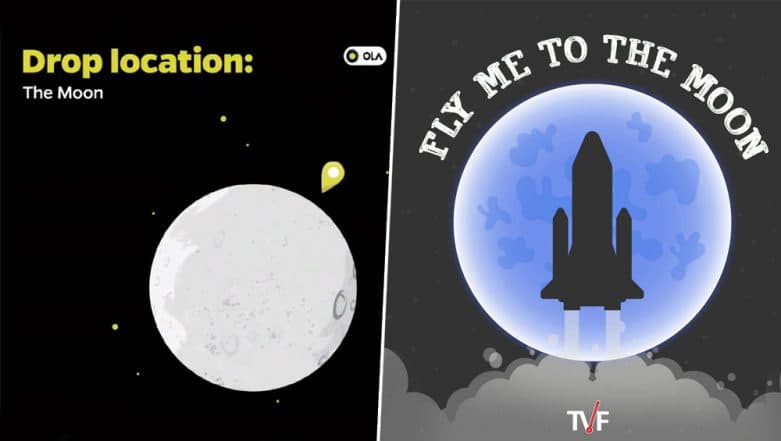 Mumbai, July 23: After ISRO successfully launched India's second moon mission Chandrayaan 2, there have been congratulatory messages pouring in from all the corners of the world. Taking into account, the momentous moment, brands have also wished on Chandrayaan 2's success. Chandrayaan 2 Launched Successfully; Nirmala Sitharaman, Milind Deora, Dharmendra Pradhan & Other Political Leaders Congratulate ISRO on India's Second Moon Mission.
From Ola, the Viral Fever, ICICI Bank, Google India, Spice jet and others, brands have soaked their hands in the occasion which indeed is a moment of great joy and pride to the entire nation.
Check what Ola tweeted:
To the dark side of the moon #Chandrayaan2 #ISRO pic.twitter.com/ijIGO79hGc

— Ola (@Olacabs) July 22, 2019
This is what SpiceJet tweeted:
Congratulations @isro on the successful launch of #Chandrayaan2. We are all proud of you! #ISRO pic.twitter.com/KNXsjHD9Sm

— SpiceJet (@flyspicejet) July 22, 2019
ICICI Bank had to say this:
We congratulate @isro on the successful launch of #Chandrayaan2. This historic moment is of immense pride for the country. #IndiaMoonMission pic.twitter.com/lDMqxlwhpa

— ICICI Bank (@ICICIBank) July 22, 2019
Viral Fever's tweet:
Hey #ISRO, we love you to the Moon and back! 😉😉#Chandrayaan2 #Chandrayaan2theMoon pic.twitter.com/SX3n9wOr1D

— The Viral Fever (@TheViralFever) July 22, 2019
Google India tweeted just before the takeoff
⠀ ⠀ ⠀ ⠀ ⠀ ⠀🌕

🚀

🚀

🚀

🌍

It's time to take off!#Chandrayaan2 #ISRO #GSLVMkIII

— Google India (@GoogleIndia) July 22, 2019
Chandrayaan 2: Where Is The Spacecraft Now & When It Will Reach The Moon; Know ISRO Mission's Path
The ambitious project had to be called off last week on Sunday, July 15 due to a 'technical glitch'. The much-anticipated launch was aborted hardly an hour before the Chandrayaan 2 mission was about to take off.