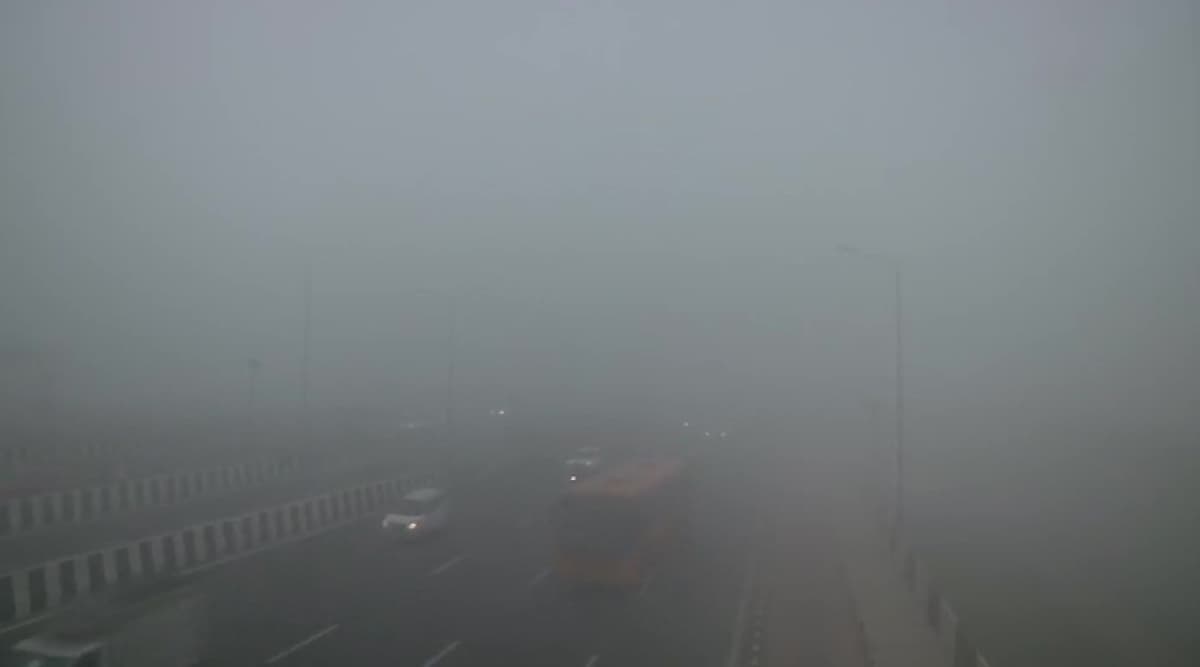 Delhiites are freezing. The city is experiencing an extremely cold temperature this season. The temperature has dipped further today morning (December 30, 2019), at 2.2 degrees Celsius. Dense fog engulfed the national capital leading to several flights being affected and trains running late because of the low visibility. 'Delhi Winter,' 'Delhi Weather' and 'Dilli Ki Sardi' have been trending on social media since a few days, considering the chilling weather that people are currently experiencing. Delhiites have shared videos and images that show how the city is being covered with a thick blanket of fog, making it difficult for the vehicles on the streets. Dilli Ki Sardi Funny Memes Take Over the Internet As Delhi Freezes at 2.2 Degrees on a Foggy Morning!
Safdarjung and Palam observatories noted that visibility recorded at zero metres today morning. At least thirty trains were delayed, and the delay ranged from two to seven and a half hours. People shared several images and videos, showing how they are bracing the cold temperature. With today's temperature, Delhi witnessed the second-coldest December since 1901. The last minimum temperature was on December 11, 1996, with a temperature of 2.3 degrees.
Here Are the Tweets:
#FogAlert ⚠️ : It's a blind Drive today in Delhi. Drive Slow , Stay Safe#DelhiWeather #DelhiWinters #delhicold pic.twitter.com/rPROiFlm0H

— Alexander Dhissa (@DhissaAlex) December 30, 2019
Nothing Is Visible!
Grey, dull and still- Delhi! Dense fog engulfed Delhi NCR on 30 December 2019. Second coldest December in last 100 years. #India #Asia #newdelhi #photojournalism #DelhiWeather #DelhiFog pic.twitter.com/OcIGPBXmmg

— Ashish Sharma (@ashishsphotos) December 30, 2019
Blanket of Fog!
It's freezing in #delhi ...#DelhiWinters #delhifog pic.twitter.com/4G83axRsvd

— Sakchi Katyayan (@Sakchi_Katyayan) December 30, 2019
Freezing Temperatures:
There is a difference between seeing and believing, but believe me this 38sec video will show you how the North Block, South Block and Parliament looks like during the winters..#MondayMorning #delhifog #DelhiWeather #DelhiWinters #De pic.twitter.com/0calg0Ovt8

— Muhammad Wajihulla (@wajihulla) December 30, 2019
Some More Pics:
Low visibility in Delhi-NCR due to fog; latest visuals from Anand Vihar area. pic.twitter.com/5ACTDhMIJl

— ANI (@ANI) December 30, 2019
The District Magistrate of Noida issued an order to close all schools on December 31 and January 1, 2020, due to cold wave conditions. Citizens are advised to stay inside as much as possible. Latest reports further adds that 16 flights have been diverted, and four were cancelled at Delhi airport due to dense fog.