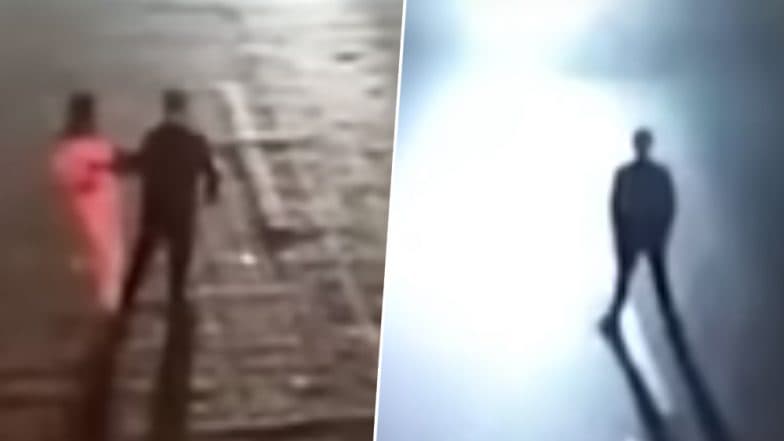 You thought to test the love of your partner by threatening to die was only in Bollywood movies, then here is something that can prove you completely wrong. A drunk Chinese man stood right in the middle of a busy road in the night to see if his wife really loved him. However, the 'love test' session couldn't last long as he was hit by a moving van. The incident took place on the streets of Lishui in Zhejiang Province, China. And now CCTV footage of the couple have gone viral on social media.
Video of the incident which is being shared widely on social media shows the man whose surname is Pan, standing in the middle of the road as vehicles speed by. His wife with quite a lot of effort pulls him back to the pavement, but he goes back again. He refuses to pay heed to her and even almost gets hit by a car. The woman whose surname is Pan, again tries to take him away, however in vain with him walking amidst vehicles on the street. The duo can also be seen arguing in between. Wife Beats Husband After Spotting Girl Friend's Tattoo on His Arm in Coimbatore.
Watch the video here:
The man told police that he wanted to test his wife's love towards him. He said they had an argument and left home for a drink. While returning home, he again fought with her on phone, prompting him to test her love for him. However, a speeding vehicle hit him and was rushed to the hospital. He is being treated for head injuries and chest fractures. Police are currently investigating the matter. Husband Tells Wife, 'You Love Those Dogs More Than You Love Me' Before Throwing Their Chihuahuas Off The Balcony.
He told the local police, "My wife and I were arguing, so I went out for a few drinks. On the way back I called her and we started fighting again. I wanted to see if she would try and stop me. I wanted to know whether she really loved me and if she would pull me back. But then I got hit by a car and now I'm injured." Pan confirmed that he regretted the test."