The internet is full of funny images that keep getting shared along and go viral. But not all of these are backed by truth or facts, even though they are made to look real. Currently, a picture of an ad by Manforce condoms about their Biryani-flavoured condoms has become a thing of interest. Someone shared the ad of this Biryani-flavoured condom packet on Twitter and since then it has got amusing reactions. And while there are many weird flavoured condoms that are available, the Biryani-flavour was just a prank by the condom manufacturer company. There is no such flavoured condom available in the market, it was an April Fool's prank which has once again come up.
The thought of Biryani-flavoured condom would definitely make many people squirm. So when an image of Manforce's Biryani-flavoured condom packet was shared online, many thought it is believable. The ad read, "Hit hard like Hyderabad." Manforce has in the past introduced an Achaari flavoured condom too, but the Biryani one does not exist. It was an April Fool's prank from the year 2019. The old picture of the ad has come up on Twitter again and while some people had serious doubts, others gave certainly funny reactions.  Chicken Tikka Masala to Cannabis, These Are 8 Weirdest Condom Flavours That Will Make You Glad You Came. 
Check The Ad of Manforce Biryani-Flavour Condoms:
But why? pic.twitter.com/Eq83Bwy1Ph

— Karnika (@KarnikaKohli) January 18, 2020
That's a Pukish Idea
I love Biryani,Hyderabad and sex obviously but it's a puking mixup 🤮🤮🤮 pic.twitter.com/Hoyz2wSkFy

— छेनू (@SumantAtWork) January 19, 2020
Ruining the Spices Too
The Cardamom sticks and the flower like chabila these guys ruined the spices too

— Mindflayer (@audioslave_007) January 18, 2020
Hope There's No Elaichi
Elaichi toh nai aayegi beech mein

— dipak sharma (@dipaksharma27) January 18, 2020
Meanwhile Someone...
Is it chicken biryani or Mutton Biryani ??

— Anirban Banerjee (@banji_007) January 19, 2020
See What You Did There?
So it will not be boneless. https://t.co/k1Rzh65uMw

— Absolute Scenes, Get In There Lads (@sidin) January 18, 2020
Will There Be Aloo?
With or without aloo https://t.co/0wNd9VLuAe

— Arham (@ThisIsArham) January 19, 2020
Damn It! Hahah!
For your chota elaichi. pic.twitter.com/SeCdACoELV

— Sahil Shah 🇮🇳 (@SahilBulla) January 19, 2020
Here's the Original Tweet by Manforce Which Was a Prank:
Hyderabad in the field, Hyderabad in the sheets. Introducing Manforce Biryani Flavoured Condom.#ManforceCondoms pic.twitter.com/i3C5gQusuB

— Manforce Condoms (@ManforceIndia) April 1, 2019
While this was clearly an April Fool's joke, we don't blame you, if you thought it was real, since there are some weird flavoured condoms that are available. Other companies have condoms like Kala Khatta and Meetha Paan! Clearly sexual fantasies and foodgasm are coming together to give people pleasure!
Fact check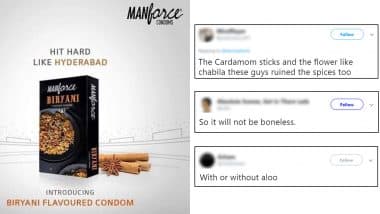 Claim :
Manforce Condoms has introduced Biryani-flavoured condoms.
Conclusion :
It was an April Fool's Day prank from 2019.
(The above story first appeared on LatestLY on Jan 20, 2020 02:10 PM IST. For more news and updates on politics, world, sports, entertainment and lifestyle, log on to our website latestly.com).