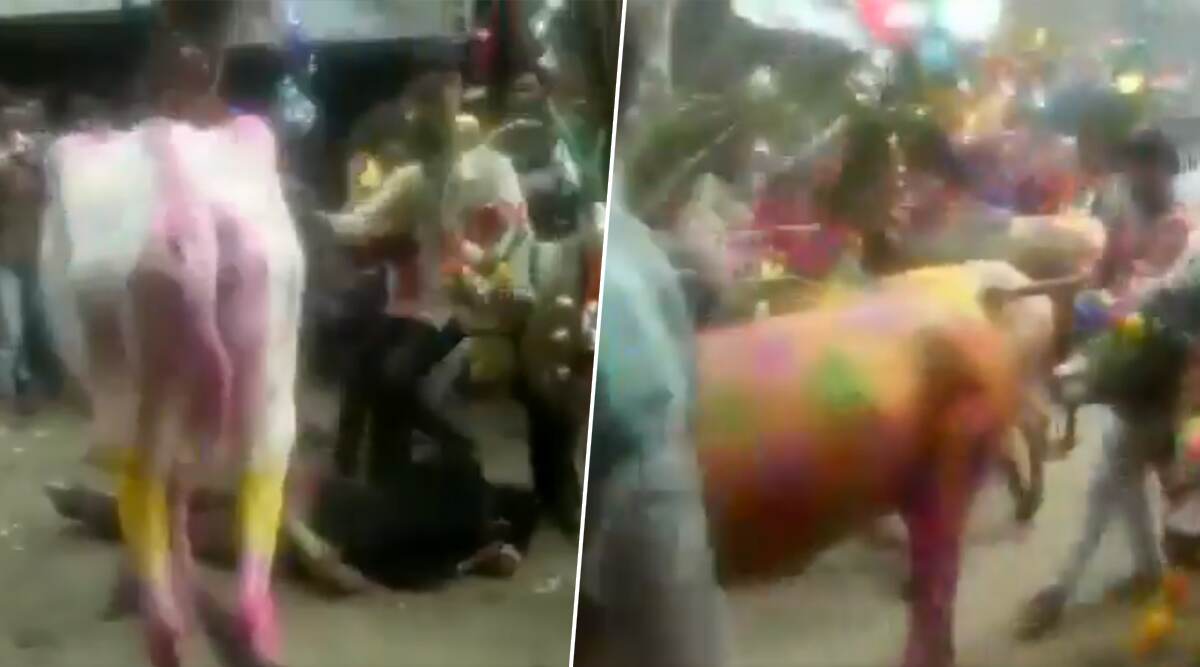 Dahod, October 28: As part of traditional ritual, people of Gujarat's Dahod allowed cows and bulls to run over them during the ongoing "Gaai Gohri" festival. The festival is celebrated two days after Diwali in Garbadha village of the district. The day also marks the beginning of the Hindu New Year. This year, the traditional festival it is celebrated on October 28. The video of cows and bulls running over people surfaced on social media. Govatsa Dwadashi or Vasubaras 2019 Date in India: Shubh Muhurat, Significance and Puja Vidhi to Observe Nandini Vrat on First Day of Diwali Festival.
In the video that went viral on social media, people can be seen lying on the ground while the bovines driven over the devotees who lay their face down on the ground. The animals are coloured and decked with peacock feathers and flowers. Bells were also tied on the legs of the cows and bulls as a mark of the age-old tradition. Chhattisgarh CM Buys 'diyas' Made of Cow Dung at Raipur Fest.
Video of the People Performing Gaai Gohori:
#WATCH: Villagers allow cows and bulls to run over them during 'Gaai Gohri' festival in Gujarat's Dahod district. pic.twitter.com/Ki6p8FDYBi

— ANI (@ANI) October 28, 2019
The villagers have a belief that it is a way of expressing gratitude to God for fulfilling their wishes. The festival begins after the village head presides over a prayer ritual. The festival has been taking place for over hundred years. The villages also believe that it is a way of reparation of sins.